How Jessica Biel Really Feels About NSYNC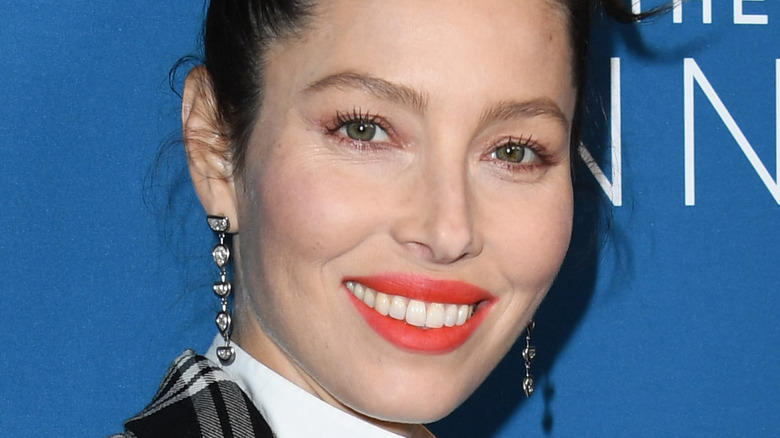 Jon Kopaloff/Getty Images
Jessica Biel isn't holding back when it comes to how she really feels about NSYNC. And, although the actor has been in a relationship with Justin Timberlake — the former lead singer of the boy band — for more than a decade, that didn't stop her from being brutally honest either. 
Biel and Timberlake first started dating back in 2007 and spent four years in an on-again, off-again relationship before officially tying the knot in October 2012, according to Parade. The couple is gearing up to celebrate a major milestone as they quickly approach their 10-year wedding anniversary and the pair couldn't be happier. 
"I sometimes feel like 10 years has just flown by in the blink of an eye and other times I feel like, 'Oh my gosh, 10 years, that's a really substantial amount of someone's life,'" Biel told Access Hollywood. "I just feel really proud of it." Meanwhile, the "Sexyback" singer is just enjoying being married to his soulmate. "It's nice to marry your best friend," he said on the Ellen DeGeneres Show (via Us Weekly). "It suits me." 
But, just because Biel is head over heels for her man, doesn't necessarily mean she has to be about his music too. 
Jessica Biel isn't a fan of NSYNC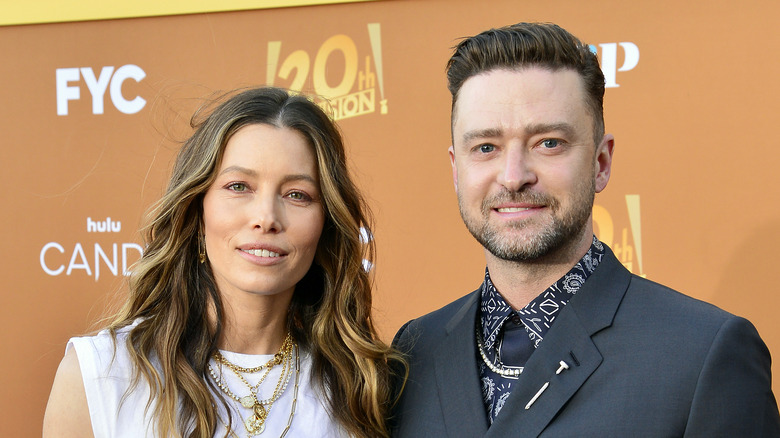 Jerod Harris/Getty Images
During an appearance on the "Tonight Show with Jimmy Fallon," Jessica Biel confessed she was never really a fan of NSYNC. With that shocking admission, Fallon shared a rare interview of Biel giving her thoughts on the band. "To be honest, I don't really listen ... I mean, I know of them, of course, and I've heard of them, and I've heard the music, [but] I don't really think I own any of their CDs," Biel said in a clip dating back to 1999. "I'm not a huge fan ... but, I mean, cool, I guess." In her defense, the actor added that she wasn't big on the Backstreet boys either or pop culture music for that matter.
Fallon insisted that the "Candy" star has to know some NSYNC songs by now considering she's spent the last 15 years with Justin Timberlake. However, truth is — she doesn't. Biel recounted the time she was playing truth or dare with some friends and was challenged to sing one NSYNC song, but couldn't. "I only know three words: 'Bye, bye, bye,' which is, I guess, one word three times. But I wasn't allowed to sing that." 
NSYNC formed the band in 1995 and shortly after, they rose to fame becoming a teen hit sensation around the world, according to PopSugar. However, while the guys were living the dream, Biel was focused on becoming a star herself. 
NSYNC and Jessica Biel were a hit in the 90s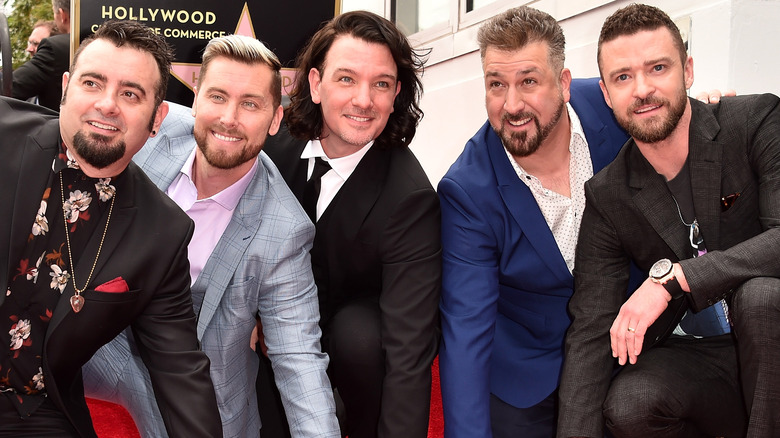 Alberto E. Rodriguez/Getty Images
NSYNC had the '90s era on lock. The band — which consisted of Justin Timberlake, JC Chasez, Chris Kirkpatrick, Joey Fatone, and Lance Bass — was responsible for hits like "Bye Bye Bye," "Tearin' Up My Heart," and "This I Promise You," to name a few. Their record "It's Going to Be Me" also hit No. 1 on the Billboard chart and stayed in the top spot for two weeks. "When you're a kid and things like that happen, and it happens so fast, you can't help but feel like something great was happening for you," Timberlake told NPR. 
While the band was releasing chart topping music and touring around the world, Jessica Biel wasn't like most teenagers who were putting up NSYNC's posters on their walls. In fact, she was busy making a name for herself. During the boy band craze, the actor was just breaking into Hollywood and had starred in several films like "I'll be Home for Christmas," "The Texas Chainsaw Massacre," and "Summer Catch," per IMDb. However, after landing a role on the series "7th Heaven," Biel took over the big screen in the late '90s throughout the mid 2000s. "It feels strange and invasive," she told Independent. "It's just a job and it's an amazing job, and has incredible perks."
Therefore, one can suggest Biel simply didn't have time to consume herself with NSYNC songs because she too was a force in the '90s.