How Much Money Did Yolanda Hadid Get In Her Divorce From David Foster?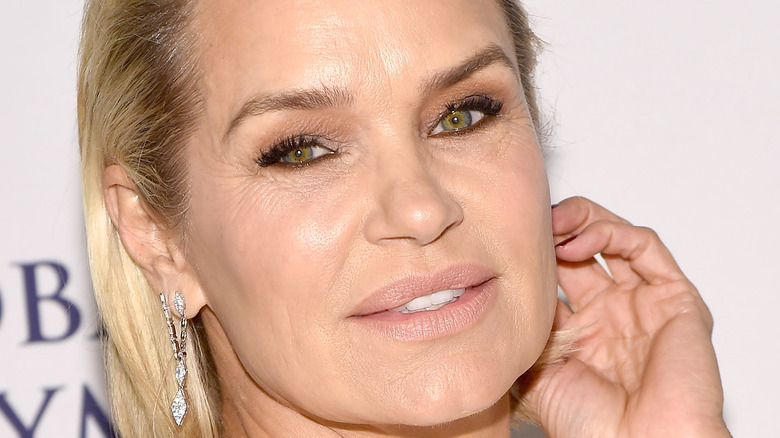 Gary Gershoff/Getty Images
Yolanda Hadid and David Foster married in 2011 after five years of dating. Several red flags in Hadid and Foster's relationship arose during their three seasons on "The Real Housewives of Beverly Hills." Still, Hadid claimed she was blindsided when Foster ended things in November 2015. "We had a beautiful love story that I will treasure forever. Unfortunately, it wasn't strong enough to withstand the turbulent circumstances that came our way," she told Andy Cohen during an appearance on "Watch What Happens Live."
Hadid said her battle with Lyme disease played a part in their split. "A chronic long-term illness is extremely challenging not only for the person who's sick but also for the caregiver," she said, explaining it had changed the relationship's "dynamic." However, Foster insisted his decision to end their marriage had nothing to do with Hadid's illness. "How can I leave a sick woman? The fact of the matter is, that is not the reason why I left," the music legend vowed in an episode of "David Foster: Off The Record," according to US Weekly. "It was for a different reason, which I will never disclose, but it had nothing to do with her being sick."
During another appearance on "WWHL" Hadid told Cohen that "of course" she and Foster had signed a prenup. "Hollywood, baby!" She quipped, insisting she'd "married for love." But after the love has gone, there's little else left except a potentially a fat bank account. So, how much money did Hadid get in her divorce from Foster?
Yolanda Hadid's divorce resulted in no money or regrets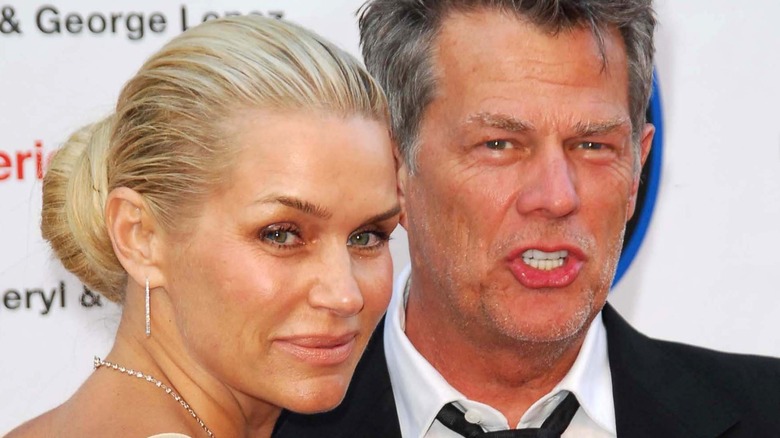 s_bukley/Shutterstock
"The Real Housewives of Beverly Hills" fans will likely never learn the real reason Yolanda Hadid and David Foster divorced. She implied the split was influenced by her Lyme disease. He vehemently denied it had anything to do with the illness but has refused to disclose his motivation. However, Foster's track record speaks legions. In the documentary "David Foster: Off the Record," the iconic producer admitted, "Basically, when things get rough or bad, rather than working it out, I run." The odds were stacked against Hadid from the get-go. But love knows no bounds, so she signed the prenup and walked down the aisle anyway.
E! Online reports that Foster's prenup was ironclad, and Hadid ultimately received nothing in the divorce settlement. But the reality star wasn't left high and dry scrambling to make the rent as a single mom; far from it. Before meeting Foster, she'd already made bank thanks to her successful modeling career. Plus, Hadid scored a colossal chunk of change when she split from her first husband and father of her three kids.
Celebrity Net Worth estimates Hadid's fortune to be around $45 million. Admittedly, it pales compared to Foster's guestimated $150 million, but she's worked hard for the money. Hadid grew up "very poor" and arrived in the States with just $55 in her pocket. "I was hungry to survive," she told Money. Hadid credited her mom's influence and a "great work ethic" for her success.
Yolanda Hadid's found the perfect man following her divorce from David Foster
Yolanda Hadid and David Foster have moved on with their lives. According to Vogue, Foster married Katherine McPhee in July 2019. The blushing bride wore a custom-designed Zac Posen gown to say "I do" inside a stunning chapel in South Kensington, London. McPhee slipped into a second "off-the-shoulder" Posen number for the post-wedding celebrations. Then a third to cut an elaborate six-tier wedding cake adorned with pink roses. Let's hope it's Foster's fifth time lucky, as there was certainly no expense spared.
Meanwhile, Hadid began dating her new CEO investor and addiction advocate boo, Joseph Jingoli, in 2019. "They were set up by mutual friends and have been dating for about three months now," a source told E! News. "They have met each other's kids, and everyone loves Joseph." One glance at Hadid's Instagram feed seconds that emotion. "Celebrating you today and every day. Thank you for being such a beautiful light in my life," she posted in September 2019. "The calm in the middle of my storm and the rock in this most difficult time."
"There's nothing better than love and being in love," Hadid told ExtraTV after admitting she was no longer single and ready to mingle. Hadid shared that she laid low for "two-and-a-half years to heal" and work on herself following Foster's divorce. "I wrote a love spiral of all the qualities I want in a man, and he magically appeared," Hadid explained.