What's Really Going On With Ansel Elgort And Shailene Woodley?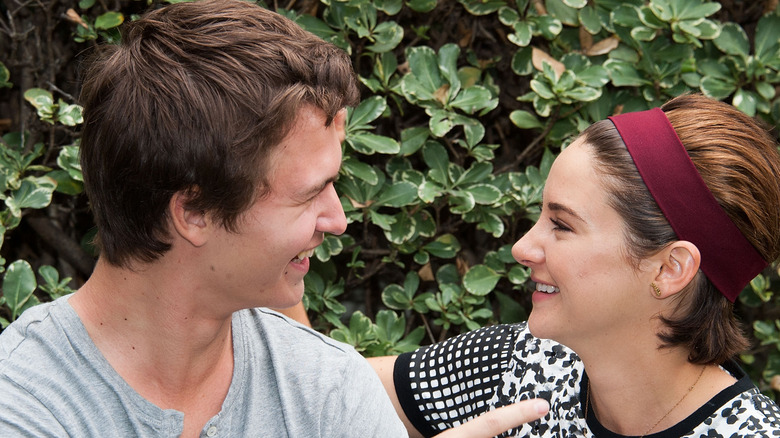 Valerie Macon/Getty Images
Ansel Elgort and Shailene Woodley have come a long way since they played terminally-ill teenagers in 2014's "The Fault In Our Stars," the film adaptation of the famous John Green Novel. Highlights of Woodley's include her leading the popular "Divergent" franchise and starring in HBO's "Big Little lies." Personally, Woodley enjoyed a whirlwind romance with NLF star Aaron Rodgers, which kicked off at the start of the COVID-19 pandemic. 
Elgort, for his part, also found success in films such as "Baby Driver" and "The Goldfinch," and "Westside Story." Unfortunately, the abuse allegations surrounding Elgort overshadowed the latter project and put his co-stars, particularly Rachel Zegler in the line of fire, per The New York Post. 
Despite Elgort and Woodley's diverging paths, the millennial actors still share a common thread today: each other. Recently, both actors stirred fan interest when they posted a series of cozy snaps to their Instagram accounts, prompting the question: what's really going on?
Ansel Elgort and Shailene Woodley recreate the Dirty Dancing scene
It appears that things are heating up between Ansel Elgort and Shailene Woodley. At least if their recent Instagram content is any indication. On September 6, Elgort posted a picture of he and Woodley stood atop a mountain as they recreated the iconic shot from "Dirty Dancing." The actor captioned the picturesque scene, "Clean dancing w Shai," along with two hearts. Fans immediately flooded Elgort's comment section with hearts and, nods to their "The Fault In Our Stars" characters. There were even a few blue checkmarks amid the frenzy –  most notably Paris Hilton, who responded with a "heart eyes" emoji.
At this time, neither actor has confirmed a romantic relationship, but they've definitely done nothing to thwart fan speculation. The next day, Elgort posted more snaps of he and Woodely in Italy, during an Insta photo-dump. Of the 10 photos, two feature he and Woodley. In the first picture, the old friends embrace tightly at a dinner table. Interestingly enough, Elgort also ended the photo dump with a super artsy shot of Woodley holding her head in her hands, across the dinner table, as he pours them a glass of what's probably really expensive champagne. This time, Elgort captioned the photo, "It's the time of the season for loooovvingg."
We can't say for sure they're together, but a picture is worth a thousand words — and, so far, we have several.