Who Is Emma Chamberlain's Rumored Boyfriend, Role Model?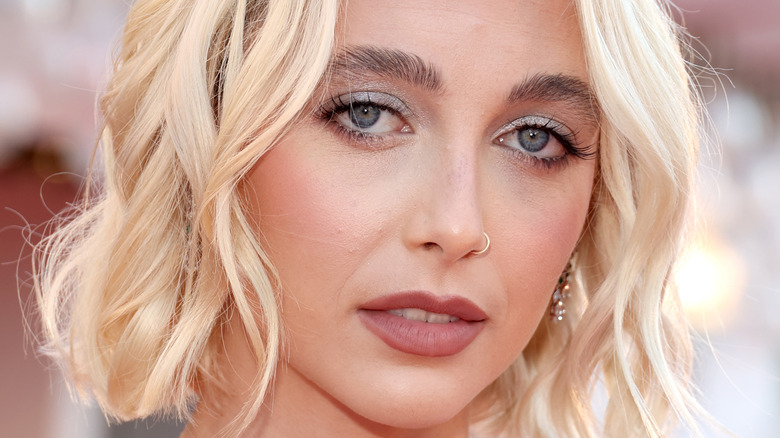 Pascal Le Segretain/Getty Images
Emma Chamberlain launched her YouTube channel in June 2017, trying to create a beauty vlog, per Distractify, but the videos didn't really take off. At least not until a haul video, where she unpacked her purchases from a dollar store (of all places), went viral. Viewers admired her style, her energy, her relaxed and authentic way of speaking, and especially her relatability. Here was a teenager talking honestly and humorously about zits and period cramps, as well as fashion. She's self-deprecating and raw, engaging and genuine, often with a potty mouth.
After years of posting weekly videos and developing her signature editing style, Chamberlain has amassed an empire, with 11.8 million YouTube subscribers and 16.1 million Instagram followers, as of this writing. She also landed a partnership with Louis Vuitton in January 2020, per POPSUGAR, and owns her own line of coffee, called Chamberlain Coffee.
Her fans also follow her every move and are desperate to know who Chamberlain is in a relationship with — despite her evasive behavior, being very cagey about her personal life. "I don't like to give too many details on very, very personal aspects of my relationships with my family or friends," she told W Magazine. "I don't know if I would ever have a public relationship, ever." Still, fans are pretty sure that she is dating the musician Role Model. Let's find out more about him and their relationship.
Role Model's music career is on the rise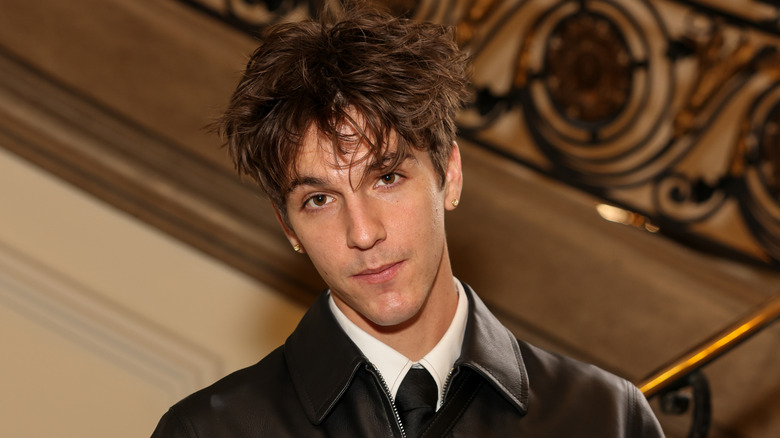 David M. Benett/Getty Images
The young man Emma Chamberlain's fans think is her boyfriend is the singer-songwriter called Role Model. His real name is Tucker Pillsbury, according to Your Tango, and he's been slowly climbing the stardom ladder since he released his debut EP "Arizona in the Summer" in 2017.
One of Pillsbury's biggest influences was the late LA rapper Mac Miller, and amazingly, Miller was a big reason for Pillsbury's success. The rapper reached out to Pillsbury on Instagram after hearing one of his songs. "It was when he and Ariana [Grande] were breaking up, and he told me he related to 'Stolen Car,'" Pillsbury told GQ. He "flew me out, and my career kicked off." 
The relationship led to a record deal with Interscope, and Pillsbury has since played Coachella and launched a world tour. He also released his full-length album "Rx" in April, which is seemingly all about his relationship with Chamberlain. When GQ asked what his (unnamed) girlfriend — who he admitted is his first ever — thinks of his album, he said, "I don't know how to talk about relationships, but she knows it's all about her."
The musician also has an interest in acting, telling i-D, "I wanted to direct and produce movies," before discovering his love of music. He even auditioned for the role of Elliot in HBO's hit "Euphoria." He's also close friends with musician Este Haim, because they both have Type I diabetes. He told People, "She's been like a f***ing mother to me."
Fans have their reasons for thinking Role Model is Emma Chamberlain's boyfriend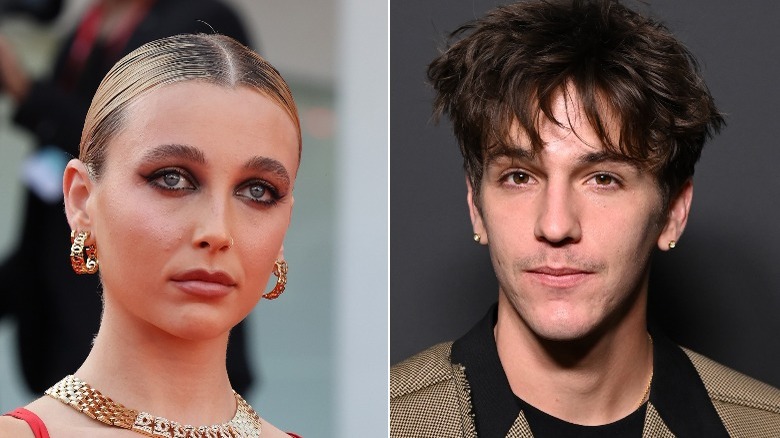 Stefania D & Pascal Le Segretain/Getty & undefined
Though neither has gone on the record, it seems clear Emma Chamberlain is dating Role Model, and there's been plenty of clues. The rumor has been around since at least June 2020, when Instagram fan account emmas_car_scissors posted a series of photos of Chamberlain hanging out with him and other friends. 
In August 2020, Chamberlain confirmed in a now-deleted TikTok video, via Your Tango, that she is in a relationship, though she wouldn't say with whom. When a photographer asked if she'd ever date one of her fans, Role Model, who was among her entourage, yelled, "Speak on it!" That was enough for fans to speculate — especially when her parents also followed his Instagram.
Fans had more proof in a September 2021 video of Role Model in concert. Much like the recent Harry Styles-Chris Pine "spit" analyzed around the world, some fans thought Role Model blew a kiss to Chamberlain while performing in his show. You don't even have to blink to miss it, but fans don't need much proof.
The biggest proof so far is the pair's appearance on the Vanity Fair Oscar Party red carpet in March, and an April interview Role Model did with GQ. He spoke openly about his girlfriend, who "has an insane amount of influence, and people constantly watch her every move" — but never stated outright that it's Chamberlain. And Chamberlain doesn't like discussing relationships, in general. "I don't like seeing other people's relationships," she told W Magazine. "It's boring and it's gross."