Chris Pine's Rep Breaks Silence On That Viral Moment With Harry Styles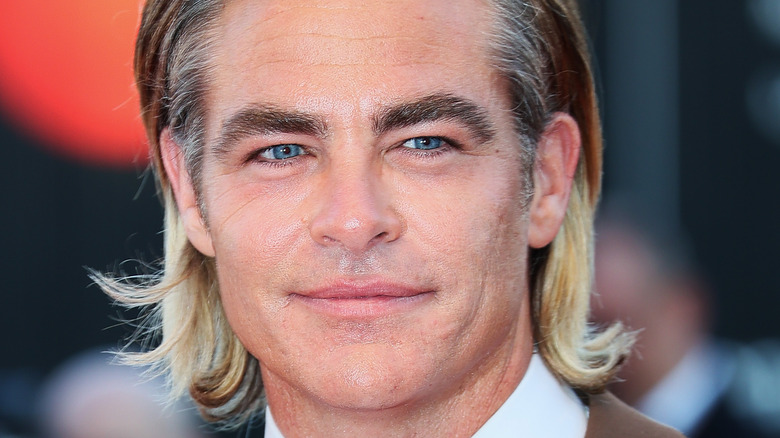 Ernesto Ruscio/Getty Images
There has been plenty of drama surrounding Olivia Wilde's upcoming film "Don't Worry Darling," and it hasn't even be released in theaters yet. Recently, Wilde shot down rumors that Harry Styles, whom she is currently dating, was paid three times more than his co-star, Florence Pugh, per Variety. She's also been under fire for claiming she fired Shia LaBeouf, who was supposed to play Styles' role, after he had "combative energy" despite evidence that her comments are not true. LaBeouf has been adamant that he quit the film due to scheduling conflicts and that Wilde has been pushing a false narrative to make the story sound more appealing, Variety reported.
There's also been some apparent tension between Florence Pugh and Wilde that began while "Don't Worry Darling" was filming. Pugh was reportedly not on board with Styles and Wilde hooking up during production. A source told Page Six, "I can tell you for a fact that Flo seeing Olivia and Harry all over each other on set did not go down well as Olivia was still with Jason when she first hooked up with Harry."
The drama only appears to continue, however, as time goes on and the release date approaches. Now, a rumor that involves Styles and another star of the film, Chris Pine, has completely taken over the internet.
Chris Pine's rep puts Spitgate to rest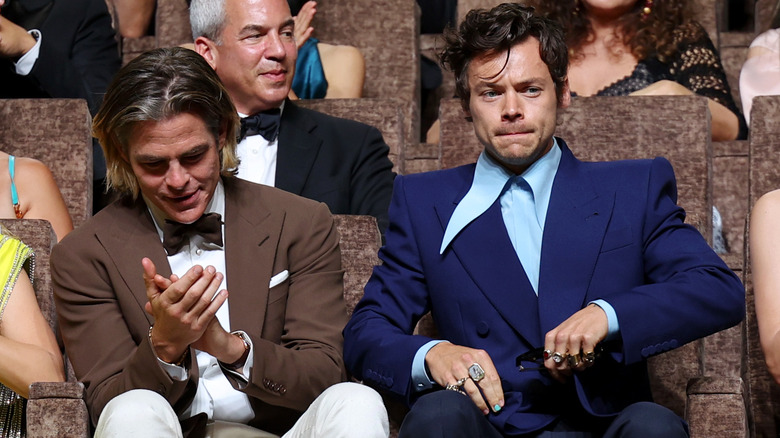 Vittorio Zunino Celotto/Getty Images
The cast of "Don't Worry Darling" headed to Venice to promote the film at the Venice Film Festival, but the project wasn't the main topic of conversation on social media. In a now viral clip, Harry Styles heads back to his seat next to Chris Pine. Fans suggested that he spit on his co-star before actually sitting down because in the video, Pine looks surprised and stares into his lap until he eventually smiles. Others, however, thought that Pine was searching for his sunglasses and realized that they were in his lap the whole time. The interaction quickly caused controversy as people speculated what actually happened.
Before things got too out of control, a representative for Pine told People, "This is a ridiculous story — a complete fabrication and the result of an odd online illusion that is clearly deceiving and allows for foolish speculation." The rep added, "Just to be clear, Harry Styles did not spit on Chris Pine. There is nothing but respect between these two men." Pine's rep also clarified that there is not any drama between the two stars.
Despite Pine's representative putting the rumor to rest, social media users are still talking about it. One person tweeted, "'Did Harry Styles spit on Chris Pine?' is 2022's version of the gold and white vs. blue and black dress." If one thing is certain, the drama surrounding "Don't Worry Darling" doesn't appear to be slowing down anytime soon.