Why Prince Philip Is Going To Be Moved Next To The Queen Before Her Burial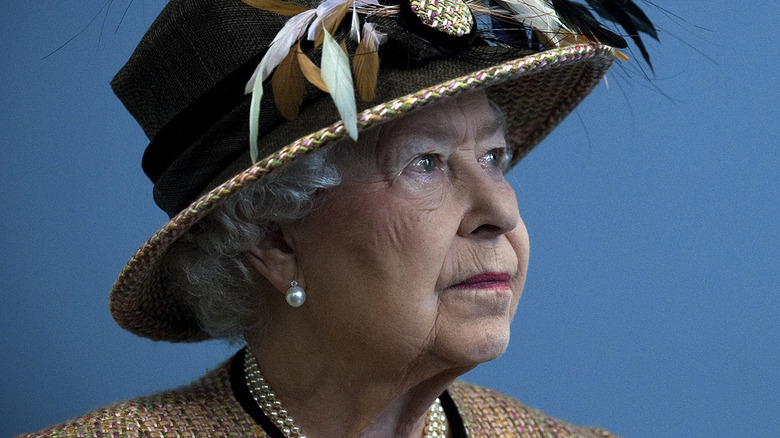 Wpa Pool/Getty Images
The world was saddened by the news that Her Majesty Queen Elizabeth II of the United Kingdom of Great Britain and Northern Ireland died at her home in Balmoral, Scotland, on September 8. Per NPR, the 96-year-old was Britain's longest reigning monarch at 70 years. She was also the world's second behind King Louis XIV, who ruled France for 72 years.
The tragic death of Queen Elizabeth II marked the end of an era. "Inevitably, a long life can pass by many milestones; my own is no exception," the queen said after surpassing Queen Victoria's reigning record. There were an astounding number of milestones and historically significant events during Queen Elizabeth II's rule. Some of the many ABC News lists are the moon landing, the fall of the Berlin wall, the end of the Cold War, and the September 11 terror attacks.
Closer to home, the queen struggled with the fallout following Princess Diana's death, which came perilously close to spelling the end of the royal family. However, as BBC News reports, it ultimately resulted in a massive shakeup of "The Firm," forcing them to cut back and modernize many outdated traditions and attitudes. In 2021, the queen was left heartbroken by the death of Prince Philip, Duke of Edinburgh. He'd been her loving companion for 73 years, providing a shoulder to lean on during tough times. Now, Prince Philip is going to be moved next to the queen before her burial, reuniting them in death.
Prince Philip is going to be moved next to the queen as royal protocol dictates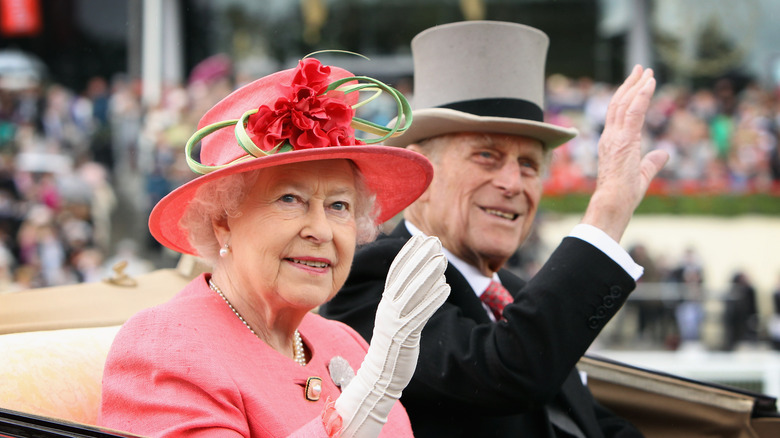 Dan Kitwood/Getty Images
When Prince Philip, Duke of Edinburgh, died, Britain was in the midst of pandemic lockdown. Everyone was ordered to abide by strict social distancing guidelines and restrictions. Despite holding the title of Her Majesty Queen Elizabeth II of the United Kingdom of Great Britain and Northern Ireland, the queen followed the same rules as all her common subjects – unlike Boris Johnson and his merry band of partying politicians.
Even though he was the queen's husband, Prince Philip was only entitled to a "ceremonial royal funeral," per the royal family's website. The same goes for other immediate members of the royal family, except for monarchs. Because of that and the pandemic, Prince Philip's funeral was a small and intimate affair. The queen, wearing a black mask, sat alone on a church pew, wiping the tears from her eyes. 
In contrast, Queen Elizabeth II's funeral will be a lavish stately affair on a grand scale. The Guardian reports that the service will be held inside Westminster Abbey, where the queen's coronation occurred in 1953. Afterward, she will be buried in the King George VI Memorial Chapel at Windsor Castle. Per Express, Prince Philip was buried under St. George's Chapel at Windsor Castle. Still, it was never intended to be his final resting place. Royal protocol dictates that following the queen's death, Prince Philip's remains will be moved to be next to his wife's, where they will finally reunite for eternity.
Prince Philip and Queen Elizabeth II will be together for eternity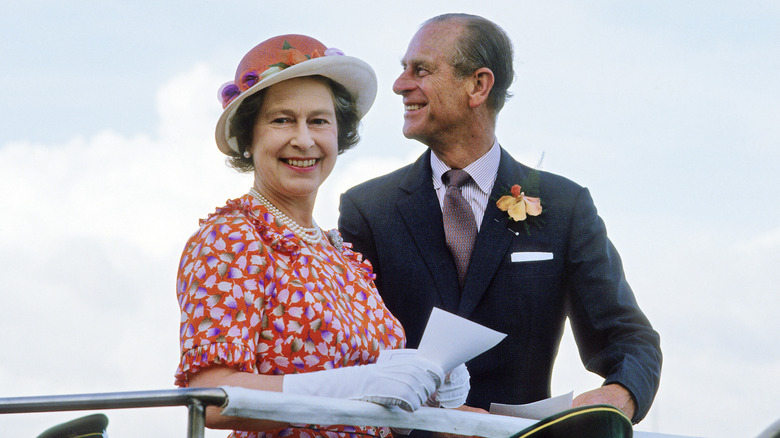 Anwar Hussein/Getty Images
Shortly after the announcement that Queen Elizabeth II had died, royal fans outside Buckingham Palace noticed an unusual occurrence in the sky. A double rainbow had appeared, and many viewed it as a touching sign that connected Prince Philip with the queen.
Queen Elizabeth II and Prince Philip's marriage had been pretty unusual for the time. Traditionally, future monarchs had their spouses chosen for them. Marriages were to build alliances and strengthen power. But Princess Elizabeth and Philip, then-Prince of Greece and Denmark, bucked the trend and married for love. As fans of "The Crown" will know, it was a controversial move, and Princess Elizabeth had to fight her corner to snag her man.
Many members of the stuffy old British royal establishment believed Prince Philip's status to be "below" that of the future queen. They thought she could marry somebody of a more noble lineage and with a better title. According to the royal biographer, A.N. Wilson, there were also many objections to Prince Philip's decidedly un-PC jokes and tendency to speak his mind — no matter what offense it may cause. Wilson claims Princess Elizabeth was warned that Prince Philip was "entirely the wrong person to choose" as a husband, per The Telegraph. The couple proved the neigh-sayers wrong by staying married for 73 years. However, it can't be denied that they made an excellent point regarding Prince Philip's "off-color" gaffs and statements. Upon his death, the Independent compiled a list of Philip's 90 "most excruciating comments," many of which were insensitive to people of other nations.