The Jennifer Lopez Album You Forgot Was Inspired By Ben Affleck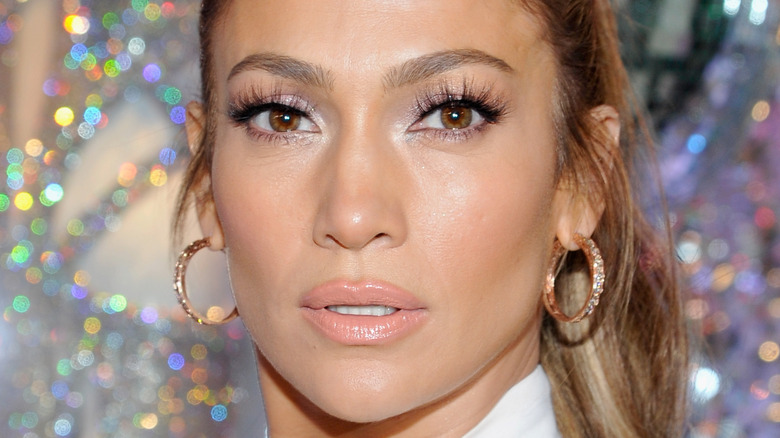 John Sciulli/Getty Images
It's not surprising that multi-award-winning artist Jennifer Lopez's love language for her husband, Ben Affleck, is music. At their wedding, she reportedly serenaded him with an unreleased song, complete with a mesmerizing performance with a group of dancers.
"All night I can feel the passion in your eyes / I'm still in love with you / You know I can't get enough," J. Lo apparently sang, per Billboard. The track also seemed to have interpolated the reggae song "I'm Still In Love With You," which is fitting since the couple had gotten back together after years of being apart and married to other people.
Throughout her career, Lopez has written and performed multiple tracks that are dedicated to Affleck, but there is one song that everyone forgot was about the "Batman" star, too. Apparently, J. Lo's hit "Jenny From the Block" was inspired by her tumultuous relationship with Affleck in the early aughts, as well as a few songs from her album, "This Is Me...Then."
This Is Me...Then is apparently about Bennifer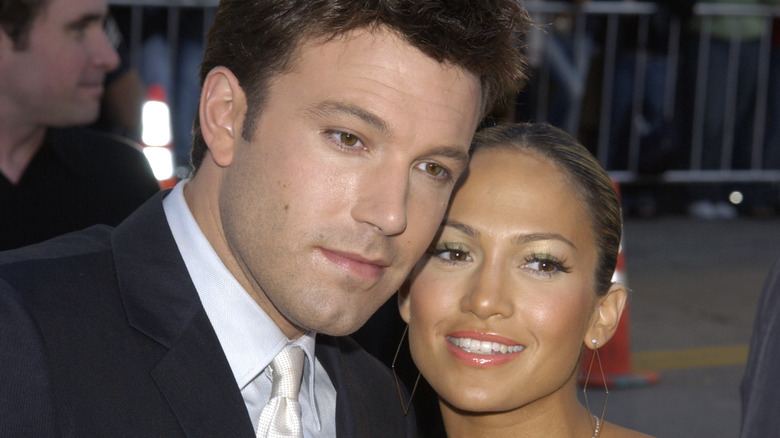 Featureflash Photo Agency/Shutterstock
Jennifer Lopez's album "This is Me... Then" was released in 2002, around the peak of her relationship with Ben Affleck. The record contained 13 tracks, some of which were about Affleck, specifically "Baby I Love U," "I'm Glad," and "Dear Ben." The first track is all about unconditional love, while "I'm Glad" talks about finally finding true love. "I think I'm in love," the lyrics read, per Genius. "Finally."
"Dear Ben" is much more explicitly about Affleck, with the lyrics reading, "You're perfect. I just can't control myself. Seems like I'm addicted to the way you like to touch me." And while the most popular track from the album, "Jenny From the Block," seems to be about Lopez not forgetting her roots amid worldwide fame, the music video for it notably featured Affleck, with the two getting followed around by paparazzi. Many know that they broke up the first time around due to constant media attention, so the video was likely sending a message to their dissenters.
This Is Me...Then is J. Lo's favorite album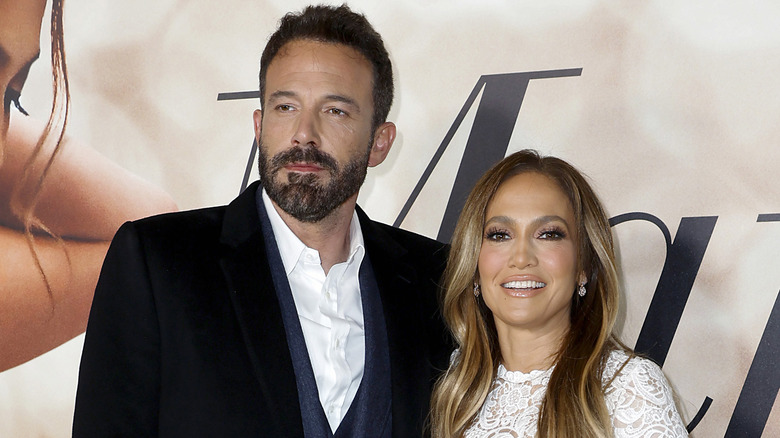 Frazer Harrison/Getty Images
Jennifer Lopez has released a number of records since "This Is Me...Then," but she admitted that it remains her favorite. After her fanbase helped it re-enter the charts, she took to Instagram to express her gratitude and acknowledge that the album will always have a special place in her heart.
"All of my albums are very special to me, but This Is Me...Then is my favorite album I've ever done...so far!" she wrote, along with a throwback video. "I know a lot of you have heard me say that before, so in honor of my #JLovers helping it re-enter the album charts AGAIN after 19 years...here is a lil #TBT #ThisIsMeThen."
Speaking with Apple Music, she also said that while the album was made decades ago, it remains relevant today. "When I listened to that [record] on many, many different levels, those songs are more relevant today than they even were then," she shared, per Hollywood Life. "It was a real pure moment in time. And that music, when it's important, it never goes away...love, it just doesn't go away. It's just there."