Kelly Ripa Gets Honest About An Intimate Mishap With Mark Consuelos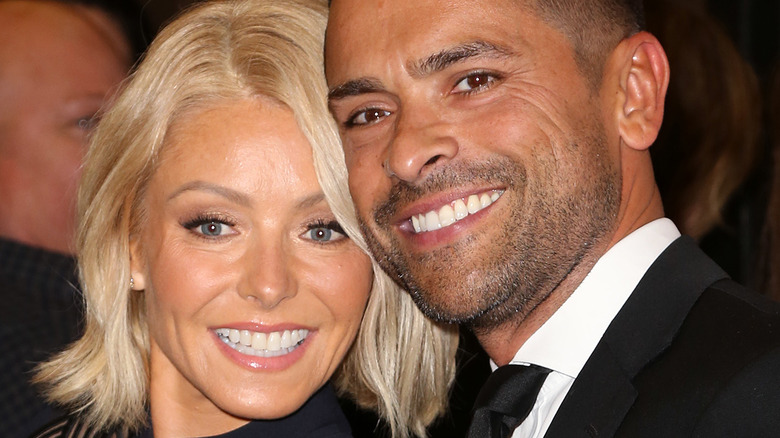 Walter Mcbride/Getty Images
Kelly Ripa and Mark Consuelos have been married for 26 years, but the spark is clearly still alive between the "Live with Kelly and Ryan" host and her occasional guest host. 
In a 2020 interview with ET Canada, Ripa gushed over how easy it is for Consuelos to give her the warm and fuzzies, saying, "He knows how to treat his spouse like the only person in the world. He's got the best smile I've ever seen, so when he smiles it's like the sun's shining on you." But when Consuelos joins his wife on her talk show, sometimes their conversations about their relationship can veer from sweet to spicy.
During a March 2022 episode, the couple was discussing how the disparity in their arm spans makes it tricky for them to hold hands when Consuelos cracked a racy joke about the logistics of their limb lengths. "You know what they say, it doesn't matter how long your arms are when you're laying down," he quipped, per ET. This is just one example of how the lovebirds, who first met in 1995 while filming "All My Children," have no shame when it comes to talking about sex. 
In a 2014 appearance on "Watch What Happens Live," Ripa confirmed to Andy Cohen that she believes spending plenty of time in the bedroom keeps a relationship strong, per ABC News. However, she discovered that the practice isn't without its risks and can even land you in the hospital.
Why Kelly Ripa shares a outrageous horror story in her memoir
In her yet-to-be-released memoir, "Live Wire: Long-Winded Short Stories," Kelly Ripa shares a hospital horror story that concludes with a nightmarish style jump scare. In an excerpt shared by Haute Living, Ripa recounts how she fainted while having sex with Mark Consuelos and came to in the hospital. She learned that the culprits of her coital collapse were two ovarian cysts. "My eyes shift between the fuzzy images on the screen, the remnants of my ovarian tormentor, and Mark happily snacking away," Ripa writes. "Mark could be at a movie, or a spa. Instead, I'm flat on my back wondering when the other two cysts will burst."
In his rush to get Ripa to the hospital, Consuelos threw together a slapdash ensemble that his stylish wife was appalled to wake up in: a pair of his athletic pants, a leotard, and Manolo Blahnik heels. "He dressed me like a dime store prostitute in my time of need ... When I was on the stretcher, I thought I was dreaming; I was having a nightmare. I didn't realize I had come to," Ripa writes.
This isn't the only time Ripa has shared an embarrassing sex story. On "Live with Kelly and Ryan," she and Consuelos revealed that their daughter, Lola, walked in on them having sex on Lola's birthday. Ripa actually joked about being unconscious, telling their horrified daughter, "I'm being resuscitated!"