A Bizarre Theory About Trisha Paytas Is Running Wild Online After The Queen's Death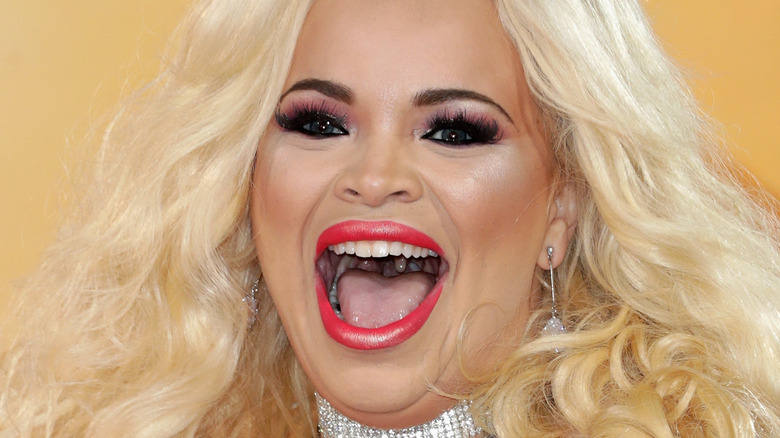 John Phillips/Getty Images
The death of Queen Elizabeth has prompted a state of global mourning and meme-ing. The monarch died on September 8 after 70 years as the U.K.'s queen. The loss prompted strong online reactions from fellow royals, celebrities, and everyday citizens. They ranged wildly from intense sadness to celebration.
The Australian government shared that the sails of the Sydney Opera House were illuminated with an image of Queen Elizabeth, while CBS News reported the Eiffel Tower going dark in mourning. Twitter users, meanwhile, took advantage of the monumental moment to pen viral jokes and issue call-outs surrounding the royal family's history of colonialism.
Inevitably, the internet also came up with some conspiracy theories about the death. In the months leading up to her death, some theorists put forth the idea that the queen had already passed, leading Rolling Stone to eventually step up and debunk the rumor. Now that her death has been confirmed, a new conspiracy has popped up ... and this one is even more bizarre.
The internet thinks Queen Elizabeth could reincarnate as Trisha Paytas' baby
Controversial YouTuber Trisha Paytas announced they were pregnant in February, and the internet was immediately abuzz. Paytas — known for their dramatic flair — has long been the inspiration for viral memes and conspiracy theories. Just one week after they announced they were pregnant, a TikToker posted a humorous video with the caption, "Queen Elizabeth holding on for dear life so she doesn't get reincarnated as Trisha Paytas' baby."
The joke would likely have gone unremembered ... if Paytas hadn't announced that they were going into labor just hours before the queen died. On the evening of September 7, Paytas tweeted, "1 cm dilated! Woo hoo!" Adding fuel to the conspiracy is the fact that Paytas already confirmed they were having a girl.
The theory has taken the internet by storm. An unconfirmed report that Paytas gave birth just 3 minutes after the queen passed garnered over 33,000 retweets in less than 24 hours. "The prophecy is being fulfilled," one fan wrote. Others simply couldn't believe the timing. "I fully believe Queen Elizabeth has been reincarnated ... like that is such a hilarious coincidence that I cannot help but view it as fact."