Elizabeth Olsen's First Meeting With Taylor Swift Did Not Go As Planned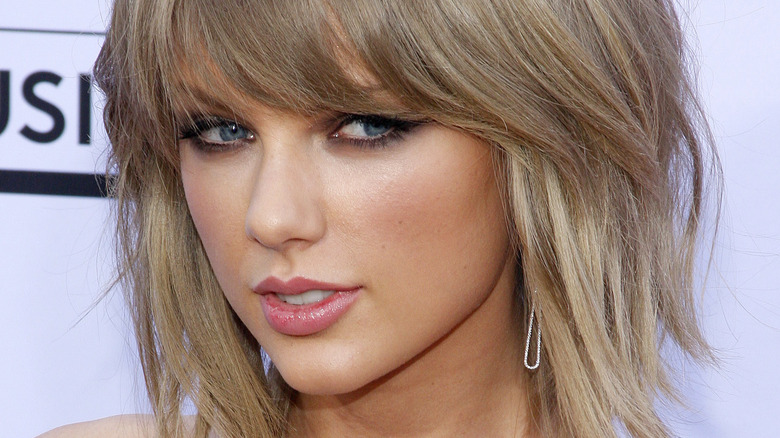 Tinseltown/Shutterstock
Taylor Swift's girl squad, made up of rich, successful, beautiful celebrities, was once the envy of regular people everywhere. For a few years in the late 2010s, Swift paraded her roster of A-listers around wherever she went — at least while she had projects to promote. She even featured her friends in the star-studded video for "Bad Blood," which was rumored to have been aimed at Swift's then-feuding partner, Katy Perry.
At its height, proud members of Taylor Swift's girl squad included Selena Gomez, Gigi Hadid, Cara Delevingne, and Karlie Kloss, to name a few, per Insider. While it may have seemed like a club for the who's who of Hollywood, not every big name was apart of the enviable group. One such star is actor Elizabeth Olesen. In May 2015, Olsen appeared on "The Late Late Show With James Corden" to promote her film, "Avengers: Age of Ultron." During the interview, the actor shared that while she "loves," Swift, they never quite managed to strike up a friendship — and Olsen blamed herself.
Elisabeth Olsen blew her chance with Taylor Swift
DFree/Shutterstock
It's not always easy to meet your idols, a lesson that Elizabeth Olsen learned the hard way when she met Taylor Swift. During Olsen's appearance on "The Late Late Show," she shared that she met the "Love Story" singer while at a birthday party. "Later in the night, Taylor Swift comes up to me," said Olsen. When James Corden interjected, "We love Taylor Swift," Olsen agreed. "And earlier in my ballet class, I was doing a dance sequence to her music that day and the Tuesday before." Perhaps Olsen was starstruck. Perhaps she was tired. Either way, it was awkward. "I just talked at her for, like, a long time," the "Avengers" star confessed. 
Ultimately, Olsen felt like she "blew it" with Swift because they "didn't like exchange phone numbers." During the same interview, Corden asked Olsen if she shared any of her ballet moves with Swift. Olsen replied that she was "really close to it," adding, "She was asking me which song it was, and I wasn't going to sing it for her. And I was like there's one with a lot of 'ah' sounds." Eventually, Swift named a titled and Olsen agreed, replying, 'Yeah, that one!"
Despite never gaining entrance into Swift's squad, Olsen has no reason to fret. In addition to starring in "WandaVision," Sci-Fi & Fantasy Gazette reported she may have a recurring role in Season 2 of HBO's "Game of Thrones" prequel, "House of the Dragon."
Celebs who didn't want to be in Taylor Swift's sqaud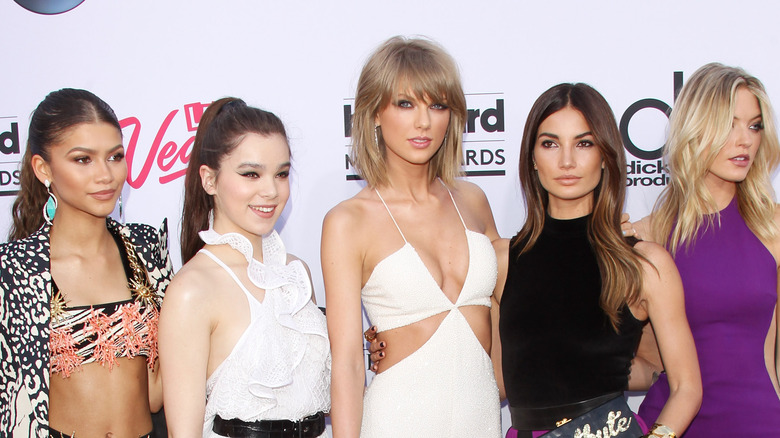 Michael Tran/Getty Images
Despite Elizabeth Olsen's enthusiasm for meeting Taylor Swift, not every star was rushing to be Swift's friend. Over the years, several celebrities have either thrown shade or outright denounced Swift's uber-famous friend group altogether. 
Hailey Bieber, for one, definitely isn't a fan. "I don't understand the Taylor Swift squad at all," Bieber shared with Yahoo7Be (via The West Australia). "I don't know what having a squad means. I just have my friends and that's it. I don't think that you need to create a public squad. I don't know what that proves. So I don't really understand the Taylor Swift squad at all." Meanwhile, Zendaya, who appeared in Swift's "Bad Blood" video and accompanied the singer to the 2015 Billboard Music Awards, took a subtler approach to voicing her disdain for the squad. According to E! News, Zendaya liked two tweets which distanced herself from the "White Horse" singer while she was in the middle of her feud with Kim Kardashian. "My girl zendaya knew better," read one tweet. Another Twitter user wrote, "I'm glad zendaya was never really down with that whole Taylor squad s***." The publication noted that Zendaya unliked the tweets, but the internet never forgets. 
Sadly, all good things must come to an end. Swift revealed to Elle in 2019 that at 30, she had officially outgrown the "situationships" of her younger years. "It's sad but sometimes when you grow, you outgrow relationships," she wrote. "You may leave behind friendships along the way, but you'll always keep the memories."