Kim Kardashian Finally Just Ended Her Feud With Taylor Swift After Five Years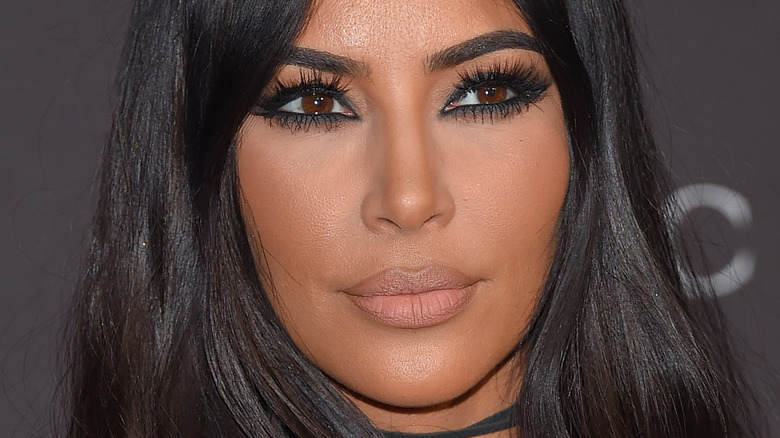 DFree/Shutterstock
Kanye West kicked off a complicated relationship with Taylor Swift after he infamously crashed Swift's acceptance speech at the 2009 MTV Video Music Awards. 
The two music stars appeared to reconcile after a few years, until their second big feud. The drama revolved around a controversial lyric in West's song "Famous," which he claimed Swift verbally approved. Swift, meanwhile, fought back and appeared to criticize West during her acceptance speech at the Grammy Awards. Kim Kardashian, who was married to West at the time, inevitably became involved. For example, in a since-deleted post, Kardashian shared a photo of her on set for West's "Famous" music video. In the background is a wax mold depicted to look like Swift naked. Of course, Swifties were quick to defend the singer and posted rat emojis in the comments, Marie Claire recapped. The same day, Swift posted a photo on Instagram from her "Vogue" shoot wearing a crimson dress with the caption, "I never trust a narcissist / But they love me." The line is a lyric from her song "I Did Something Bad," which may have been referring to Kanye West.
Kardashian also posted clips from a phone call, which seemed to imply thatSwift gave West permission for the lyrics, per BBC. Years later, a full video of the conversation between West and Swift surfaced in 2020, which appeared to prove Swift was right. In the ongoing battle of who said what, it appears Kardashian is trying to make nice in 2021.
Today, Kim Kardashian only has kind words to say about Taylor Swift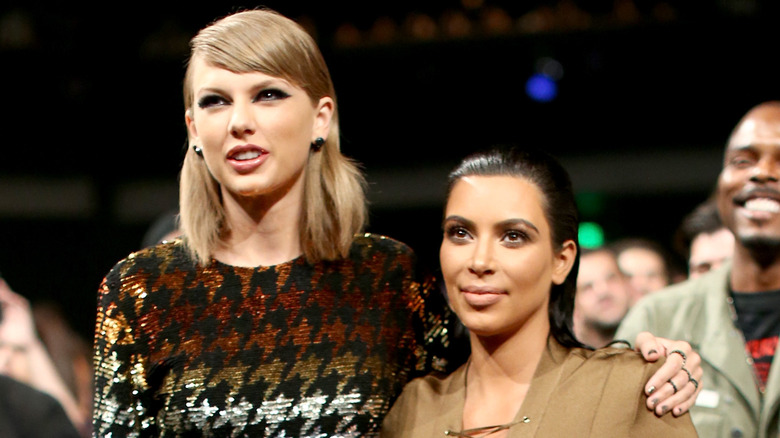 Christopher Polk/mtv1415/Getty Images
During an interview on Substack between Kim Kardashian and former New York Times journalist Bari Weiss, the reporter asked the social media star a series of rapid-fire questions — including one about Taylor Swift.
First, she asked Kardashian's opinion on her ex-husband Kanye West's music. Her personal favorites were his albums "Yeezus" and "My Beautiful Dark Twisted Fantasy." Weiss then immediately asked Kardashian what her favorite Taylor Swift song was. "I really like a lot of her songs," she admitted. In Kardashian's opinion, most of the songs in Swift's extensive catalog are "super cute and catchy." As for a specific song, Kardashian admitted, "I'd have to look in my phone to get a name."
On a recent episode of "Saturday Night Live," comedy group Please Don't Destroy premiered their new music video, "Three Sad Virgins" — which featured Kardashian's boyfriend Pete Davidson and Taylor Swift as guests. An insider told HollywoodLife that Davidson had no problem with Swift, even with the rumored bad blood between her and Kardashian. The insider added that Davidson wanted to avoid drama so "it was important to make friends with Taylor and do a skit with her."
With Kardashian divorcing West, the only competition between her and Swift might be financial. Thanks to her lucrative tours, Swift was worth an estimated $400 million in 2021, according to Celebrity Net Worth. Meanwhile, Kardashian is a billionaire, the outlet claims.