Body Language Expert Reveals King Charles' Hidden Message About Meghan And Harry - Exclusive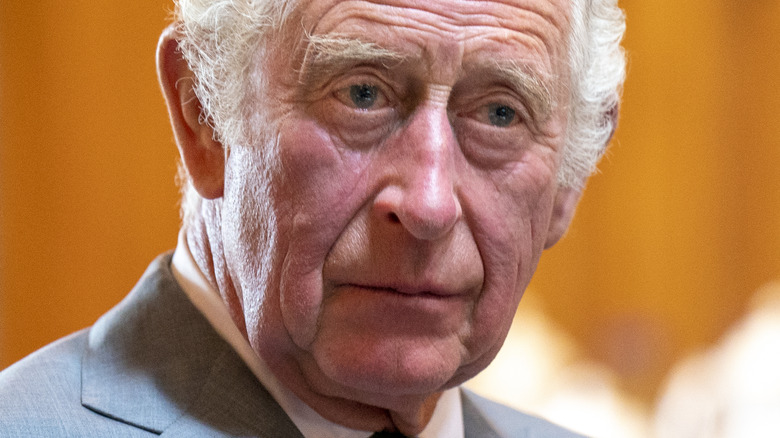 Jane Barlow - WPA Pool/Getty Images
King Charles III made his first speech after the tragic death of Queen Elizabeth II, and the world was watching. The new king's speech was poignant and strong. Charles began his speech, stating, "I speak to you today with feelings of profound sorrow. Throughout her life, Her Majesty The Queen — my beloved Mother — was an inspiration and example to me and to all my family, and we owe her the most heartfelt debt any family can owe to their mother; for her love, affection, guidance, understanding, and example." The speech balanced Charles's role as king with his role as Elizabeth's son.
Journalist Rebecca English tweeted the speech was "exquisitely worded and so beautifully pitched." Some of the new king's subjects were emotional during the speech. One Twitter user tweeted: "Gone again. Prince Charles' speech had me in bits." Across the pond, Americans thought the speech was a royal hit. American journalist David Rothkopf tweeted: "I'm just a guy from [New] Jersey, but to my ears and thinking, the speech of King Charles was moving and it touched upon the issues that needed to be addressed."
Even Americans who aren't fans of Charles liked the speech. A non-fan tweeted: "This American, who really doesn't care for Charles, thought it absolutely lovely and endearing." Netizens aside, a body language expert talked to Nicki Swift exclusively and opened up about Charles' body language during the speech — which may have included a hidden message about Meghan Markle and Prince Harry.
Body language expert says King Charles sent 'inclusive' message to Harry and Meghan
"Queen Elizabeth was a life well lived; a promise with destiny kept and she is mourned most deeply in her passing. That promise of lifelong service I renew to you all today."

His Majesty The King addresses the Nation and the Commonwealth. pic.twitter.com/xQXVW5PPQ2

— The Royal Family (@RoyalFamily) September 9, 2022
Jess Ponce III, a body language expert, communication coach, and author of "A.W.E.S.O.M.E," talked to Nicki Swift exclusively about the message King Charles's speech sent to Prince Harry and Meghan Markle. Ponce told Nicki Swift that King Charles "expressed his love to both of them in a very inclusive way. He also made a point to mention the 'life they are building,' indicating his respect and approval." The body language specialist also said Charles' words about Meghan and Harry had "the same appropriate tone as the rest of his address" and that he "closed his eyes briefly afterward, as if to button-up or close the subject."
But Ponce said that Charles addressed the couple for two reasons. First, it reinforced "his position of inclusivity, as if to subtly say we are all one family." The author observed that mentioning Harry and Meghan "preemptively told the press and other on-lookers that this [Harry and Meghan's relationship with the family] should not be an issue or focus."
It is a good strategy to promote family unity, as the new king faces a challenge with his sons' feud. In a September 7 column by Yahoo! royal editor Omid Scobie, the British journalist dropped a bombshell. A source told Scobie, "Many lines were crossed by William. He was at the centre of a number of painful moments, be it the actions of his own staff or turning his back when support was needed."
Jess Ponce III said King Charles wants people to honor Queen Elizabeth and her legacy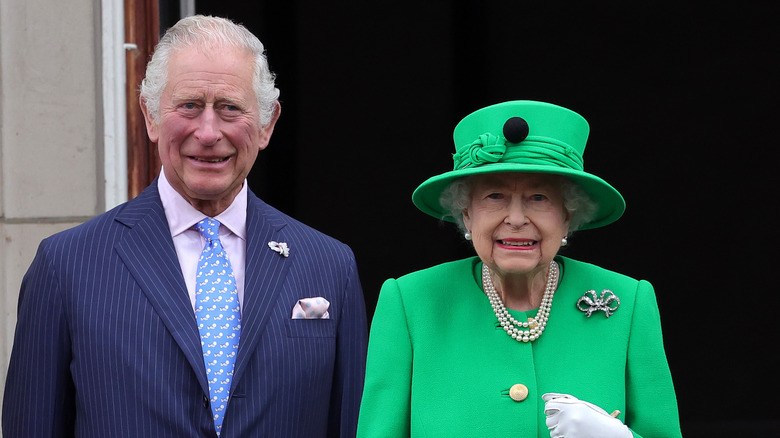 Chris Jackson/Getty Images
Body language expert Jess Ponce III told Nicki Swift that King Charles wanted people to honor Queen Elizabeth II in his speech. Ponce said, "He was framed in a close-up shot that was head-on with blown-out background. The shot did not include his hands. The deliberate focus was on his facial expressions and words." The body language expert and author noted that the new king realized all eyes were on him, looking at his actions in a new way. Ponce said, "He showed up remarkably — strong, yet approachable. He had a softness in his eyes and a kindhearted tone. His cadence was warm, sincere, and appropriate. He was regal and reassuring." The body language professional noted that it wasn't easy to "address the public so quickly after the passing of a loved one, let alone someone with eyes on him from over the world."
Responses about the king's speech from social media and TV pundits seemed positive, and it appears the new monarch's subjects welcomed him. Extra TV tweeted that the new king and his wife Camilla were outside Buckingham Palace on September 9, looking at the tributes to the queen and greeting mourners. But King Charles got a surprise! ITV News shared a video that showed "King Charles [receiving] a kiss from a member of the crowd at Buckingham Palace" while also "[greeting] countless members of the public lined up behind a barrier, thanking them for their good wishes."