Does Victoria Pedretti Have A Twin In Real Life?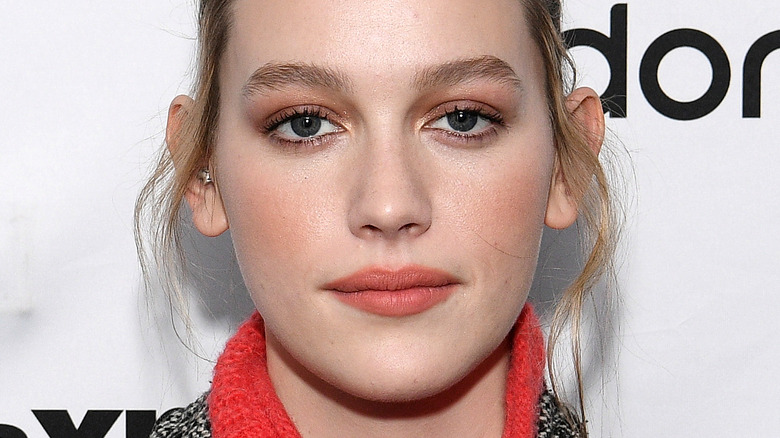 Dia Dipasupil/Getty Images
Victoria Pedretti has a real talent for playing a twin, and there are uncanny parallels between the twins whose skins she's been in. Her respective characters in "The Haunting of Hill House" and "You" — Nell Crain and Love Quinn — are both widows with male twins who are struggling with addiction, and they both appear in series in which death is a principal character.
But, whereas Nell is a sympathetic, sensitive figure, Love is manipulative and murderous. Speaking to Elle about becoming Love after playing Nell, Pedretti said, "While they have a lot of similar circumstances, and they're [both] coming from a large, publicly known family, they are completely different people. ... It was really cool to be able to deal with a lot of the same issues with a character who internalizes them in such different ways."
Pedretti had some memorable bonding moments with the actors who played her twins in both series, telling TVLine that she had a blast chilling with "You" co-star James Scully in a bathtub while filming some of their final scenes together. And before she hit the big time, she and Oliver Jackson-Cohen speculated about how audiences would react to "The Haunting of Hill House." She recalled to The Hollywood Reporter, "I remember sitting on a balcony with my castmate Oliver and we were just like, 'Are people gonna like this?'" Yet, while Pedretti doesn't have a twin in real life, she has developed a close bond with this sibling.
Victoria Pedretti's special relationship with her half-sister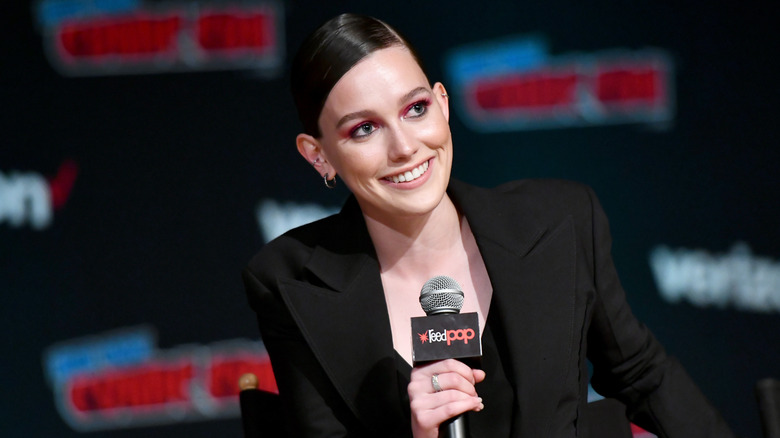 Noam Galai/Getty Images
Victoria Pedretti grew up in Philadelphia with parents who were both involved in theater, per the Daily Press. In an interview with StyleLikeU, Pedretti said that she didn't feel like she had a stable upbringing, but she didn't realize how traumatic her childhood was until she spoke to a psychologist in college. "I was very disturbed to find out that that was my story," she said. Pedretti recalled the psychologist telling her, "You know, the parent is the one that's responsible for the child, right?" But, despite the emotional distress she suffered, the actor still loves her parents. "I really do appreciate they were consistently doing their best," she said.
Thankfully, Pedretti had an older half-sister who was there for her when she needed guidance. "Since I was a kid, I felt such a strong bond and a want to be near her and a protectiveness," Pedretti told Harper's Bazaar. "She is my favorite person in the world, pretty much." 
The actor said that her sister is 25 years her senior, pointing out that this extreme age discrepancy meant they had nothing in common when Pedretti was a child. However, this just seemed to make their relationship even more special. "I understand that there's sometimes just a connection that is just there. It's a bond," she stated.
Victoria Pedretti disagrees with fans who think she has a celebrity twin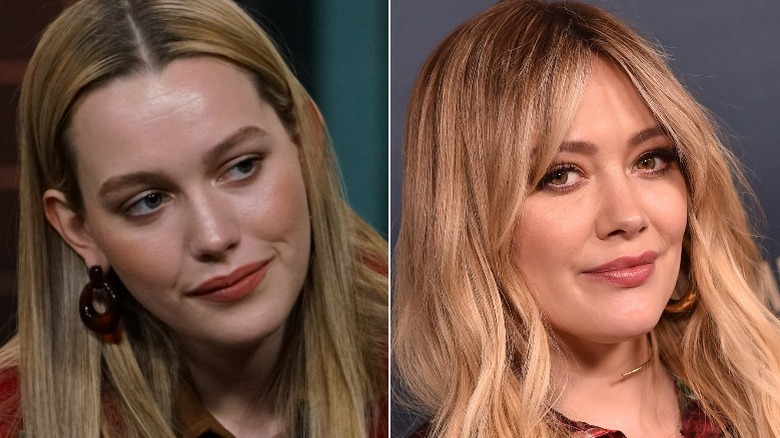 DFree/Shutterstock & Manny Carabel/Getty Images
Some of Victoria Pedretti's fans believe that she bears a striking resemblance to "Lizzie McGuire" star Hilary Duff, per Teen Vogue. The official Twitter account for the series "You" even endorsed the idea that the two are celebrity twins, quote-tweeting a fan who suggested that Pedretti's co-star, Penn Badgely, also resembles Duff's husband, Matthew Koma. But Pedretti doesn't agree with this assessment.
In an interview with InStyle, Pedretti listed a few other actors who fans think are her doppelgangers, including Rachel McAdams and Kat Dennings. "I don't really look like any of these women," she opined. While she understands that people think such comparisons are flattering, they make her uncomfortable. She questioned why there's a desire to see similarities in female actors' appearances, suggesting that it's harmful because it places expectations on a woman to behave a certain way simply because she shares the same physical traits as someone else. "Nobody should want that," she said.
Because her on-screen twins have been men, Pedretti hasn't had to deal with being compared to them in such a manner, but according to Oliver Jackson-Cohen, their fictional familial connection did effect the script of the second project that they appeared in together, "The Haunting of Bly Manor." Their characters were going to be romantically involved originally, but Jackson-Cohen told Entertainment Weekly, "And then I think Netflix was like, 'No, that's a bit weird seeing as [you played] twins.'"