Are Aubrey Plaza And Elizabeth Olsen Friends?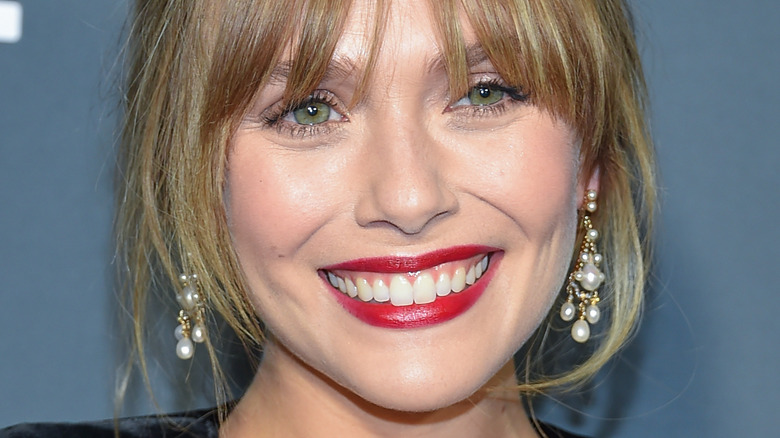 DFree/Shutterstock
If you're a fan of action films and TV comedy, then chances are you've heard of Elizabeth Olsen and Aubrey Plaza. Over the years, the two have made a name for themselves with notable projects, like "Avengers: Age of Ultron" and "Parks and Recreation," respectively. While Olsen and Plaza have pursued different genres in the movie and TV sphere, the two eventually crossed paths while filming 2017's "Ingrid Goes West." Leading up to the release of the aforementioned project, pop culture enthusiasts couldn't get enough of the duo's hilarious friendship off-camera. While some co-stars meet at the start of filming, Olsen and Plaza's friendship stemmed from a one-off encounter in L.A.
During an interview with W Magazine, Olsen revealed that they first met at the Mohalk General Store in Silver Lake. "I was just shopping with my friends," Plaza added. In response, Olsen revealed that the two had a mutual acquaintance. "And I knew one of your friends, and we all met. Then that was it. But that was a long time ago," she explained.
Fortunately, for fans obsessed with their friendship, there are plenty of moments that prove Olsen and Plaza are far from just co-stars.
Elizabeth Olsen and Aubrey Plaza's friendship blossomed during Ingrid Goes West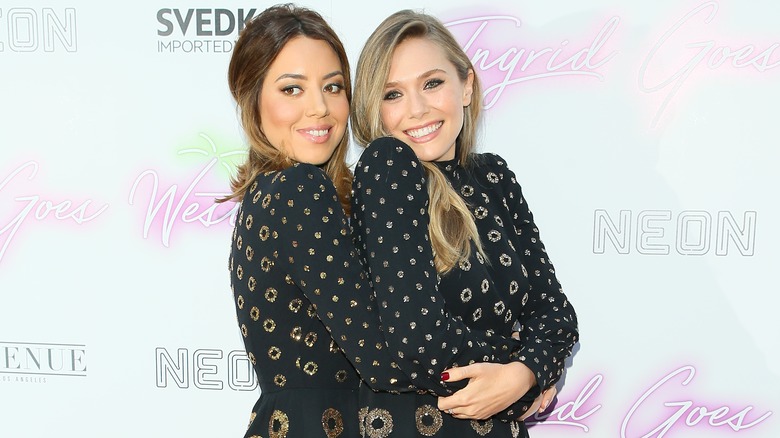 Jb Lacroix/Getty Images
Back in 2017, movie-goers were first introduced to Aubrey Plaza and Elizabeth Olsen's hit dark comedy "Ingrid Goes West." Set in L.A., the movie follows Plaza's titular character and her tense relationship with social media influencer Taylor Sloane (Olsen). While the two had a destructive and manipulative friendship in the film, their real-life relationship off-camera was the complete opposite.
In an interview with Women's Wear Daily, Olsen and Plaza gushed about being obsessed with each other while filming the aforementioned movie. "I think I became obsessed with getting a reaction from Aubrey, of making her uncomfortable," the "WandaVision" star explained. Plaza echoed similar sentiments and revealed she had Olsen's picture as her lock screen. "I'm obsessed with everything. I am! Look at her. She's gorgeous, she's talented, she's going places."
The set of "Ingrid Goes West" wasn't the last time Plaza showcased her "obsession" with the "Godzilla" star. During the film's Los Angeles premiere, the "Parks and Recreation" star showed up in the same Marc Jacobs ensemble as Olsen — which resulted in a hilarious interaction between the two. "I don't know how this happened. I think we just have good taste," Plaza coyly explained to the Associated Press. In response, Olsen described the "Legion" star as "insane," before she playfully opened up about her own obsession with Plaza. "I love her too. I do have a comfortable place outside her home," she told the news outlet.
Fans have shipped Elizabeth Olsen and Aubrey Plaza as a couple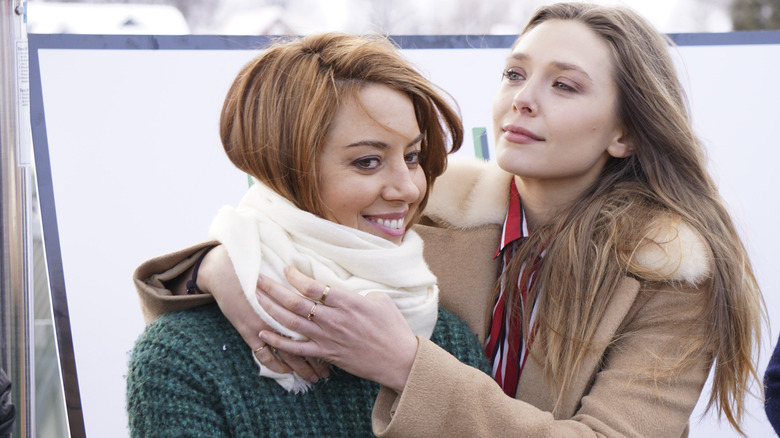 Lilly Lawrence/Getty Images
Since starring in "Ingrid Goes West," Aubrey Plaza and Elizabeth Olsen have been categorized as "friendship goals" due to their hilarious interviews together. However, their various joint appearances have also led some fans on social media to ship the two as real-life romantic partners. One Twitter user wrote: "The fact that Aubrey Plaza and Elizabeth Olsen are both married & not to each other causes me pain." Another fan tweeted: "Hitting my all-time low watching videos of Aubrey Plaza and Elizabeth Olsen longing for them to be together."
While the two acclaimed actors are both in committed relationships, Plaza has previously expressed an interest in marrying Olsen. During her 2020 appearance on "Stir Crazy with Scott Horowitz," the "Black Bear" actor played "Married, F**k or Kill" — with Scarlet Witch, The Wicked Witch of the West, and Maleficent as her choices. When asked about Olsen's character, Plaza said she would "marry The Scarlett Witch" before extending the sentiment to Olsen. "If I could have Elizabeth Olsen as my wife, my life would be set. She would be the best wife I ever could dream of," she revealed. 
Even though Plaza and Olsen may never walk down the aisle, fans can still appreciate their iconic friendship through "Ingrid Goes West" and various compilations of their interviews.