Inside Adam Sandler's Friendship With Pete Davidson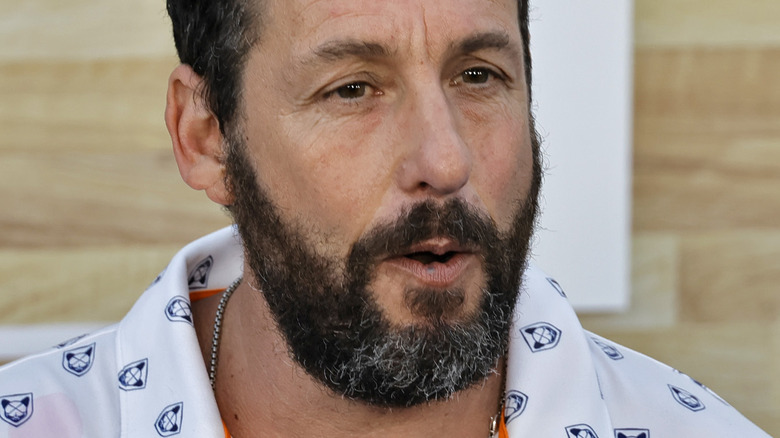 Kevin Winter/Getty Images
The kinship of being "Saturday Night Live" performers led to a bond between Adam Sandler and Pete Davidson. Both comedians had their big breaks on the heralded sketch show which they parlayed into leading roles in movies. Although, when the "Billy Madison" star hosted "SNL" in 2019 he pointed out a key difference in their career trajectories. During his monologue, Sandler sang about being fired from the show, and the "The King of Staten Island" actor tried to join in. The "SNL" alum joked to Davidson that he had not been fired, but jokingly hinted it was coming. 
Perhaps Davidson was not relieved of his "SNL" duties, but he often found himself the subject of tabloid fodder. Fortunately, Sandler offered some words of advice to the younger comic. "He's been through it already ... He just tells me how to navigate through, 'The b******s that are trying to bring you down,'" Davidson said in a wide-ranging interview with Charlamagne Tha God in February 2020. "The Suicide Squad" actor also mentioned how he envied Sandler's approach to movie-making. "The Sandler model is the s***," Davidson said while mentioning how well-rounded the "Uncut Gems" star was as a person.
In April 2020, Davidson recruited Sandler for his "Stuck in the House" sketch which was a quarantine-themed "SNL" song. "Tell the Grubhub guy leave food on the street / I'm so f***ing bored, I'm doing songs with Pete," Sandler sang. That song came together thanks to the friendship between the two. 
How close are Adam Sandler and Pete Davidson?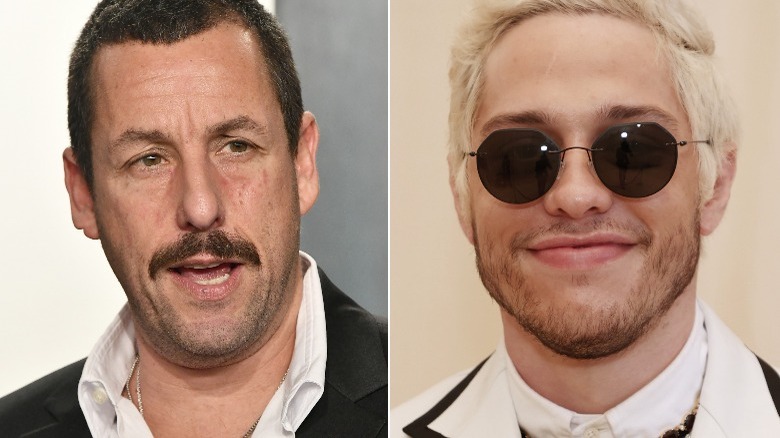 Arturo Holmes/mg21 & Frazer Harrison/Getty
A few months after the viral song "Stuck in the House" was released, Pete Davidson revealed that he was able to bring Adam Sandler on board because of their close friendship. "I'm pretty tight with the Sandman, which is the coolest thing I ever get to say," Davidson said while appearing on "Late Night with Seth Meyers" in June 2020. The "Big Time Adolescence" star was effusive when discussing Sandler. "He's just such a cool, nice guy. I can't explain how wonderful of a person he is," Davidson added. According to the "Wild N' Out" alum, he reached out to Sandler to collaborate on the song, but thought it was a long shot. "And he was like, 'Hell yeah, buddy,'" Davidson recalled.
It has not only been Davidson who has fawned over Sandler, but the "Hubie Halloween" actor has shared similarly endearing sentiments about the younger comedian. "Well, Pete Davidson is a very nice kid," Sandler told Access in June. "He is a very nice kid and a funny b*****d," Sandler added.
After the success of "Stuck in the House," many had wondered if the comedic duo would collaborate on a bigger project together. Sandler said that the prospect had been discussed. "He talks about finding the right thing and maybe one day that would happen," the "Little Nicky" star told Access, while mentioning that Davidson had his hands full filming alongside Al Pacino. Although they have not filmed much together, Sandler and Davison have found time off-camera.
How Adam Sandler influenced Pete Davidson's clothing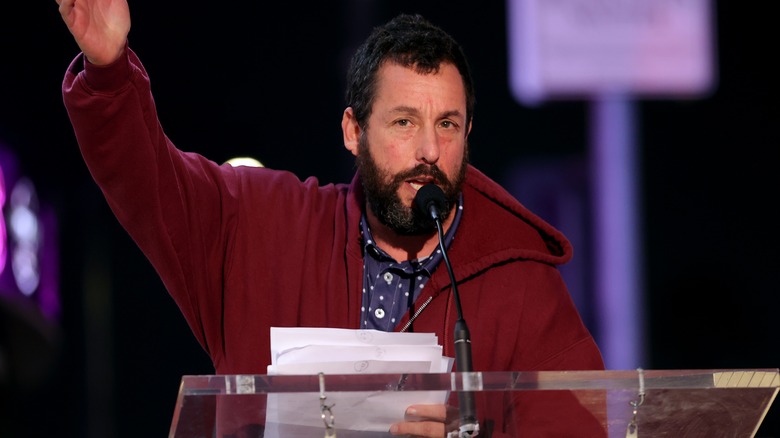 Emma McIntyre/Getty Images
Besides his zest for comedy and filmmaking, Adam Sandler is known for his love of basketball. While filming his hoops-centric "Hustle" for Netflix, Sandler told Access that Pete Davidson visited the set. The duo had hit the court together in the past, and Davidson was impressed with the "Happy Gilmore" star's skills. "Sandler can f***ing ball, dude," he said on an episode of "Hot Ones" in March 2020. Davidson even offered some insight into Sandler's game. "And he plays like dirty, him and his boys ... He's like really, really good and competitive," the "Saturday Night Live" star said. Although Davidson added that the charm of playing alongside the veteran comedian wore off. "[A]nd then you're like, 'Ow. He really hurt me, man.'"
Sandler's influence on Davidson extended beyond comedy and filmmaking. In fact, the "Set It Up" actor said the Sandman set the sartorial standard he followed. "I pretty much just took whatever Adam Sandler was wearing and have tried to do that, because he's my favorite fashion icon," Davidson told POPSUGAR in 2020. He gushed over Sandler's laidback aesthetic. "I've tried to adapt that type of style now," Davidson said.