Body Language Expert Paints Awkward Picture Of Meghan Markle's Surprise Reunion With William And Kate - Exclusive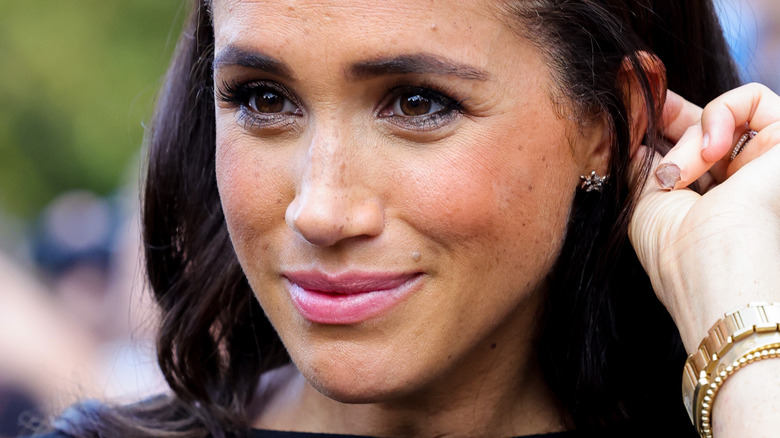 Chris Jackson - WPA Pool/Getty Images
Now that Queen Elizabeth has died, there's some speculation that her death might help bring Prince William and Prince Harry back closer together. But that's not without any royal drama, of course. Even though initial reports stated that Meghan Markle was supposed to travel with Harry to Scotland with the rest of the senior royals to see Queen Elizabeth one last time, that didn't happen. In fact, The U.K. Sun reports that it was King Charles who had told his son to leave Meghan behind in London. One source close to the situation revealed to the outlet, "Charles told Harry that it wasn't right or appropriate for Meghan to be in Balmoral at such a deeply sad time."
That might or might not have been the reason why Harry was one of the first royals to leave Balmoral soon after it was announced that Queen Elizabeth had died. Regardless of what may or may not have happened behind closed palace doors, the Sussexes stunned the world by reuniting with the newly minted Prince and Princess of Wales to greet well-wishers at Windsor Castle on Saturday morning. However, one body language expert is painting an awkward picture of Meghan's reunion with William and Kate.
Meghan looked 'uncomfortable' with the royals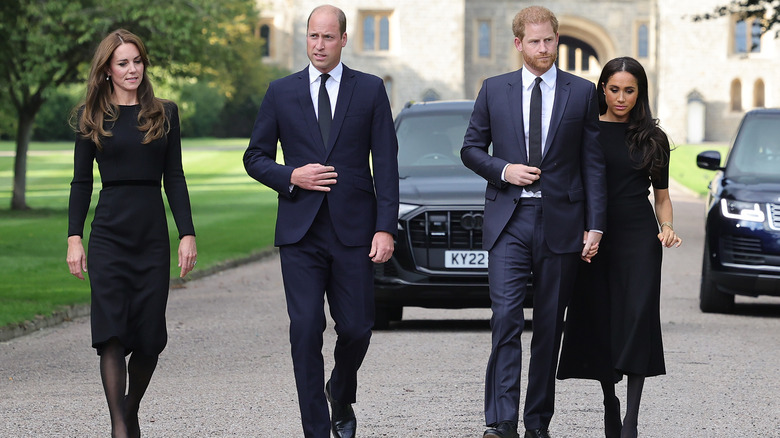 Chris Jackson/Getty Images
It's not an easy time for the royals right now, seeing how everyone is grieving the loss of Queen Elizabeth. Despite all of the royal drama, the interviews, and the accusations, Prince William reportedly invited Prince Harry and Meghan Markle at the "11th hour," per the Daily Mail, to meet with crowds outside of Windsor Castle.
It was definitely a moment that has left Twitter in a tizzy as it was totally unexpected. However, body language expert Jess Ponce III, who is also the author of "A.W.E.S.O.M.E.: 7 Keys to Unlock the Speaker Within," believes that the reunion was anything but comfortable for the Duchess of Sussex. In an exclusive interview with Nicki Swift, he says that Meghan displayed "visible uncertainty" compared to the other three royals simply because "this situation is new to her and probably somewhat overwhelming." Even though William, Kate, and Harry all waled in unison, Ponce said it was Meghan who "continued to walk she fussed with her hair and outfit" and "was noticeably uncomfortable compared to the other three, especially with Kate who walked straight forward with a sense of confidence."
Ponce also said that while William, Kate and Harry all bent down to read cards from the public, Meghan didn't know what to do. He said she "seemed uncertain on what to do and it was quite noticeable." Yikes. Here's hoping that things get better for Meghan, William, Harry and the rest of the royals, too.