The Devastating Truth About Prince William And Prince Harry's Relationship Today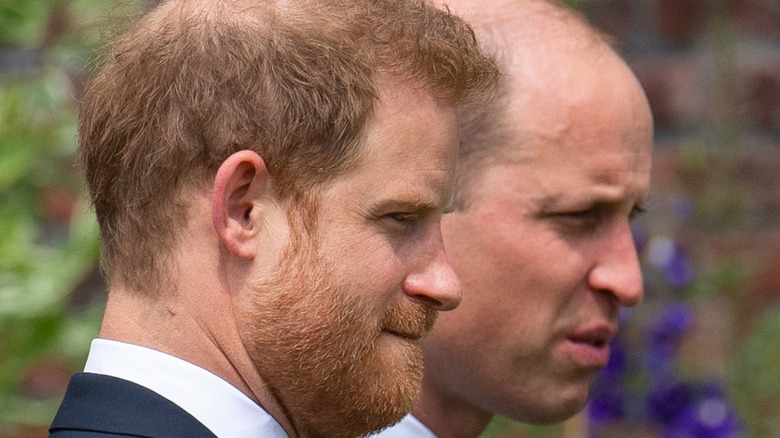 Dominic Lipinski - WPA Pool/Getty Images
As soon as Queen Elizabeth II was announced to be in ill health on the morning of September 8, her entire extended family flocked to her side at Balmoral Castle in Scotland, and stayed with her until her death later that day. This included everyone from the queen's four children to her numerous grandchildren, the highest profile of whom are arguably the two sons of the new King Charles III: Princes William and Harry. 
The two brothers have been involved in a rather noteworthy feud for a few years now, beginning around 2018 upon Harry's marriage to American actor Meghan Markle (now the Duchess of Sussex), and hence her official induction into the Royal Family. However, shortly after, Harry and Meghan began their well-publicized exit from official royal family duties — a move initially dubbed "Megxit" before the BBC tweaked it to "Sussexit" — and are now living in the United States. As a result, William and Harry's relationship began to undergo a great deal of tension — which were exacerbated by the likes of Harry and Meghan's partnership with Netflix and their subsequent March 2021 Oprah interview. This culminated most recently at their grandmother's Platinum Jubilee in June, during which their relationship was said to be "frosty," per Page Six.
Now, the two brothers have reunited at Balmoral for the first time since the Jubilee, and — unfortunately to those hoping for a joyous reunion — it's quite clear that the state of their relationship has not exactly healed in the months since.
William and Harry only have 'fractional engagement' with each other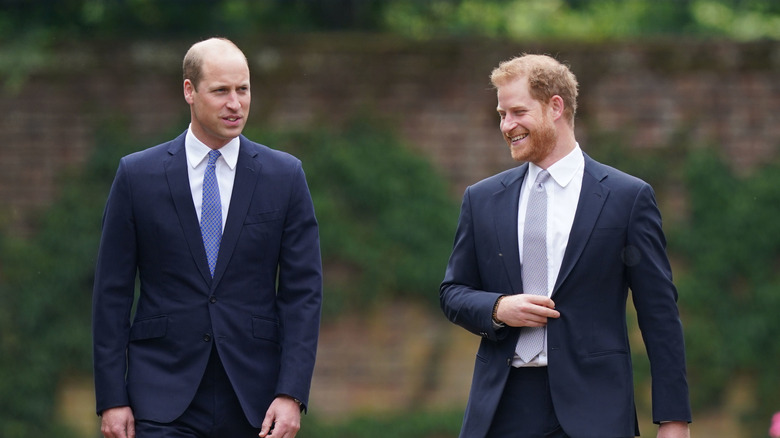 Yui Mok - WPA Pool/Getty Images
Although the death of Queen Elizabeth II may have allowed for one of the few occasions for the entire royal family to get together — and perhaps mend fences – this was not exactly what happened. A source close to the royal family told Us Weekly that there was only "fractional engagement between William and Harry" at the castle, and though the brothers may be acting "civil" for the solemn occasion, they have "by no means turned the page and made amends." The source added that the mood around the castle was "somber all around." Harry left Balmoral early the next day, and is expected to remain in Windsor until the funeral, per The Guardian. 
Although it was initially expected that Meghan would come to Balmoral Castle with her husband, it was later reported that she would not. This is not that unusual, however, as William's wife Kate did not attend either. A BBC royal correspondent did speculate, however, that Meghan "might not be terribly warmly welcomed," and hence may not have been invited (or may have been told to stay behind after the couple's initial announcement). 
Furthermore, William and Harry's relationship was still at "rock bottom" at the time of the Jubilee. William felt "really, really angry about what his brother has done," a source told the Daily Mail at the time, as he "believes there are things you just don't do. And Harry has 100% crossed that line."
William doesn't intend to have contact with Harry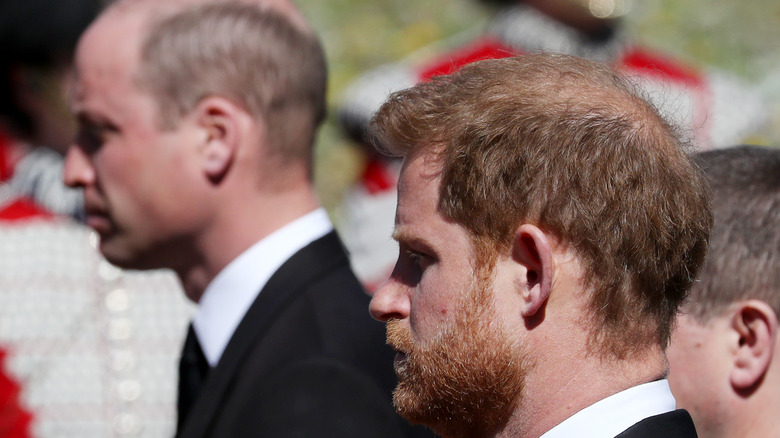 Gareth Fuller - WPA Pool/Getty Images
There have been other incidents since the Platinum Jubilee which may have contributed to the hostility between Princes William and Harry. At the time, another source close to the family told Us Weekly that the brothers' relationship is "doomed," and "irreparable." William "doesn't know who [Harry] is anymore," according to the source, "and the trust between them is strained." They added that the two will "never recover from the damage that has been done." 
Things were not helped by Harry's announcement of a personal memoir, which is expected to take a deeper look into the royal family. A source told The U.K. Sun in early September that the royal family, and William in particular, intended to avoid seeing Harry and Meghan until the release of the memoir, as William did not trust that any of their conversations wouldn't be used in the book. "They have lost their chance of being trusted as the chance is they will use any conversation," Angela Levin, a royal biographer, told the outlet. Of course, no one knew at the time that they would end up meeting to say goodbye to their grandmother just a few days later.
Things seem to be less acrimonious with Harry and his father, however. In his first public address as King on Friday, Charles III gave a warm shoutout to his son and daughter-in-law. "I want to express my love for Harry and Meghan as they continue to build their lives overseas," he said.