How Phoebe Dynevor And Regé-Jean Page Really Got Along On The Set Of Bridgerton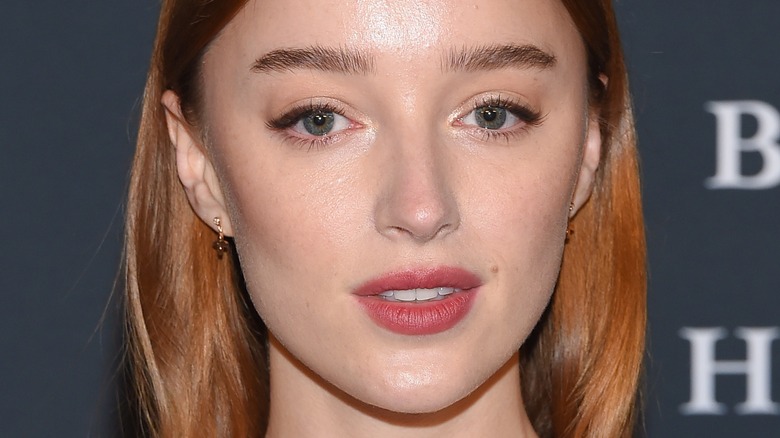 DFree/Shutterstock
Season 2 of "Bridgerton" premiered in March, but fans are still talking about the steamy on-screen chemistry between Season 1's "It" couple, Daphne Bridgerton (Phoebe Dynevor) and Simon Basset, the Duke of Hastings (Regé-Jean Page). The series introduced Daphne as prime marriage material, or the season's "diamond," to quote Queen Charlotte. Despite Simon's reluctance to marry, he was eventually persuaded otherwise. One wedding ceremony later, viewers were treated to a series of passionate love scenes that were enough to make anyone shoo their parents from the room. The sexy material prompted a flood of memes that proved fans were tuning in for Daphne and Simon more than anyone else. "Watching Bridgerton for the plot," one person joked on Twitter. "Ah, yes, hmmm, the plot arrives," someone else wrote beside a photo of Simon gazing pensively at the camera.
But all this sexy time didn't just seamlessly come together on-camera! Dynevor told E! News that she and Page worked "really hard at making [the sex scenes] feel real," while showrunner Chris Van Dusen added that they were "heavily choreographed." Everything felt so real that fans also wondered whether Dynevor and Page were a couple IRL, though this rumor was debunked by both actors. Currently, People reports that Page has been linked to Emily Brown and, while Dynevor is single, she briefly dated Pete Davidson before his relationship with Kim Kardashian. All reports point to the fact that Dynevor and Page were very amicable on-set.
Phoebe Dynevor and Regé-Jean Page had a working relationship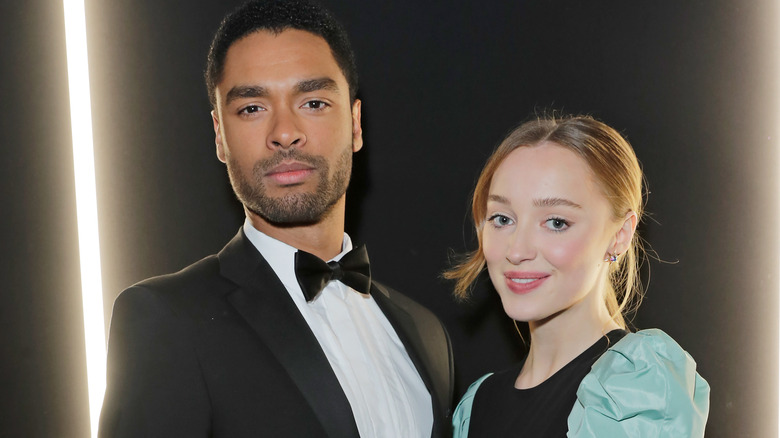 David M. Benett/Getty Images
In 2021, Phoebe Dynevor was asked about her relationship with Regé-Jean Page, and she told You Magazine that things were always "strictly professional" with her co-star. "I'd love to say there was really something between us, but no," she said, explaining that her connection with Page was always borne of a "professional working relationship." However, she's thankful this was the case. "It would be very complicated if it went further," she added. "I always hear about people falling in love with their co-stars ... It's yet to happen to me, but I'm intrigued."
Page reiterated her statements in an interview with "Access," and attributed their chemistry to the scripts. "I think everything you need to know is on camera. That's why we presented it so beautifully for you," he said. "All the sparks flew off the beautiful scripts that we were handed, and so I think that the sparky scripted material [was] more than enough." 
As spontaneous as those kisses and love scenes seemed, they were really the product of lots of hard work! Per E! News, the actors approached them as if they were "intricate stunts." It also didn't hurt that Dynevor and Page spent a lot of time together in preparation. "Once you've spent that many hours on the dance floor with someone, being close to someone, literally catching each other when you fall ... then a lot of [the chemistry] happens quite organically," Page shared.
Phoebe Dynevor and Regé-Jean Page are friends today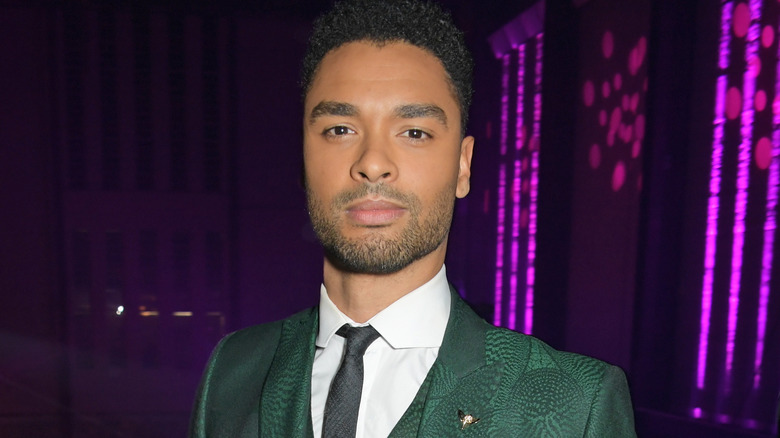 David M. Benett/Getty Images
Like many co-stars, Phoebe Dynevor and Regé-Jean Page's time spent working together brought them closer in a personal capacity, too. "We spent so much time rehearsing together that we've become good mates," Dynevor told The Guardian. "Unfortunately now [Regé-Jean's] off in Los Angeles, but we check in with each other a lot." Given their closeness, the "Snatch" actor spoke out about Page's exit from "Bridgerton." While fans were devastated to learn that the dashing Duke of Hastings wouldn't be reprising his role in Season 2, Dynevor took a more low-key approach. "Yeah, I guess it is a spanner," she said on the "Variety Awards Circuit" podcast. (A spanner is British slang for something that ruins a project.) "But again, the show centers around the Bridgertons, and there are eight books. ...Fans of the books know that every episode is about a different sibling. And we're very much passing on the baton to the lovely [Jonathan Bailey], who plays Anthony."
Ultimately, Page Six reported that Page left "Bridgerton" over "creative differences" rather than because of any rift in his relationship with Dynevor. "He wasn't happy with what was planned for his character with Season 2, which would have kept him a player but not the focal point of the show," a source said. In May, Page and Dynevor reunited at the Met Gala, where they looked extra cozy together, per The Mirror. Clearly, all's well that ends well for these two stars.