The Girl Group You Never Knew Britney Spears Was In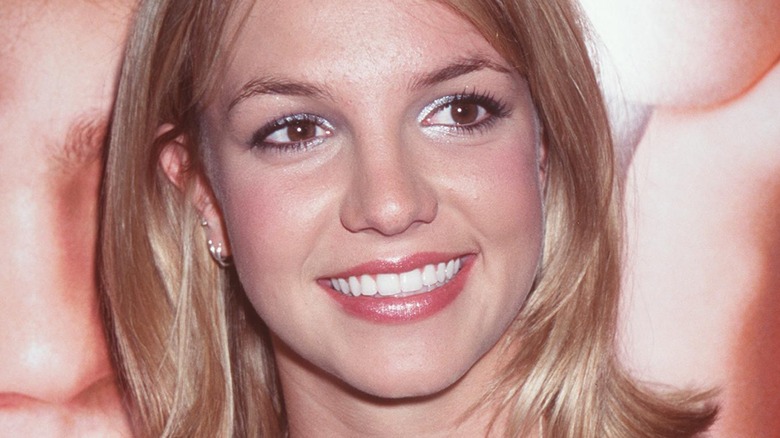 Robin Platzer/twin Images/Getty Images
During her time on "The All-New Mickey Mouse Club," Britney Spears worked with many young stars who she would continue to encounter throughout the course of her entertainment career. Spears famously dated Justin Timberlake long after they'd retired their Mouseketeer ears, and Christina Aguilera would become a professional rival when she and Spears launched their battle for pop princess supremacy. The "Crossroads" star even auditioned to play Ryan Gosling's romantic co-lead in "The Notebook," per E! News.
"After that show, that's when I realized that I had a major love for music," Spears told Entertainment Tonight of her Mouseketeer days. "It really motivated me to go forth and go for what I wanted." Obviously, she wasn't the only Mickey Mouse Club member who wanted to make it big in the music industry, and she has a lesser-known connection to a former co-star who hoped to achieve the same dream: Nikki DeLoach. 
In an interview with MTV News, DeLoach revealed that she became close friends with Timberlake during their time filming together, so when Timberlake's mother, Lynn Harless, decided to create a girl group, DeLoach was the first potential member she contacted. Spears also received an invite to join the quintet, which was inspired by the Spice Girls, per The New York Times. But instead of getting boosted by Spears' pop power, the group would eventually meet a tragic end.
Why Innosense disbanded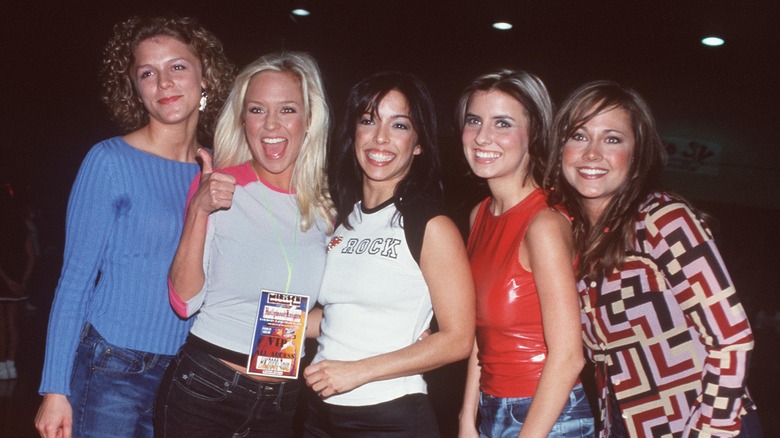 Gary Marshall/Getty Images
The girl group Britney Spears briefly joined was called Innosense. In addition to Spears and Nikki DeLoach, the original lineup included Amanda Latona, Mandy Ashford, and Danay Ferrer.
In a 1999 interview, Spears recalled successfully auditioning for Innosense. But after speaking to the lawyer who would become her longtime manager, Larry Rudolph, she decided to ditch the group. "You know how girls are," she said. "It was like, forget this." According to Think Progress, Innosense was managed by Lou Pearlman, whom Rudolph had dealt with before. Pearlman created NSYNC and the Backstreet Boys, but in 2016, he died in prison while doing time for running a Ponzi scheme, per Billboard. Pearlman's legal issues were the reason Innosense disbanded after only finding minor success. "The way our group ended was really sad," DeLoach told Complex. During its six-year existence, Innosense did get to tour with Spears and NSYNC, and Spears had a Grammy-night slumber party with the group in 1999. "Britney and I were definitely friends back then," DeLoach told MTV News. "She was always so great and so unaffected by her huge fame — just a sweet, amazing person."
DeLoach married Take 5 member Ryan Goodell and went on to have a successful acting career on television. She notably played the mother of lead character Jenna Hamilton (Ashley Rickards) in the MTV series "Awkward" and told Tinseltown Mom that she only became a Hallmark star after her grandmother begged her to audition for a Hallmark holiday movie.
Britney Spears' replacement dated Justin Timberlake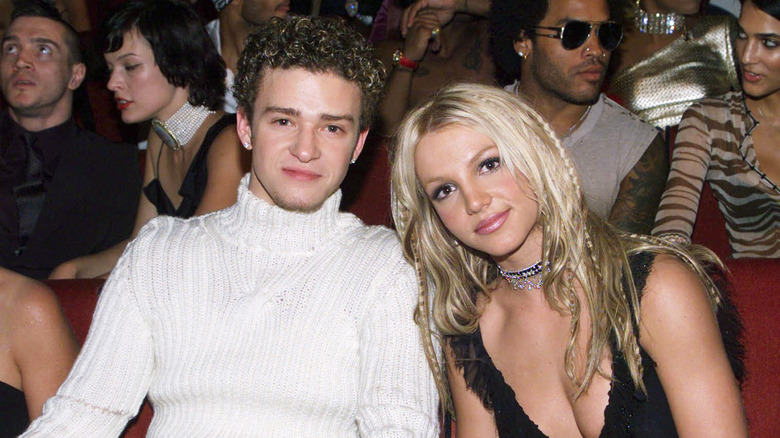 Dave Hogan/Getty Images
Every member of Innosense had a connection to NSYNC. Nikki DeLoach told Lindzi.com that she dated JC Chasez, while Mandy Ashford and Lance Bass appeared together in musicals, per Apple Music. Joey Fatone attended the same high school as Danay Ferrer, and Amanda Latona told The New York Times that it was Fatone who suggested that she audition for the girl group. She and Fatone met while working together at Universal Studios, where they both performed in "Beetlejuice's Graveyard Revue."
Latona, who once dated Backstreet Boys member AJ McLean, eventually left the group and tried to follow the Britney Spears blueprint while charting a career as a solo artist. It didn't pan out, but she became a successful fitness model and body builder. Per Muscle & Fitness Hers, she also appeared on "Shark Tank" and launched a clothing label called Booty Queen.
The singer who stepped in to take Latona's place, Jenny Morris, was the girlfriend of Justin Timberlake's best friend, per Lindzi.com, and Spears' replacement, Veronica Finn, dated Timberlake himself. Finn told the Mirror that Timberlake used to lavish her with gifts, including designer shoes. "Justin is a big 'I love you' guy. He falls in love fast," she recalled. But their hectic lives made it increasingly difficult for the teen singers to spend time together, and they began to suspect each other of being unfaithful. Finn confessed to dumping Timberlake via voicemail — and had to watch as he rebounded with Spears.