Gisele Bündchen Sends Subtle Message About Her Marriage Amid Tom Brady Divorce Rumors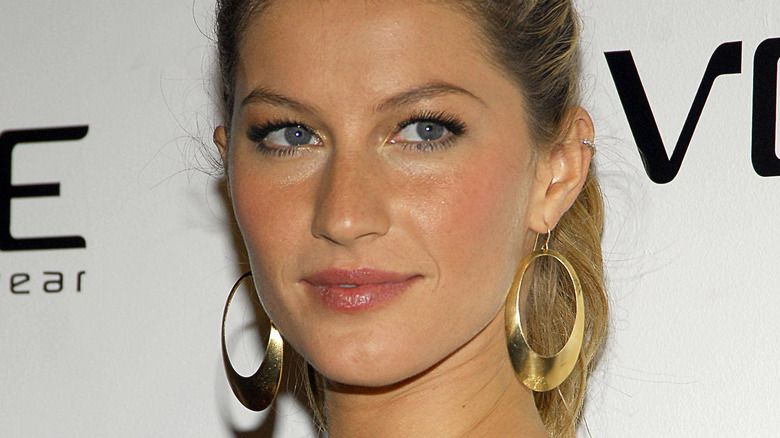 Everett Collection/Shutterstock
Gisele Bündchen is a woman who appears to have it all. She's gorgeous, rich, has a successful career, and has a handsome NFL star husband. Bündchen has two cute kids, Benjamin and Vivian, with Tom Brady and a body so superhuman that she modeled semi-naked on Vogue Brazil's cover two months after giving birth. Oh, and to top it all, she once told British Vogue (via Today) that her son considered broccoli to be "dessert."
There are clearly no tater tots or tantrums over dinner at the Bündchen-Brady household. However, recently there's been rumors that everything's not as perfect as it may seem. In fact, there's been a lot of gossip that Brady and Bündchen's 13-year marriage might be on the rocks. The couple has always put on a united front and is usually inseparable. Bündchen was a fixture at Patriots' — and now Buccaneers' — games, cheering Brady on from the stands. But it was a different story over Labor Day weekend.
Per People, Bündchen and the kids splashed around in a Florida water park. Meanwhile, Brady jetted to New York to be with his son, Jack, whom he shares with ex-girlfriend Bridget Moynahan. Of course, spending a holiday weekend apart doesn't automatically spell amor armageddon. Still, it does add more fuel to the gossip fire that Brady and Bündchen's marriage problems are reportedly far from over. Neither has publicly spoken out, but Bündchen did send a subtle message about her marriage amid the Brady divorce rumors.
Gisele Bündchen continues cheering for Tom Brady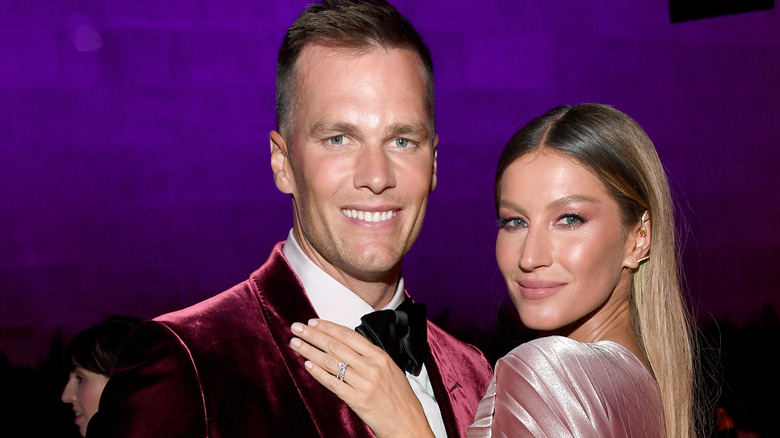 Kevin Mazur/mg19/Getty Images
According to Us Weekly, the spouses are warring over Tom Brady pulling a Cher and retiring from retirement. "Gisele [Bündchen] was not happy when Tom un-retired from the NFL after such a short time," a source claimed. However, going by Bündchen's social media, they appear to be getting back on track. "Let's go, Tom Brady! Let's go, Bucs!" she tweeted on September 12. Later the same day, Bündchen also posted a pic from their wedding day on her Instagram Story (via People) when she wished her sister a happy birthday.
Bündchen and Brady met on a blind date in 2006. She admitted on "The Tonight Show Starring Jimmy Fallon" that he had her at hello. "When I saw those kind eyes, I literally fell in love right away," Bündchen confessed. Per Insider, things started rocky after Brady discovered his ex was pregnant. However, Brady and Bündchen's relationship flourished, and they tied the knot in 2009.
"[Gisele] is the one that at the end of the day really makes a lot of sacrifices," Brady told "Good Morning America" in 2021. "She just brings out the best version of me." However, Page Six reports the quarterback hinted there could be trouble in paradise when he returned to the field following an 11-day break. "Everyone's got different situations that they're dealing with," he said. "We all have really unique challenges to our life. I'm 45 years old, man. There's a lot of s**t going on."