Inside The Rumors Tom Brady And Gisele Bündchen's Marriage Might Be On The Rocks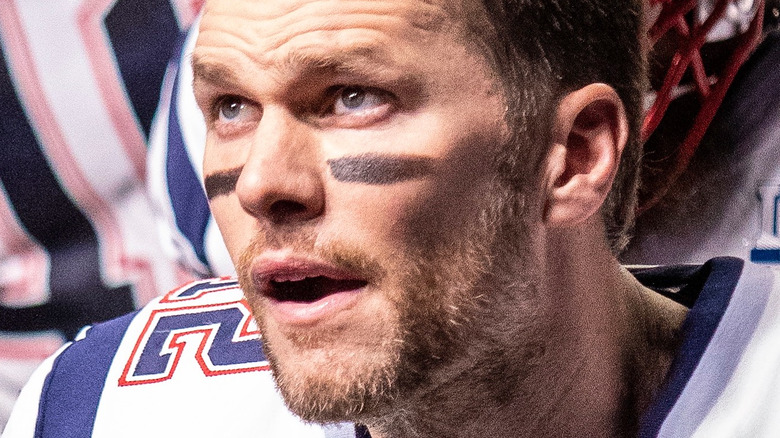 Arturo Holmes/Shutterstock
Tampa Bay Buccaneers quarterback Tom Brady has had a fantasy marriage (at least by Hollywood standards) with his wife of 13 years, Brazilian model Gisele Bündchen. The pair has two children together, son Benjamin and daughter Vivian, per Parade, in addition to Brady's son, Jack, from his previous relationship with actor Bridget Moynahan. Bündchen has been supportive of Brady while he has continued his football career, even after he retired on February 1 — for a mere 40 days. "These past two months I have realized my place is still on the field and not in the stands," Brady wrote on Instagram on March 13, announcing his unretirement. "That time will come. But it's not now," he said, also mentioning some "unfinished business." In April, Brady told Complex about his primary motivation. "There's only one reason to play for me at this point in my career," he said. "And that's to win." Apparently seven Super Bowl wins isn't enough.
Though Brady cited spending more time with family as his reason for retiring, he still wanted to return to the field. Even a $375 million, 10-year broadcasting deal as an analyst with Fox Sports, per BucsWire, wasn't enough to tempt him to retire earlier. (He'll begin the lucrative job whenever he does retire.) He also thanked his "supportive family" on IG, to which Bündchen replied, "Here we go again! Let's go lovvvey!" He's now trying to balance his home and work lives, but apparently, it's not enough.
Tom Brady and Gisele Bündchen have reportedly been arguing lately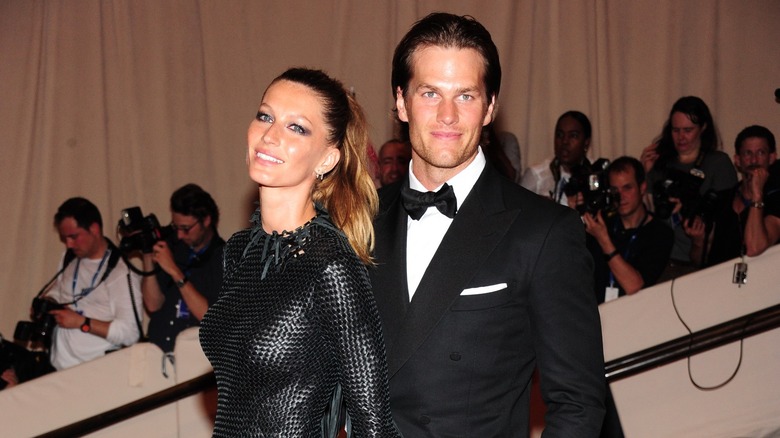 Everett Collection/Shutterstock
Despite Gisele Bündchen's seeming support of Tom Brady's retirement reversal, she is apparently having second thoughts now that Brady is in the thick of his 23rd NFL season. She was more delighted about his retirement, stating, "I'm as excited as you are for what the future holds" (via Hello!). But recently, the couple has been arguing, and Bündchen reportedly left for Costa Rica while Brady stayed in Florida for training.
"There's been trouble in the marriage over his decision to un-retire," a source told Page Six. "They had agreed he would retire to focus on the family, then he changed his mind." Bündchen had told British Vogue that while "[h]is focus is on his career, mine is mostly on the kids." She had also said, "I'm very grateful that he lets me take the reins when it comes to our family." But that can be exhausting, and she's entitled to her career, as well.
"I wanna be there for my wife. She has goals and ambitions," Brady told Complex. "I wanna win on the field, but I wanna win off the field [too]." He has been caring for the kids while Bündchen is in Costa Rica. Though Brady's trying to balance family and professional life, taking time off practices for a family vacation, it apparently hasn't been enough. As Bündchen told Vogue, a relationship is "never the fairy tale people want to believe it is. It takes work to be really in sync with someone, especially after you have kids."
But don't worry, fans — this isn't really new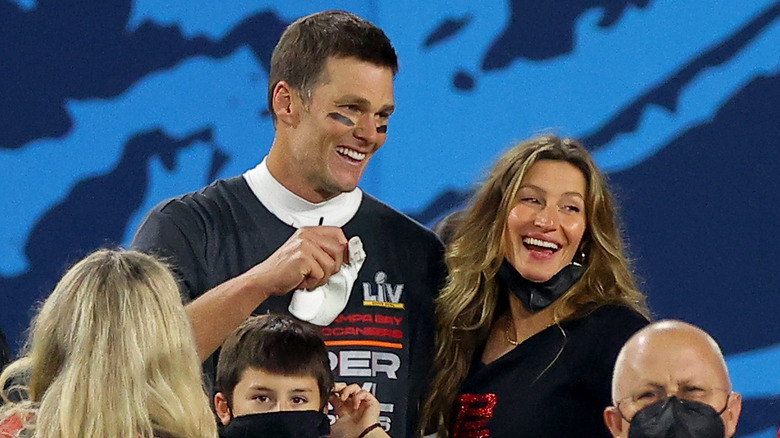 Kevin C. Cox/Getty Images
This discussion has come up before for football's "It" couple, as Tom Brady and Gisele Bündchen have argued about this exact topic before. In April 2020, Brady told Howard Stern (via E! News) that, "A couple of years ago ... [Bündchen] didn't feel like I was doing my part for the family," leaving her to care for the house while he played football. He added, "I had to like, check myself because she's like, 'I have goals and dreams too...so you'd better start taking care of things at the house."
There were also rumors flying about Brady and Bündchen's marriage being doomed in 2015, while Brady dealt with the fallout of the Deflategate scandal, taking his pressure and anger out on his dear wife. "Tom's become very nasty and irritable and started acting out on her," a source told Us Weekly in September 2015, resulting in Bündchen consulting with a divorce lawyer.
But the couple is used to difficult times. Bündchen and Brady started dating in December 2006, per E! News, shortly after Brady's breakup with then-girlfriend Bridget Moynahan. They'd only been dating a couple months when news broke that Moynahan was pregnant with Brady's son Jack. It challenged and strengthened the new relationship. "In a lot of ways, I found out a lot about Gisele through this experience. She found out a lot about me," Brady told Howard Stern, adding, "I think we all made the best of the situation." Hopefully Brady and Bündchen can continue to do that.