Patrick Dempsey Spills The Reason Behind His Recent Hair Transformation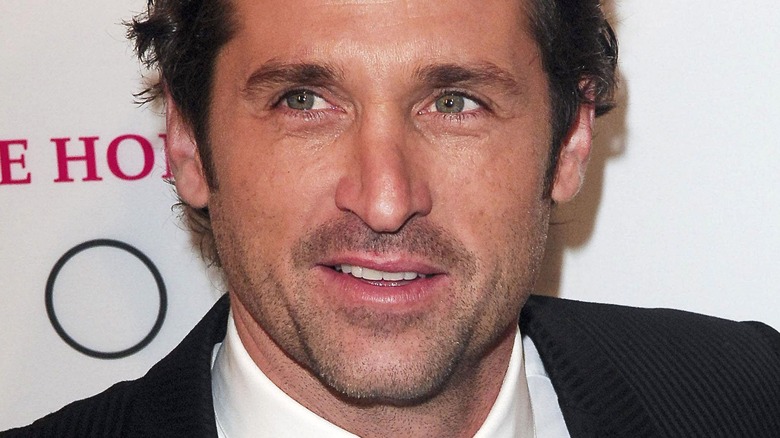 Everett Collection/Shutterstock
Patrick Dempsey is still rocking his dark, Disney prince hair in the trailer for the fairytale movie "Disenchanted," even though his character isn't a royal. But when he attended the D23 Expo on September 9, the "Grey's Anatomy" star had undergone a mane makeover that was more Ursula than Prince Eric. "Blondes have more fun. I have to tell you, it's true," Dempsey said of his new look during an interview with Variety.
Fans of "Grey's Anatomy" were thrilled to see Dempsey reunited with his former co-star Ellen Pompeo at the event, where the actors were honored as Disney legends, per Entertainment Weekly. But some Twitter users couldn't get over Dempsey's platinum dye job, and it had them casting him in all sorts of different roles. One fan suggested that he looked like he was preparing for a live-action take on Disney's "Frozen," describing the transformation as "the elsafication of patrick dempsey." Another person quipped, "That's not Patrick Dempsey. That's older Draco Malfoy, hotshot Headmaster at Hogwarts, of course." A third netizen joked about the actor making a potential career change, writing, "Patrick Dempsey looks like he's about to take over as editor-in-chief at Runway magazine."
Others thought that Dempsey looked like he belonged in "The Hunger Games" universe, the "Barbie" movie, or "House of the Dragon," but McDreamy isn't going to be taming any McDragons as a Targaryen.
Patrick Dempsey is playing a professional racecar driver
In an interview with Variety, Patrick Dempsey revealed that his much lighter hair color is for his role in the "Ferrari" movie. He plays Italian professional racecar driver Piero Taruffi, who was known as the "Silver Fox," according to MotorSport. Dempsey races cars as a hobby, per Redbook, so he was a natural fit for the part.
Dempsey said he's rather fond of his pearly tresses, but the reaction from fans has been mixed. "I am known for my hair, so this has really jacked up a lot of people. They don't know how to embrace it," he told Variety. "Either they love it, or they hate it." The actor also spoke to Entertainment Tonight about how his family members feel about the dramatic change. "My kids freaked out and my son actually likes it," he stated. "And one son doesn't, and my wife liked it too, so, it's fine."
Dempsey's wife, Jillian, is actually a makeup artist and hairdresser, so her opinion was of the expert variety. The couple met when she was cutting Dempsey's hair, per Redbook, and Jillian has created her own pomade stick for men with thick and wavy locks like her husband's. He's become one of her Roadie brand's most devoted fans, according to Allure, and we're guessing Jillian's expertise comes in handy when it comes to caring for his new 'do.