How Scarlett Johansson Once Embarrassed Brie Larson On TV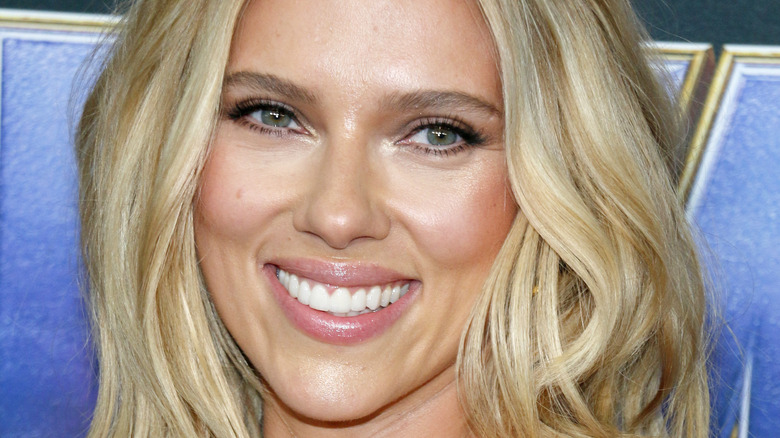 Tinseltown/Shutterstock
Brie Larson and Scarlett Johansson have a lot in common. The blonde beauties are bonded by a lot more than just being former childhood actors, though. For Larson and Johansson, their connection goes even deeper. In recent years, the actors are probably best known for their roles in the Marvel franchise. Johansson plays Black Widow, and Larson plays Captain Marvel. Sure, there are plenty of superheroes in the Marvelverse, but there aren't that many leading ladies. That fact alone was enough to create a bond between Larson and Johansson that has lasted years.
During a 2019 appearance on "Ellen," Larson and Johansson dove into their friendship, covering everything from fan tattoos to first kisses. When questioned by DeGeneres, Larson couldn't remember when she had her first kiss or who gave it to her. Something else she forgot? How she met Johansson — something Johansson found hilarious and couldn't help but tease Larson for on national TV.
Larson and Johansson remember things differently
Scarlett Johansson and Brie Larson may be friends, but they aren't exactly sure how they met. During a 2019 "Ellen" appearance, the actors responded to a question about how they became friends in a very different way. Larson told the talk show host that she and Johansson had exchanged a few texts a couple of years ago before they met in person. Johansson remembered it differently. "You don't remember how we met?" Johansson asked incredulously. Larson claimed they met at New Year's dinner, but Johansson corrected her, reminding her that they'd met on the set of a film called "Don Jon." Johansson joked, "Clearly, it made an impression on me, but somebody else didn't care."
In Larson's defense, she has a much smaller part in the 2013 film than Johansson. At the time, Johansson was also a much bigger star, and Larson felt intimidated. "I just felt like I was basically a glorified extra and you were Scarlett Johansson," she said. Johansson maintained that she remembered Larson well from the film. "I noticed you, Brie. I noticed you. You were not a glorified extra," she said.
It would be a few years until Larson and Johansson appeared onscreen together again, this time in "Captain Marvel," and "Avengers: Endgame," two of the highest-grossing Marvel film to date, per Time. When that time rolled around, though, they found themselves butting heads with the studio and fans over their roles.
The actors have had conflict with Marvel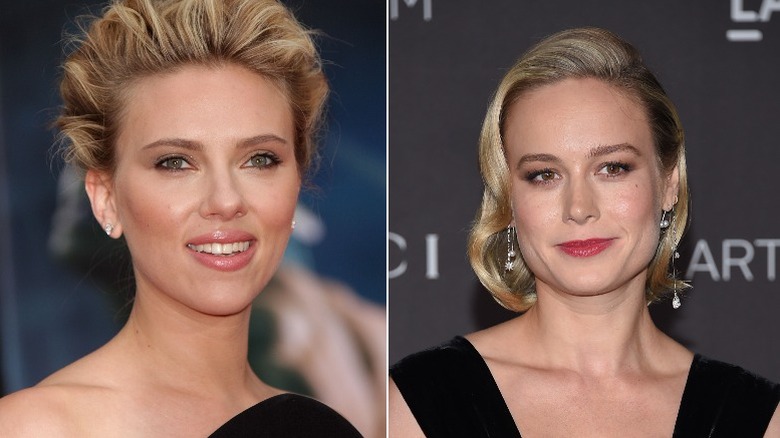 DFree & DFree/Shutterstock
Years after meeting on the set of "Don Jon," Scarlett Johansson and Brie Larson reunited for "Captain Marvel" and "Avengers: Endgame" in 2019. The actors, who played female superheroes, had similarly difficult experiences working with Marvel and interacting with fans.
For Larson, who starred in "Captain Marvel," the first film in the Marvel franchise with a woman in the lead, the role led to an avalanche of sexism from devout Marvel fans. According to Vox, trolls tried to "review bomb" the movie and claimed Larson wasn't shown smiling enough and wasn't in good enough shape to land the lead. Larson pointed out that the point of the movie was to create a dialogue about female strength — not ask for random men's opinions about her looks. "To me, that's a part of what the meditation of this movie is: It's female strength, but what is female strength? What are the different ways that can look?" she said, per Entertainment Weekly.
As for Johansson, she headlined "Black Widow" in 2021. Like Larson, Johansson has criticized Marvel for over-sexualizing her character, per Hello Beautiful. However, her real problems started after the film's release when it became available on Disney+ while still showing in theaters. Johansson sued the studio, claiming the move was a breach of her contract and cost her revenue, per BBC News. Johansson and Disney settled the dispute privately, and Johansson claimed she was looking forward to working with the studio again in the future.