Meghan Markle's Tense On-Camera Moment With Royal Aides Has Everyone Talking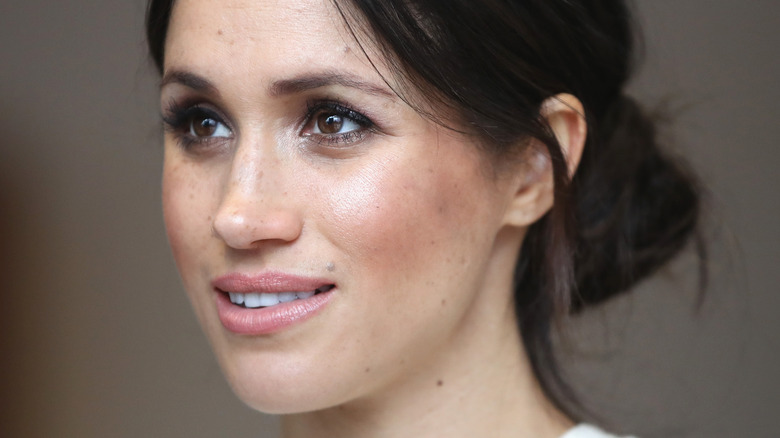 Chris Jackson/Getty Images
It's safe to say that Queen Elizabeth II's tragic death hasn't been easy on the royal family, including Meghan Markle. Amid reports that she and her husband, Prince Harry, have fallen out with the royal family, the rumored reason why Meghan didn't see the queen before her death was supposedly because she was asked not to travel to Balmoral Castle. Royal expert Katie Nicholl told Entertainment Tonight that the decision was made at the last minute to have the Duchess of Sussex stay behind while her husband Prince Harry flew to Scotland on his own to be with his family. Nicholl shared on September 8, "Meghan, the Duchess of Sussex, was not, we understand, invited to join the family. She has said she will go to Balmoral another time. But I think it is quite significant that Prince Harry traveled to Balmoral on his own without his wife."
However, it was also reported that King Charles III had specifically asked Harry not to bring Meghan to Balmoral. One source close to the situation reportedly told The Sun, "Charles told Harry that it wasn't right or appropriate for Meghan to be in Balmoral at such a deeply sad time." Charles reportedly "made it very, very clear Meghan would not be welcome," according to the source.
Regardless of whether or not Meghan was welcomed by the royals to Balmoral, scrutiny hasn't stopped for the controversial Duchess after the queen's death. Following the tragic news, Meghan had a seemingly tense moment with royal aides at Windsor Castle. The on-camera interaction over mourners' flowers now has everyone talking.
Meghan Markle's tension with an aide was caught on camera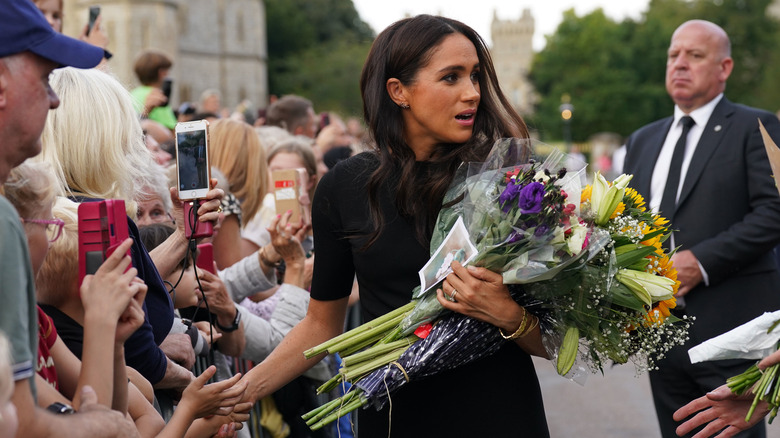 Wpa Pool/Getty Images
Apparently, Meghan Markle had a hard time letting go of flowers handed to her by well-wishers outside of Windsor Castle on September 10. One Twitter video shows the Duchess of Sussex seemingly waving off a royal aide who tried to take a bouquet of flowers off her hands until another royal aide stepped in and took them away from her in a second clip. Of course, many royal fans and critics alike weighed in on the matter, with one netizen tweeting, "The flowers are for HMTQ not you, Meghan!" Another user opined on Twitter, "The only reason the aides take the flowers of them, is so they can carry in shaking hands. Its called protocol. Megan did say she said she'd take them over because people asked her too, but again it's not protocol."
However, a different fan defended the Duchess for simply being authentic with citizens by writing, "She told him that she had promised to lay them at the gate. She thanked him and said she appreciated his asking. Sorry that doesn't fit in with your twisted, hateful narrative."
And while no one really knows if Meghan would have placed the flowers down herself, the cameras also did capture her sharing an emotional hug with a British teen, as detailed by CNN. Yet, the flower debacle wasn't the only time that a moment of sheer awkwardness was caught on camera for the royals that day.
Prince William and Kate Middleton got awkward on camera, too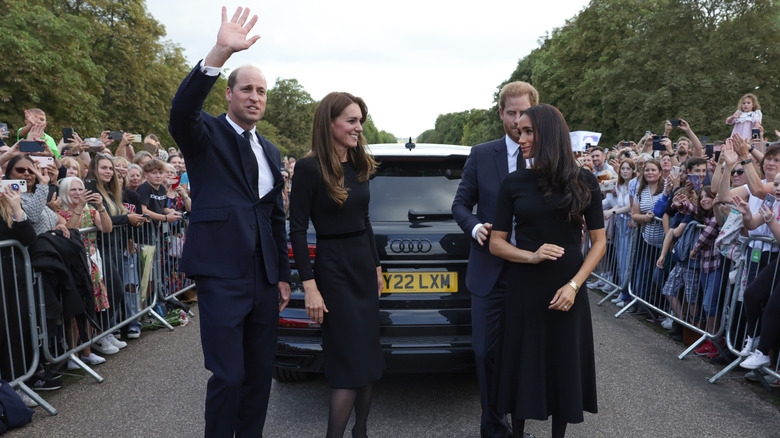 Chris Jackson/Getty Images
According to Page Six, a lot of eagle-eyed fans couldn't help but notice how Prince Harry had treated his wife Meghan Markle much differently compared to Prince William's treatment of Catherine, Princess of Wales, on September 10. When it was time for them to leave their appearance before the public, Harry graciously opened the door for his wife before getting into the black Audi from the other side. The newly minted Prince of Wales didn't seem to pick up on the cue as he simply walked past his wife to get in the car on his own. Many royal fans commented on the brothers' contrasting actions, with one writing on Twitter, "Harry is truly a Prince charming — he's such a gentleman assisting his wife first." Another tweeted, "True gentleman, learned from his mother to show love an affection!"
If that weren't enough, the way the Princess of Wales kept her distance from her husband and in-laws as they were walking towards the crowd of well-wishers outside the gates of Windsor Castle also has people talking, per Newsweek. "I'm reading all the body language ... am I the only one who thinks #KateMiddleton is the one with the Problem," one Twitter user wrote of Kate seeming icy around the Duke and Duchess of Sussex, also joking in their post, "I still feel like #MeghanMarkIe is going to mess around and be Queen."