The Rumored Reason Meghan Markle Didn't See The Queen Before Her Death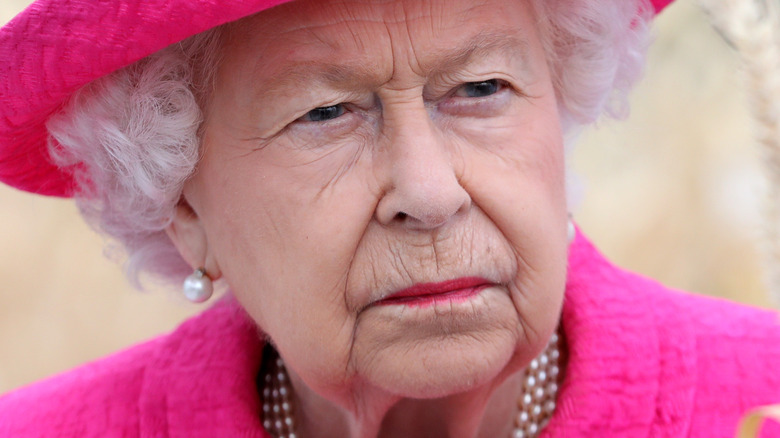 Chris Jackson/Getty Images
Amid the Buckingham Palace announcement that Queen Elizabeth was placed "under medical supervision" prior to her death on September 8, per BBC News, several royal family members traveled to Scotland's Balmoral Castle to be with her. All of her royal family members except one or two who remained behind, including Meghan Markle, according to Page Six. Why didn't the Duchess of Sussex accompany her husband Prince Harry to his grandmother's deathbed? 
Despite reports of ongoing tension between the Sussexes — Meghan and Harry — and the Cambridges — William and Kate — all reports indicate that Meghan and the queen always had a good relationship, even after that bombshell interview with Oprah Winfrey (via People). Meghan spoke warmly of her grandmother-in-law in the interview, saying, "The queen, for example, has always been wonderful to me." Far from holding a grudge against her grandson and his American wife, Queen Elizabeth was said to be "overjoyed" to learn of the birth of her namesake, Meghan and Harry's daughter, Lilibet. This revelation came amid other reports that The Sussexes didn't ask the queen for approval prior to naming their daughter, according to BBC News. Piers Morgan, a frequent Meghan critic, slammed the Sussexes for naming their child after the queen. "It's quite ironic, isn't it," he said on "Today" Australia. "You have this couple who have been trashing the royal family and the monarchy for the last few weeks and they have named the baby after the queen, who is, of course, the head of the royal family and the monarchy."
But if everything was indeed fine and dandy between the queen and the Sussexes, why did Meghan decide to stay behind?
Why did Meghan Markle stay behind?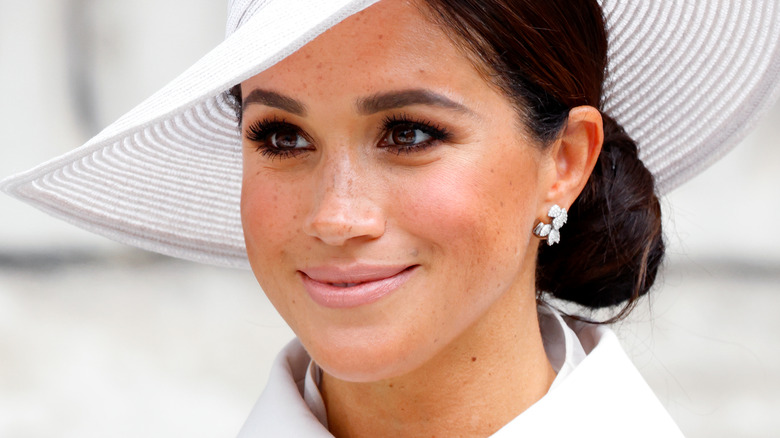 Max Mumby/indigo/Getty Images
Before Queen Elizabeth's death, Meghan Markle was already in closer proximity to the royal family than she'd been in a long time. After leaving the U.K. and moving to California, Meghan had recently traveled had recently to Germany with Prince Harry. According to USA Today, the trip was to promote Prince Harry's upcoming Invictus Games, which Germany is set to host in 2023. Prior to the queen's death, the Duke and Duchess of Sussex had settled in their former home, Frogmore Cottage. Once news of the queen's health struggles broke, Markle's reps shared she would, indeed, travel to Scotland with Prince Harry. However, amid news, it appeared that something changed. 
Royal expert Katie Nicholl told Entertainment Tonight that Markle was simply not asked to be with the rest of the royal family at Balmoral. "Meghan, the Duchess of Sussex, was not, we understand, invited to join the family. She has said she will go to Balmoral another time," Nicholl explained. "But I think it is quite significant that Prince Harry traveled to Balmoral on his own without his wife." Meanwhile, royal commentator Kinsey Schofield told Fox News that Markle's absence could be related to Kate Middleton not being there, as well. "It is likely due to the fact that the Duchess of Cambridge stayed behind," she said.
While Markle has not confirmed the rumored reason she did not see the queen before her death, the New York Post reported that Prince Harry unfortunately didn't make it to Scotland in time to say his final goodbyes to his grandmother. 
Meghan Markle's relationship with the queen over the years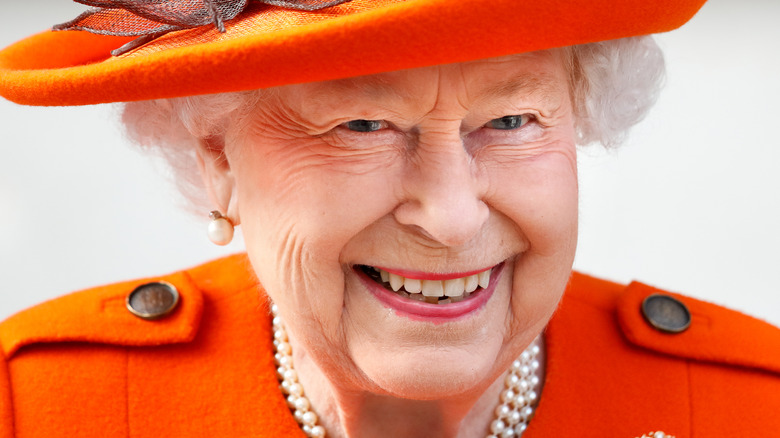 Max Mumby/indigo/Getty Images
Given the drama surrounding Meghan Markle's relationship with the royal family — about whom she's spoken out in recent years for their treatment of herself and her then-unborn child, Archie — her not following Prince Harry to Balmoral has sparked much speculation. However, the former "Suits" actor has always spoken highly of the queen, even as she spoke out against other senior royals, such as Kate Middleton, per Harper's Bazaar.
Over the years, Markle forged a close bond with the queen. Even during her explosive 2021 interview with Oprah Winfrey (via People), she sang Queen Elizabeth's praises. The duchess shared the first time she and the queen enjoyed a nice breakfast during their first "joint engagement." Meghan recounted her meal with the monarch, who gave her "a beautiful gift." Markle added, "I just really loved being in her company." She also shared that the queen gave her some "beautiful pearl earrings and a matching necklace," and also shared her blanket with her. "It made me think of my grandmother, where she's always been warm and inviting and really welcoming," Markle said.
As for the queen, she has always publicly supported Markle's relationship with grandson Prince Harry and even supported them after the Oprah interview. "The whole family is saddened to learn the full extent of how challenging the last few years have been for Harry and Meghan," the queen said in a statement, per CNBC. "The issues raised, particularly that of race, are concerning. While some recollections may vary, they are taken very seriously and will be addressed by the family privately."