Kenan Thompson's Ruthless Leonardo DiCaprio Dig At The 2022 Emmys Has Twitter Losing It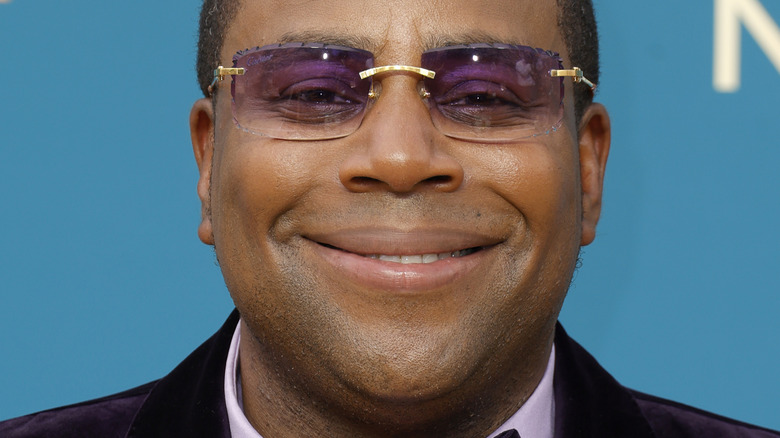 Frazer Harrison/Getty Images
It's television's biggest night as the 74th annual Emmy Awards ceremony airs on September 12. And preceding the awards are lots of jokes — often at the expense of Hollywood's biggest players.
Kenan Thompson, the longest-running cast member of "Saturday Night Live," per ET, is hosting the awards ceremony this year, and he's already taken potshots at Netflix, Showtime, Steve Martin, and Martin Short in his opening monologue alone — though that took place after an odd and lengthy opening number that had audiences confused. But it's a joke he told to Zendaya at Leonardo DiCaprio's expense, when Leo wasn't even in the room, that has Twitter abuzz.
Of course, DiCaprio is known not only as a handsome and very talented actor, but he also has a reputation for only dating considerably younger women. On August 31, the 47-year-old broke up with his girlfriend, model Camila Morrone, only a few months after her 25th birthday. This brought up many of the same jokes online about his not dating any woman over the age of 25, and Thompson is not one to miss out.
Kenan Thompson said happy birthday to Zendaya in a weird way
"Zendaya just turned 26, happy birthday. 26 is a weird age in Hollywood. Young enough to play a high school student, but too old to date Leonardo DiCaprio." - Kenan Thompson at the #Emmys pic.twitter.com/tnbJ3XtZ1m

— philip lewis (@Phil_Lewis_) September 13, 2022
In his Emmy's monologue, Kenan Thompson pointed out that Zendaya, the much-beloved star of HBO's "Euphoria" (and #relationshipgoals with Tom Holland), celebrated her 26th birthday on September 1. "Twenty-six is a weird age in Hollywood," Thomson said. "I mean, you're young enough to play a high school student, but too old to date Leonardo DiCaprio." Zendaya responded by hiding her head in her hands.
Much of Twitter enjoyed the joke, sharing the screenshot of Zendaya's embarrassed response, which wouldn't be surprising if it became a meme. "That Zendaya joke about Leo DiCaprio was hysterical," one fan tweeted, while another wants more, saying, "I am here for any and all Leo DiCaprio jokes at #Emmys #Emmys2022," and predicting the jokes to continue as "Stranger Things" wins some awards. Others made their own joke, fearing for the young starlet and saying, "kenan please do NOT make leo dicaprio aware of zendaya's existence."
But not everyone was amused, particularly given how often that kind of joke comes up. "i could sense that leo dicaprio joke from 10000 miles away," one fan tweeted, while another called it "low hanging fruit." The Daily Beast wasn't impressed either, expecting more from "Saturday Night Live's" longest-playing comic than making a joke similar to ones made by Twitter users for weeks ... though there are plenty of "SNL" critics who might say that's typical of the NBC show.