Are Miley Cyrus And Taylor Swift Still Friends?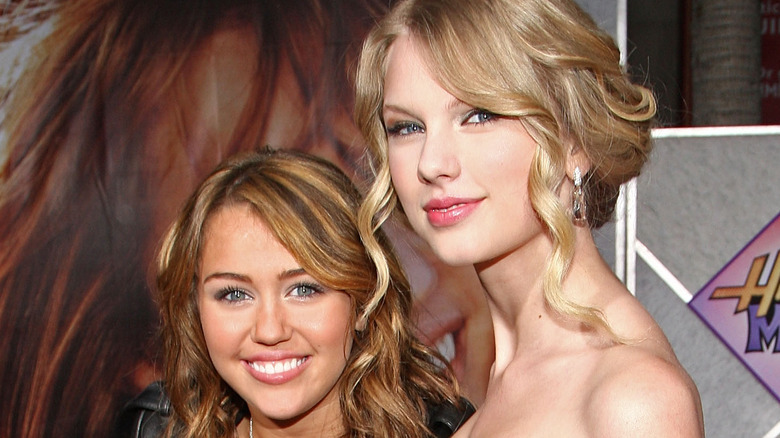 Alberto E. Rodriguez/Getty Images
Despite being close in age and two of the biggest country-turned-pop stars since the mid-2000s, Miley Cyrus and Taylor Swift couldn't be more different. While Swift chose a more family-friendly approach to her coming-of-age evolution, Cyrus took a different trajectory, boldly shedding her Disney Channel image in favor of provocative publicity stunts. Given Swift and Cyrus' opposing styles and personalities, it's hard to imagine they'd have anything in common, much less be close friends.
However, the pair were once exactly that: They dueted Swift's song "Fifteen" at the 2009 Grammy Awards, where they had some great onstage chemistry. They even high-fived at the end! Ahead of the performance, they gave an interview to CBS, with Swift saying, "Our personalities are opposite, so it works," before hugging Cyrus. When Cyrus said, "We mix, for sure," Swift agreed, adding, "We're friends." A few months later, Swift would cameo in Cyrus' "Hannah Montana: The Movie." In fact, they shared an on-screen love interest: Not only did Lucas Till play Travis, Miley Stewart's crush in the film, but he also starred in Swift's iconic music video for "You Belong With Me."
Considering how much has happened in both Swift and Cyrus' lives and careers since, fans might be curious to hear about their later interactions, if any. Unfortunately, their relationship has mostly been reduced to shade and silence.
Miley Cyrus had bad blood with Taylor Swift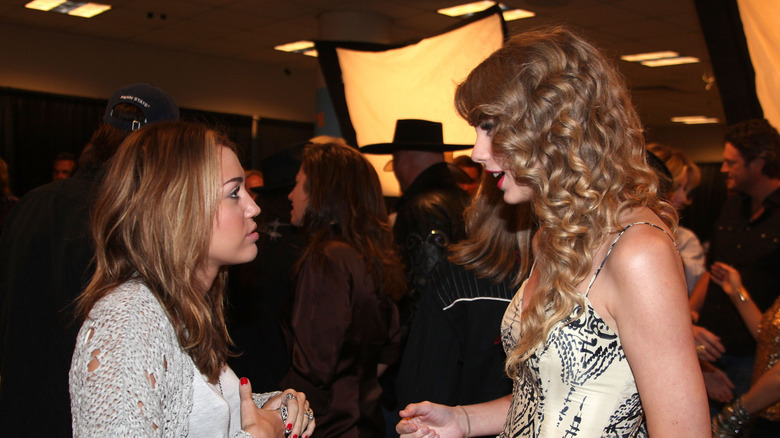 Ed Rode/nashville Rising/Getty Images
While Miley Cyrus was twerking at the VMAs and doing some disrobed demolition, Taylor Swift was gearing up to release her blockbuster "1989" album. Although her past work always had hints of pop, it was the first time she fully abandoned her country roots. With squeaky-clean singles like "Shake It Off" and "Blank Space," she served as a sharp contrast to Cyrus' bad-girl image. Cyrus didn't exactly buy her persona, criticizing Swift's then-squad of supermodels and starlets. The "We Can't Stop" singer told The New York Times, "I'm not trying to be in the squad. None of my friends are famous and not because of any other reason than I just like real people who are living real lives, because I'm inspired by them." Shots fired!
Besides seemingly calling Swift's posse manufactured, Cyrus also pointed out a double standard between Swift's music videos and her own. The "Bad Blood" video, which featured Swift and her famous friends as action heroines, received much less backlash than Cyrus' risqué ones despite its violence and mean girl message directed at Katy Perry. Cyrus told Marie Claire, "I don't get the violence revenge thing. That's supposed to be a good example?" before questioning how her own explicit videos are worse.
Swift never responded to Cyrus' critiques, likely too busy with her other feuds, but it wouldn't be the last time Cyrus took a wrecking ball to their former friendship.
Miley Cyrus stirred the pot on Twitter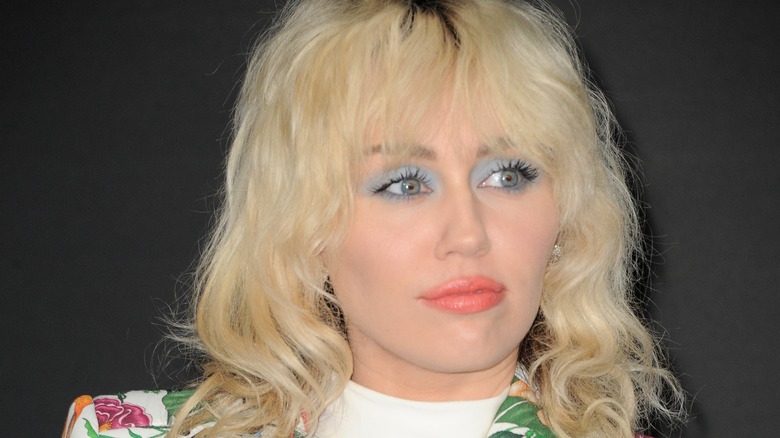 Tinseltown/Shutterstock
Years after her comments on Taylor Swift's squad and music video, Miley Cyrus would publicly acknowledge her former friend once again. This time, it came in the form of a rather messy tweet. On March 10, 2019, Cyrus posted a gif of her 2013 MTV Video Music Awards performance, edited to look like Swift is grinding on her from behind. She captioned the image, "It's Women's Day! To celebrate, will you top like Taylor? Or twerk like Miley? Please answer."
While the tweet garnered 76,000 likes and 11,000 retweets, Swift herself never bothered to reply. It seemed like it was poking her for a reaction, and their feud had been somewhat one-sided, with Cyrus making the majority of the digs. Since then, there haven't been more run-ins between the pair — an anti-climactic conclusion to the former friends' friction. That said, we're still holding out hope that they can reunite: As Swift's "You Need to Calm Down" video proved, she's more than open to burying the hatchet. Perhaps a Grammy performance of "Fifteen (Taylor's Version)" is in order? As Swift and Cyrus once sang, "time can heal most anything"!