Carrie Underwood Made A Shady Joke About Kim Kardashian And Kanye West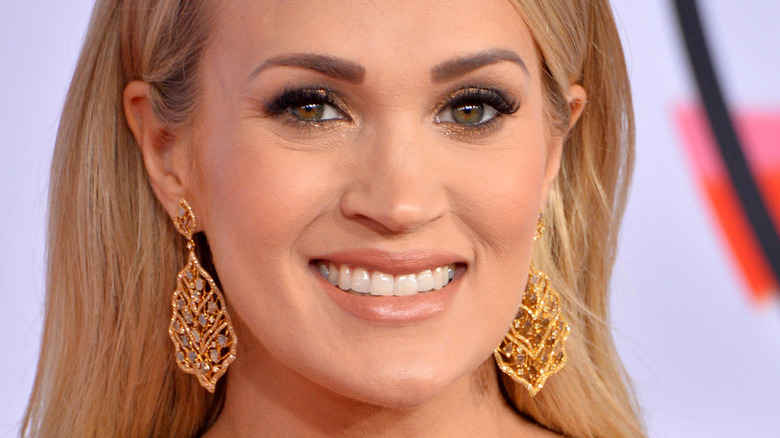 Featureflash Photo Agency/Shutterstock
Carrie Underwood's rise to victory on the fourth season of "American Idol" is matched only by her extremely successful career as a country music singer. Since her time on the singing competition in 2005, Underwood has become one of the most popular singers in the entire genre. She has won a total of six Grammys and 25 CMT Music Awards — setting a record for the most trophies earned by any artist in the show's history.
In addition to her musical abilities, Underwood hosted the famed Country Music Awards from 2008 to 2019 — alongside Brad Paisley. The "Before He Cheats" singer recently opened up about why she stepped away from her duties as MC, after 12 years as the show's master of ceremonies. "I've decided that it's time to pass the hosting torch (at least for now!)," Underwood wrote on Instagram. "To others that will cherish it and honor it as much as I do." The Omaha native was also sure to shout out her successors, Reba McEntire and Dolly Parton, who stepped into the role following Underwood and Paisley's exit.
Underwood appeared to have fond memories of her time hosting the CMA Awards. However, her stint on the annual ceremony came with a bit of drama – as the country singer previously made several shady jokes about Kim Kardashian and Kanye West.
Carrie Underwood took jabs at Kim Kardashian and Kanye West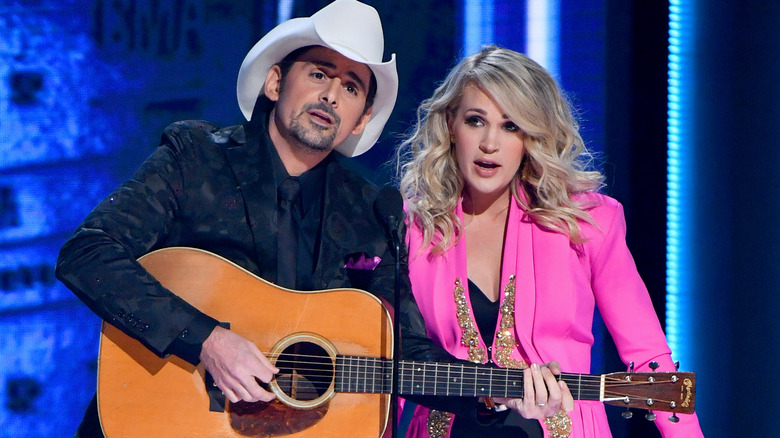 Michael Loccisano/Getty Images
Carrie Underwood put her comedic chops to the test in 2009, and threw a direct jab at Kanye "Ye" West, following the explosive moment between the rapper and Taylor Swift at the MTV Video Music Awards. During a bit where she and Brad Paisley were singing about the year's biggest moments, the pair jokingly suggested that Ye lacked manners. "Mamas don't let your babies grow up to Kanye," they sang. "Let them pick guitars and drive them old trucks, 'cause cowboys have manners, they don't interrupt.'" Swift had a huge night at the CMA Awards that year, taking four trophies including entertainer of the year.
In 2011, Underwood set her sights on Kim Kardashian, who had recently filed for divorce from Kris Humphries after only 72 days of marriage. For this particular bit, Underwood and Paisley were joined on stage by Eric Stonestreet for their annual year-in-review. "I think you forget to sing a song about what's weighing on everyone's mind in this room. The divorce of Kim Kardashian and what's his name," Stonestreet asked. "I'm going to love you forever, or 72 days Amen, as long as Justin Bieber is not a conceiver, as long as Taylor Swift is with her current boyfriend. I'm going to love you for 20 million dollars, for a hit TV series or pics in Us Weekly, for 72 Days, Amen," the group then sang in unison, via Us Weekly.
Kim Kardashian was once a fan of Carrie Underwood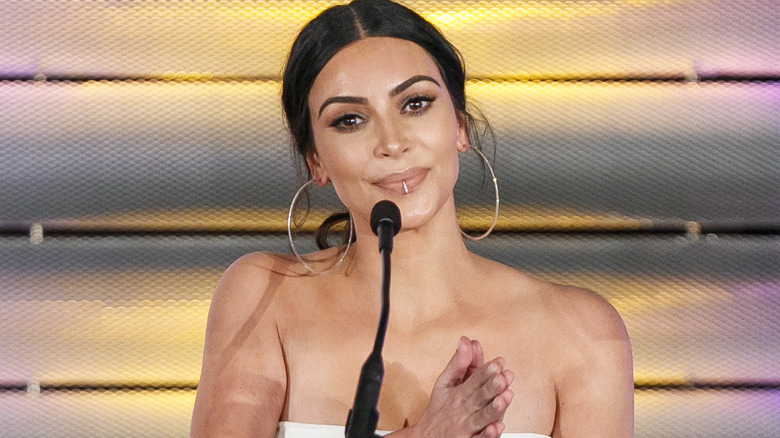 Rich Polk/Getty Images
While it's unclear how Kim Kardashian feels about Carrie Underwood these days, the SKIMS founder has openly gushed over the country singer in the past. During a 2007 interview with MTV, Kardashian said that she was a fan of Underwood's music. "I love the Britney song 'Gimme More.' I love Kanye's album. And I like country music actually," Kardashian exclaimed. "I'm, like, into Carrie Underwood. I like her last album — I have that in my car right now."
Furthermore, Kardashian has also appeared to change her tune regarding former rival Taylor Swift. After a five-year feud that included both parties throwing major shade at the other, Kardashian is seemingly ready to settle the beef. The beauty mogul appeared on a 2021 episode of "Honestly with Bari Weiss," and revealed that she is actually a fan of the "Style" singer. "I really like a lot of her songs," Kardashian explained when asked to pick her favorite Swift album. "They're all super cute and catchy. I'd have to look in my phone to get a name [of an album]."