Selling Sunset: Here's How Much Older Mary Fitzgerald Is Than Her Husband Romain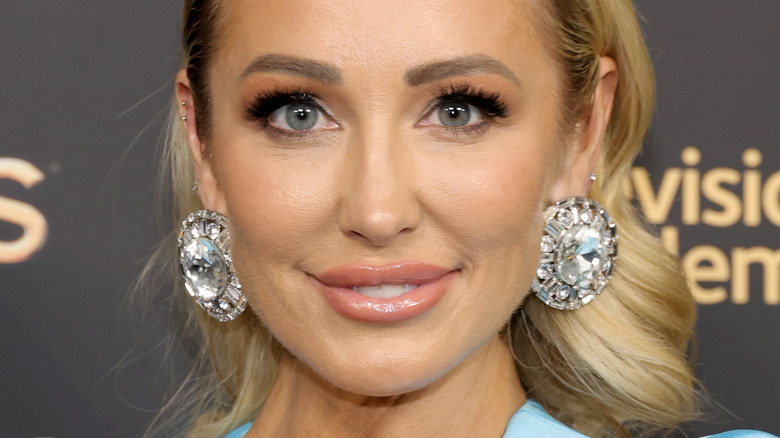 Amy Sussman/Getty Images
All is fair in love and reality television?
"Selling Sunset" stars Mary Fitzgerald and Romain Bonnet tied the knot on October 12, 2019... all while the cameras were rolling. There was only one teeny, tiny, little problem — the pair had already secretly tied the knot 19 months prior. TMZ first uncovered the couple's wedding certificate in August of 2020, and per the certificate, Fitzgerald and Bonnet were actually hitched in a courthouse ceremony on March 9, 2018... way before the "Selling Sunset" show had debuted and way before Bonnet's romantic in-bed, on-camera proposal during Season 1. Oopsie. "Mary and Romain had a civil union a couple of months before the show began filming in June of 2018, but they chose not to tell any of their friends or family, as they were still trying to see if their relationship would work out in the long term," a spokesperson for Fitzgerald later explained to People about the shocking revelation. "In their minds, they weren't properly married until the wedding that was filmed during the show."
Still, that was only the tip of the iceberg when it comes to the controversy surrounding the couple. In fact, it was the age gap between the two lovebirds that first set the naysayers' wheels into motion...
Mary Fitzgerald is 13 years Romain Bonnet's senior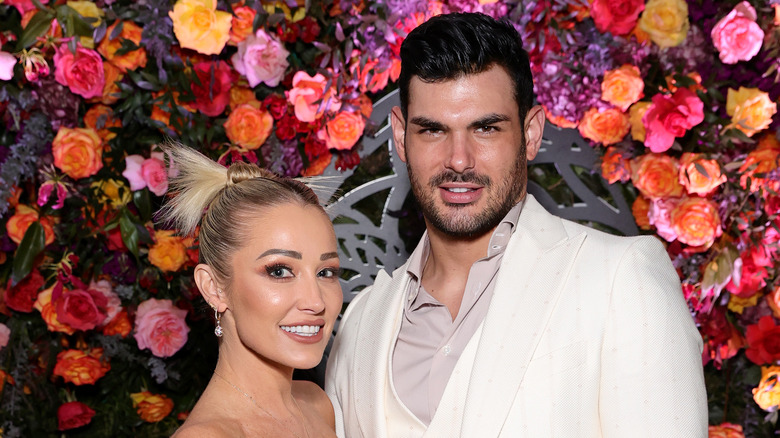 Rich Fury/Getty Images
The story goes that Mary Fitzgerald first met Romain Bonnet when she took him on as a real estate client... and the rest is simply history. "Romain flew out to look at some homes in the area and I was his agent! We hit it off from there," Fitzgerald recalled to Women's Health about how she first met Bonnet. The kicker? As it turns out, the couple shares a 13-year age difference.
"I'm very lucky. He is such an incredible guy, and we get along very well," Fitzgerald dished to Screen Rant in 2021 about the marriage. "We're just soulmates, I think." Soulmates or not, she's still painfully aware of some of the criticism surrounding their May-December romance. "I know a lot of fans have a lot to say about the age difference. I see stuff where I'm his sugar mama, and I'm like, 'Oh my God. I'm a hard worker, but this man works all the time. He's not just sitting back, spending my money. He has his own money, and he works very hard for it.'" 
Davina Potratz questioned Romain Bonnet's intentions
Alas, the fans weren't the only ones who took issue with "Selling Sunset" golden girl Mary Fitzgerald marrying Romain Bonnet.
Shortly after Bonnet popped the question during Season 1 of "Selling Sunset," former cast member Davina Potratz pointedly asked Fitzgerald how she felt about Bonnet getting down on one knee with moissanite and not a real diamond. SHOTS FIRED. WE REPEAT SHOTS FIRED. As one can imagine, the question didn't exactly sit well with the couple. Tensions finally came to a head during Season 2, when Bonnet confronted Potratz and promptly disinvited her to the wedding. Potratz, however, is still adamant that she meant no harm and was actually just looking out for her friend. "I just asked [Mary] how she felt about [the ring] because I was concerned about [Romain's] intentions," she explained to Reality Blurb. "Honestly, two days before Mary showed up with her engagement ring at the office, she was crying about a dinner she had with Romain that didn't go well. So, based on information I had, to me, it was red flags."
Red flags or not, it appears the couple is still going strong. In November 2021, Bonnet even made good on that perceived red flag. "Finally got her the ring that she deserves," Bonnet penned in an Instagram post along with a photo of Fitzgerald proudly flashing a brand new diamond ring. Maybe diamonds really are a girl's best friend.