What We Know About Malia Obama's Rumored New Boyfriend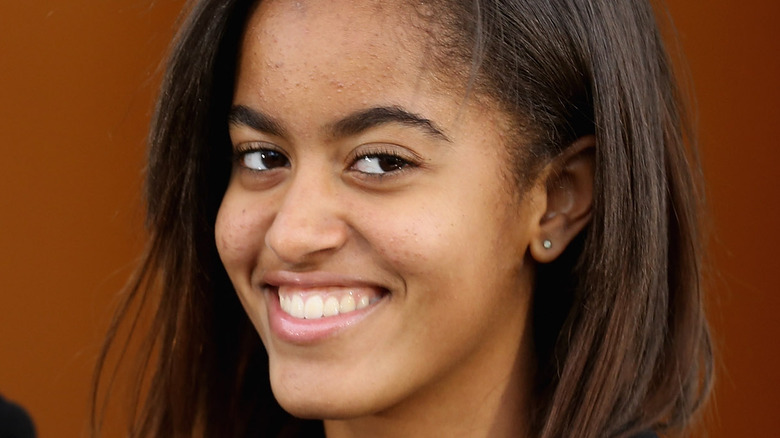 Chip Somodevilla/Getty Images
Malia Obama might have a new beau in her life! In April 2022, former First Lady Michelle Obama opened up about the dating lives of Malia and Sasha, on "The Ellen DeGeneres Show," Hollywood Life wrote. "Now they're bringing grown men home," Michelle said. "... Now they have boyfriends and real lives and all that stuff. They have grown up right before our very eyes, and they are doing well." Malia, the older daughter of Michelle and former President Barack Obama, was previously in a relationship with Rory Farquharson. The two met as they were both enrolled at Harvard University, per News 18.
Word of a possible breakup from Farquharson has emerged since Malia was photographed with a new man, Dawit Eklund. She and Eklund were photographed during a visit to the Los Angeles County Museum of Art on August 4, 2022, as reported by the Daily Mail. The two walked together and wrapped their arms around one another as they found their destination. In addition to this outing, they were spotted spending time together on two other recent occasions, the news outlet wrote. Like Malia, who is currently working as a screenwriter, Eklund is a fellow creative in the entertainment industry.
Malia Obama's rumored love interest is an accomplished music producer
The romantic partner of Malia Obama, Dawit Eklund, is a noted professional in the music industry. As reported by The Washington Post in 2016, Eklund is a co-founder of 1432 R, an independent record label based in Washington, D.C. The outlet said the label's music "[has] been generating attention on distant corners of the planet." In addition, it was revealed that Eklund had lived in numerous countries during his upbringing, including Kenya, Bangladesh, Sudan, Egypt, and Ethiopia. 
The Daily Mail stated that Eklund's father was previously a U.S. State Department officer "who worked at several U.S. embassies in Africa," and his mother is from Ethiopia. There is a bit of an age difference between the possible love birds, as Eklund is about to turn 33, while Malia is nearly a decade younger at 24. More recently, the Daily Mail again wrote about the pair after they were seen walking side-by-side in New York City. Malia's parents, Barack and Michelle Obama, were likewise seen in NYC, sparking rumors that Eklund may have met her famous parents. Malia hasn't yet publicly confirmed that love is blooming between the two, so for now, fans will have to wait and see what happens next!