Jason Momoa Reveals Extreme New Tattoo After Hair Transformation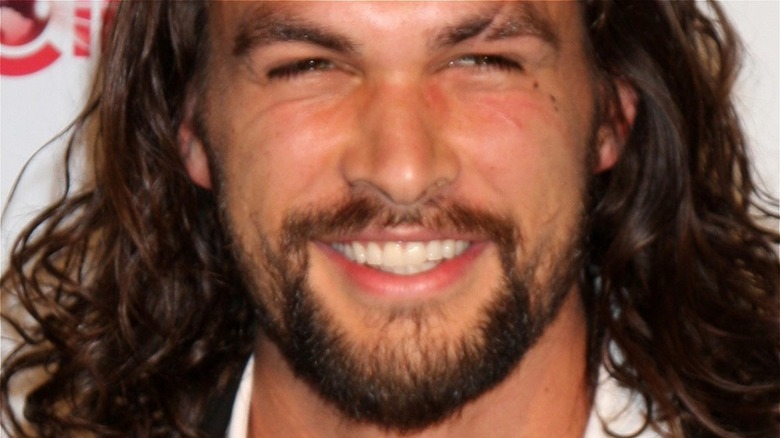 Kathy Hutchins/Shutterstock
Jason Momoa doesn't look like the man above anymore. Over the years, the hunky Aquaman actor has become almost as famous for his rugged, unkempt look as he is for his acting roles (which, if you were too distracted by looking at him, include the likes of "Game of Thrones," "Dune," and "Once Upon a Time in Venice"). He previously revealed he had a solid reason for wanting to keep his staple look, though — his wife. "My wife would leave me if I cut my hair so I just don't cut my hair. I am not cutting my hair for a while, I will tell you that much," he told Australia's The Daily Telegraph back in 2018 (via People), during which time he was married to Lisa Bonet.
But, well, those words turned out to be a little awkward because Momoa and Bonet split in January, writing in part at the time in a since deleted Instagram post (via Access), "We share our Family news~ That we are parting ways in marriage. We share this not because we think it's newsworthy- But so that~ as we go about our lives we may do so with dignity and honesty." 
That iconic hair, then? Well, it seemed like it became fair game following the split — and now Momoa has done something extra dramatic to highlight his new look.
Jason Momoa got a huge head tattoo
Jason Momoa not only gave fans a look at his hair transformation, but also his dramatic new inking. The actor shared a video on Instagram on September 14, which showed he'd shaved part of his head (don't worry everyone, three quarters of it is still long enough to scoop up into a man bun) and got three long lines of what appeared to be arrows tattooed across his skull pointing towards his face. The actor took off his bowler hat to show off the look before boarding a plane.
The star previously revealed that he'd shaved the sides of his head to raise awareness of the dangers of single-use plastics. He also shared an Instagram video of the process on September 6.
But while we may not be used to seeing the star with different hair, getting a tattoo is hardly a new thing for Momoa. Body Art Guru reports he has at least nine other inkings across his body, including an adorable one on his chest which is actually sentimental scribbling from his children, Lola and Wolf. As for his most prominent? That's probably the large Hawaiian family crest he has across his left forearm that's thought to represent shark teeth. "It's supposed to take the darkness out of your heart and bring in the light, but we're still working on that," Momoa explained to Fresh TV of the tattoo in 2013.