Here's How Long Brie Larson Had To Train For Her MCU Role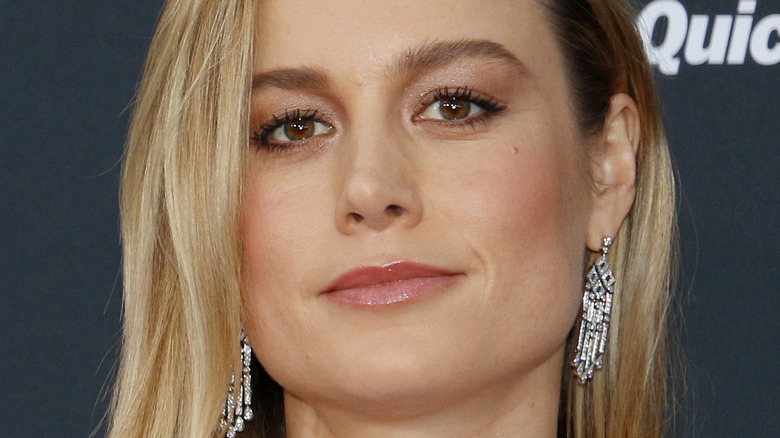 Tinseltown/Shutterstock
Brie Larson showed some serious dedication to her craft thanks to her Marvel Cinematic Universe role. The Oscar-winning actor first took on the part of Carol Danvers/Captain Marvel in "Captain Marvel," which was released in 2019. In September 2018, Larson spoke to Entertainment Weekly about the upcoming film, where she explained that, prior to being offered the role, Larson never anticipated wanting to take on a part in a blockbuster MCU film. "I never saw myself doing something like this, mostly because I like being anonymous," Larson said. "I like disappearing into characters, and I always felt like if I was out in the public eye too much, it potentially limits you in the future."
At the 2019 red carpet premiere of "Captain Marvel," Larson got emotional when reflecting on this project upon its release. "It's been a couple of years of working on this movie, and so this is really moving me," Larson said. She then discussed her character, saying, "I mean, Carol changed my life ... in particular, getting strong and learning how to stand my ground and own myself and value my voice." But, before the filming of "Captain Marvel" commenced, Larson had to undergo an extensive preparation process.
Brie Larson trained for nine months in order to play Captain Marvel
Taking on the lead part for the MCU movie "Captain Marvel" came with some intense training for Brie Larson. In a Page Six interview from 2019, Larson opened up about what was required to portray Carol Danvers/Captain Marvel. The "Room" star underwent physical training for a total of nine months, which included "heavy training," as well as working alongside stunt workers. "I watched 'Star Wars.' And trained for this. Six months heavy training, then three months with stuntmen," Larson said. "I did everything, including skydiving. Professionals set it all up, but I did it." Larson was also hanging upside down for one scene, and filmed others in which she's "roped military-style 50-feet in the air and get[s] free" on her own, she stated. In addition, Larson said that she'd worked on the film for a total of one-and-a-half years. 
Since the release of "Captain Marvel," it has been announced that Larson will next star in a sequel called "The Marvels," per Insider, and will be released in July 2023, per Den of Geek. In an Uproxx interview, Larson was asked about returning to her MCU character. Although she couldn't reveal too much information, Larson stated there "are some huge personal achievements of [hers]" in the film "that [she's] really excited about sharing." Larson also addressed whether or not she'll appear as Captain Marvel again in the future.
Brie Larson isn't sure how long she'll star as Carol Danvers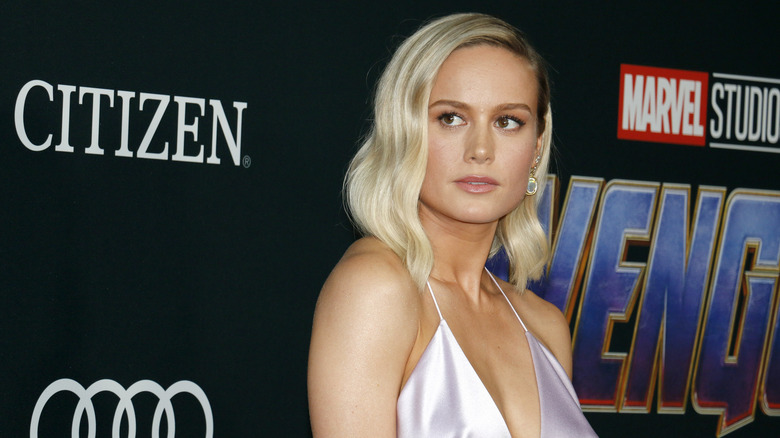 Tinseltown/Shutterstock
"Captain Marvel" star Brie Larson opened up about her thoughts on potentially playing Carol Danvers/Captain Marvel once again. During the D23 Expo that took place in early September, Variety asked how long Larson plans to play Captain Marvel. In response, Larson said, "I don't know. I don't know ... Does anyone want me to do it again?" She then concluded by saying, "I don't have the answer to that." Following these comments, People noted that Larson's statements "appeared to address fan backlash her casting and character have received since she joined Marvel Studios' roster of superhero actors in 2016."
Numerous fans came to Larson's defense on Twitter after viewing the video. One user responded, "Men can't handle a tough woman huh, WE WANT HER EVEN MOREEE." Another stated, "I mean after all of the unwarranted hate she had to go through, i don't blame her reaction. I hope we see more of her as Carol." The actor also talked to The Hollywood Reporter at D23 about her character's evolution in "The Marvels." "You get to see a new side of Carol where she has to learn to relinquish some of the control and realize that she makes mistakes, and she needs support. ... It's the beginning of this new phase for her." Only time will tell whether or not this new chapter will be explored further in a future MCU flick.