The Tragic Story Of Summer House Star Carl Radke's Heartbreaking Loss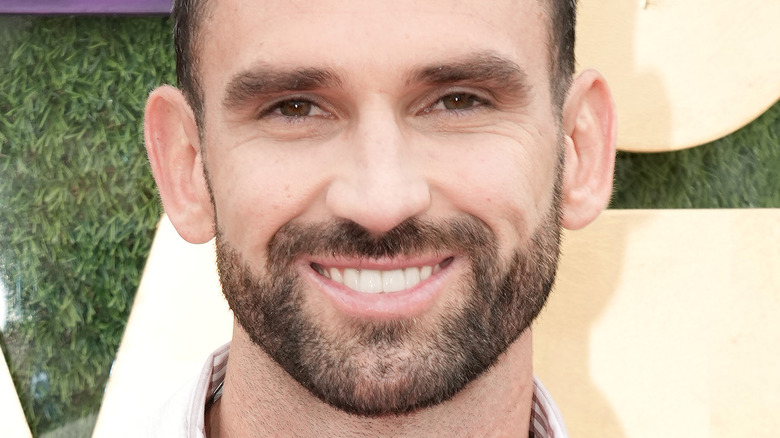 Jeff Kravitz/Getty Images
"Summer House" fans have witnessed a transformation of Carl Radke over the course of the show. One major contributing factor to that change was his decision to quit drinking alcohol. In June 2020, Radke announced that he had stopped drinking a few months earlier. "I've been sober since. I feel great," he told People at the time. Although, the Bravo-lebrity had not committed to staying sober full-time, his decision was influenced by watching episodes of the hit reality show, as he noticed that alcohol had a negative impact on his life. "A lot of my female relationships were affected. I didn't know that until later on, by my drinking," Radke said.
Two years later, Radke spoke about watching himself on Season 4 of "Summer House" and how that helped him get sober. "Then when you read stuff and have audiences and the population weigh in, it's very sobering," he told CNN in April. "And when I get drunk, I get angry and say crazy stuff and do dumb things."
While seeing his negative behavior reflected on the show played a role in his sobriety, Radke was seriously motivated by another factor. "I made a commitment to try and get sober because I have a family that has addiction," he told CNN. Radke had a major loss in his family due to addiction, which — while heartbreaking — helped him find perspective.
The death of Carl Radke's brother
Carl Radke took to Instagram in September 2020 to announce that his brother Curtis Radke had died. "A couple of weeks ago, my brother Curtis passed away after a life-long battle with mental illness and addiction," the "Summer House" star wrote in the lengthy caption while posting a photo of himself wearing a D.A.R.E.-style shirt. "Losing my big brother is something I never could have imagined, and the sense of loss is even greater," he added. Months later, Carl opened up about his relationship with Curtis. Apparently, due to Curtis's addiction issues, the two had not seen each other in several years prior to his death. "I saw him in 2017 for my grandfather's funeral and I told him I loved him," Carl told Today in March 2021. "I had no idea that it would be the last time we spoke."
The two brothers grew up playing sports together and had a competitive relationship, but as Carl told Today, the dynamic changed when Curtis started high school. They grew further apart when Carl went off to college, and Curtis eventually dropped out of school. Additional friction was caused once Carl's "Summer House" episodes began to air. "We kind of had a beef, because I was on Bravo looking like I'm the man and drinking and having fun, and he's at home struggling," Carl told ET in April 2021.
Despite the past tensions, Carl continued to honor his brother after his death.
How Carl Radke's brother inspired him
Fortunately for Carl Radke, he noticed issues with his own alcohol abuse and had curtailed his drinking before his brother's untimely death in the summer of 2020. "I think had I been in the place I was previous summers when I got that news, I don't think I would be here right now," he told his "Summer House" castmates on an episode that aired in May 2021 (via Page Six). In fact, the reality star picked up on parallels between himself and his older brother. "This was a path my brother went down, and clearly the path I've been choosing can sometimes lead me down that way," Radke told his housemates while expressing gratitude for his own sobriety.
In February, Radke paid a loving tribute to his deceased brother on what would have been his birthday. "The feeling of loss will never go away but I commit daily to be grateful for the things I've gained," the Bravo star wrote in an Instagram post. "Yeah I'm smiling here but I'm crying while I type this," he added. Radke uploaded a snap of him planting a small tree as a symbolic gesture. "I planted a little tree to sew some new roots and engage in something with meaning," the "Summer House" star wrote in the heartfelt caption dedicated to his brother.
If you or anyone you know is struggling with addiction issues, help is available. Visit the Substance Abuse and Mental Health Services Administration website or contact SAMHSA's National Helpline at 1-800-662-HELP (4357).