The Famous Ex Sandra Bullock And Jennifer Aniston Have In Common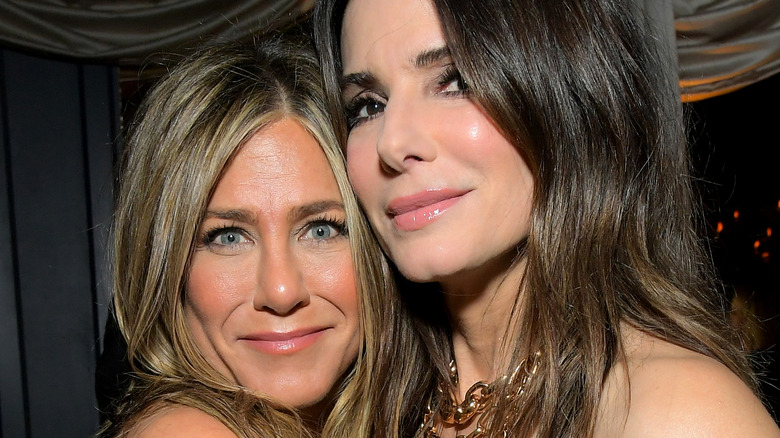 Charley Gallay/Getty Images
Jennifer Aniston and Sandra Bullock are two of the biggest names in Hollywood, and while they are friends, they also have more in common than you may think in the dating department.
Aniston's dating life has long been tabloid fodder. The former "Friends" star has been involved with a list of high-profile men, from Counting Crows frontman Adam Duritz to singer John Mayer, to marriages to both Brad Pitt and Justin Theroux, per Page Six. She even had a brief romance with actor Vince Vaughn. Aniston once told Vogue that her relationship with Vaughn brought her "back to life" after her divorce from Pitt. Bullock's love life has also been in the spotlight over the past 30 years. She was in relationships with actors Matthew McConaughey and Ryan Gosling, per Parade, and she was married to TV personality Jesse James for nearly five years.
While neither of the two stars seem to have a "type," they both have a history with one actor — a guy that they both worked with, in fact.
Sandra Bullock and Jennifer Aniston both dated actor Tate Donovan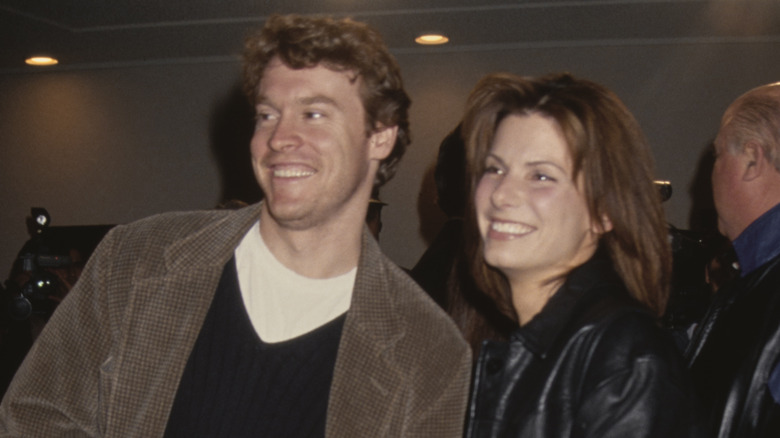 Michael Ochs Archives/Getty Images
In 1992, the love bug hit Sandra Bullock while filming the movie "Love Potion No. 9." It was then that she met and fell for actor Tate Donovan. "You have one great love in life, and I've had it," she told Rolling Stone of Donovan. Bullock told Vanity Fair she "chased" Donovan to get him to notice her. "I adored Tate so much," she said, adding that when they were together, they were "closer than any two people I've ever experienced in my life." As for why they split, Bullock simply said, "I can't explain why things worked out the way they did. We both know why it happened."
After splitting from Bullock, Donovan began dating Jennifer Aniston in 1995 after meeting her through mutual friends. The "Friends" star described her new love as the "perfect guy," per People. The two ultimately became serious, talking marriage and exchanging commitment rings. But the high-profile romance was ultimately doomed due to the constant paparazzi presence. To make matters worse, just as they were breaking up, Donovan booked a multi-episode arc on "Friends" opposite Aniston. The actor told Us Weekly he was "dying inside" during his six-episode guest stint, in which he played his ex's love interest, Joshua.
Sandra Bullock and Jennifer Aniston have talked about their mutual ex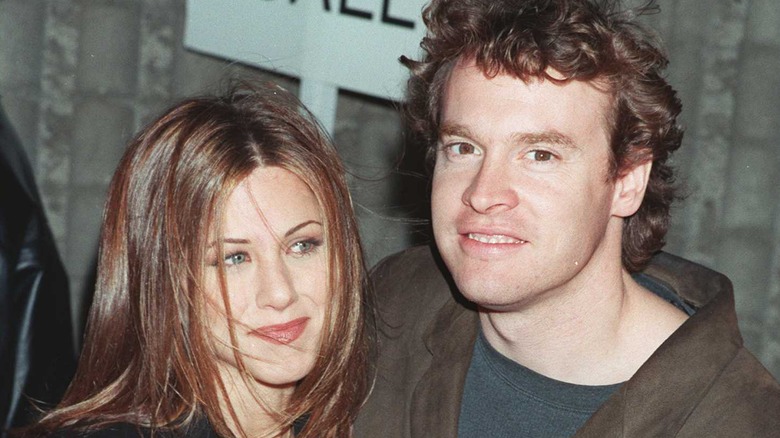 Denny Keeler/Getty Images
Sandra Bullock and Jennifer Aniston were introduced to one another by none other than Tate Donovan. After meeting through Donovan at a Golden Globes party, they met a second time at a friend's wedding and they've been gal pals ever since. In July 2020, Aniston was even a guest at Bullock's socially distant birthday party, per Entertainment Tonight.
In a 2020 chat with Aniston for Interview, Bullock brought up the subject of their mutual ex. "We were introduced by our former boyfriend," Bullock dished. "I say 'our' because you and I both partook of this one human being. We both partook of Tate. ...Who was a very patient human being, given that he dated us both." The two agreed that their mutual ex had a "type" — a type that is "talented," "funny" and loves architecture and design.
As for his famous exes, Donovan told TooFab a bunch of people sent him the Interview article, in which they talked about him. "It was sent to me like 70 times, yes, trust me, I definitely read it," he said. "It was very nice. That was very nice of them, they're both very sweet and yeah, it's very nice."