Body Language Expert Pinpoints Just How Kate Middleton Froze Out Meghan Markle At Windsor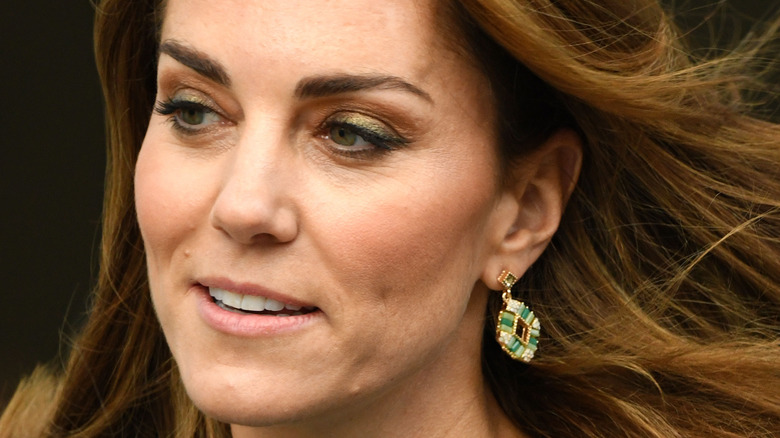 LINGTREN.COM/Shutterstock
A moment that took place between Catherine Middleton, Princess of Wales and Meghan Markle, Duchess of Sussex is now being evaluated by an expert. This exchange occurred as the British royal family continues to mourn the death of Queen Elizabeth II, who passed away on Thursday, September 8, per BBC News. King Charles III, the son of Queen Elizabeth II, commented on the grief being experienced by the royal family, as well as onlookers across the globe, at the time of the queen's passing. "We mourn profoundly the passing of a cherished sovereign and a much-loved mother," the king said. "I know her loss will be deeply felt throughout the country, the realms and the Commonwealth, and by countless people around the world."
William, Prince of Wales then took to Instagram to release a statement on Saturday, September 10. "I have had the benefit of The Queen's wisdom and reassurance into my fifth decade," the royal said. "She was by my side at my happiest moments. And she was by my side during the saddest days of my life." That same day, Harry, Duke of Sussex was captured on video while he visited mourners at Windsor Castle and opened up about his feelings of grief. "It's a lonely place up there now without her," Harry said as he met with the visitors, per The Sun. "Every room she was in, we felt her presence throughout." Brothers William and Harry, along with their significant others, Kate and Meghan, have been seen together following the passing of the queen.
A body language expert says that Kate Middleton 'appeared to look through' Meghan Markle during a recent appearance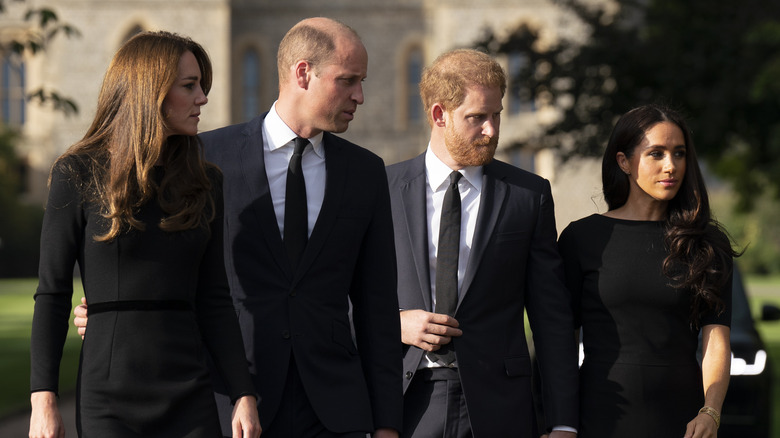 Wpa Pool/Getty Images
A body language professional is weighing in on a moment that was captured on video between Catherine Middleton, Princess of Wales, and Meghan Markle, Duchess of Sussex. This clip was recorded while the two were outside of Windsor Castle over the weekend as they stood by their partners, Prince William and Prince Harry. As reported by 7 News, the video includes a moment of "Kate appearing to stare down Meghan" prior to grinning for the camera. The news outlet chatted with Katia Loisel, who is an expert on body language, to figure out what this may indicate. Loisel stated that the moment looked like it caused discomfort for Meghan, who "appeared ill at ease." 
She shared that it seemed Kate was "reluctant to interact" with Meghan specifically, although William showed signs of wanting to "include and connect with" both Harry and Meghan. 7 News also wrote that Kate's lack of interaction with Meghan could be classified as Kate "freezing [Meghan] out." 
"On numerous occasions Meghan looked over at Kate, however, the gaze wasn't reciprocated," Loisel added. "Rather, Kate appeared to look through her, suggesting underlying tension between the pair." Another expert named Judi James, talked to The Sun about Meghan's recent signals toward William and Kate, saying that "Meghan's body language suggested levels of suppressed awkwardness." Aside from these evaluations, Kate and Meghan have displayed genuine emotion related to the queen's passing.
Kate Middleton, Meghan Markle, Prince William and Prince Harry remain united as they continue to grieve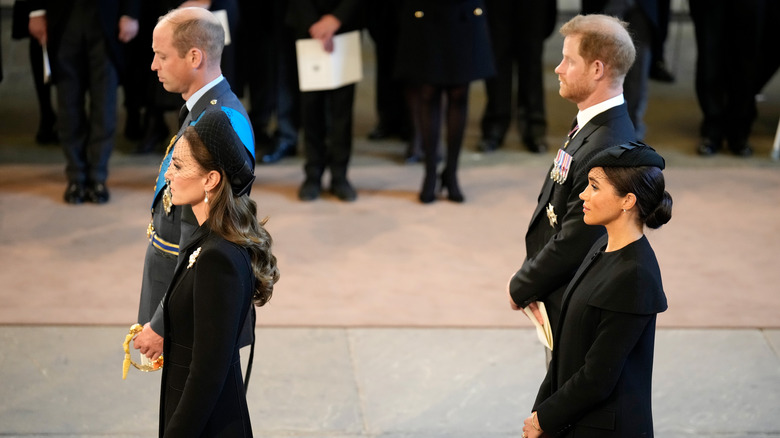 Christopher Furlong/Getty Images
Kate Middleton and Meghan Markle have both publicly shown their grief related to the death of Queen Elizabeth II. People reported on their appearances during the queen's funeral procession as they arrived at Westminster Hall on September 14. The news outlet wrote that Kate and Meghan "were visibly emotional" and "seemed to blink back tears" as they stood by their significant others, Prince William and Prince Harry, while Queen Elizabeth II's coffin was covered by the Royal Standard flag and lifted on a catafalque. The two women donned items of pearl jewelry that Queen Elizabeth II had gifted to them. This procession comes before the state funeral of the queen, which will take place on September 19.
Although body language evaluations may have indicated tension between Kate and Meghan, it appears as though they've continued to stand as a united front during the royal family's grieving process. After this gathering, Kate, Meghan and their spouses, along with other members of the royal family, convened for a dinner at Buckingham Palace, per CNN. In addition, the Duke and Duchess of Sussex documented a public appearance with Kate and William their through social media account. On the pair's Instagram, photos of the two couples walking together outside of Windsor Castle were posted on September 11 to share "when Harry and Meghan joined William and Catherine" as they met mourners and viewed a floral tribute to the queen.