New Claims Emerge About Alexis Bledel And Vincent Kartheiser's Split
DFree/Shutterstock
When we first heard that Alexis Bledel and Vincent Kartheiser were divorcing after eight years of marriage, the reasons behind the split were a little bit of a mystery. That's probably largely because the couple's whole marriage was a bit of a mystery. Celebrities or not, Bledel and Kartheiser famously liked to keep their private life private. Neither is active on social media, for one thing, and they have rarely ever spoken about their relationship in interviews. And not only did they get married in a secret ceremony, they even managed to keep Bledel's pregnancy and the birth of their son a secret until Scott Patterson accidentally spilled the beans in a Glamour interview almost a year later. The only reason we know about the divorce at all is because of the filing documents
Anyway, it looks like we're finally getting a few details about the breakup, though, of course, none of these details come first hand.
Alexis Bledel and Vincent Kartheiser hadn't been seen together in years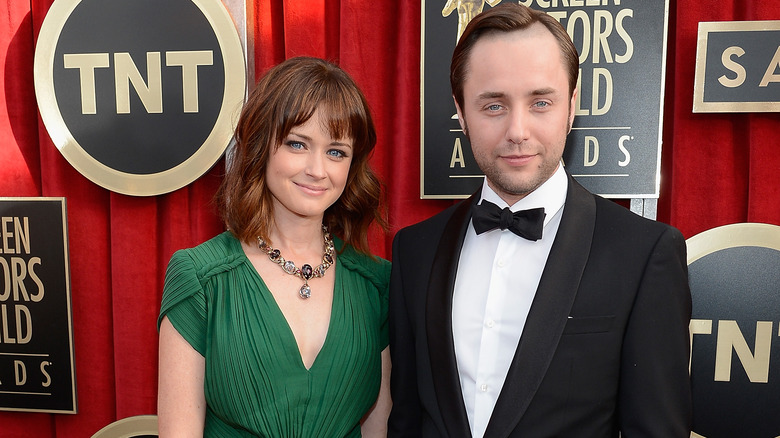 Kevork Djansezian/Getty Images
Part of the reason behind Alexis Bledel and Vincent Kartheiser's divorce could be a sense of "social isolation," according to a source speaking to Us Weekly. We imagine that would have to be a bit more social isolation than everybody experienced over the course of the pandemic. Us Weekly's source further added that it had been years since the couple made a public appearance together, and this distance "certainly played a part" in the separation.
"They didn't have a huge circle of friends but they both made up for it with very thriving and busy careers — almost to a fault," the source continued. "Vincent has always been a little bit of a lone wolf and he's going to benefit from time on his own."
Bledel has also recently said goodbye to another long-term relationship — with "The Handmaid's Tale," which she exited after four seasons. And she didn't give a lot of details into her thinking about that either. In a statement to Variety she merely said, "After much thought, I felt I had to step away from 'The Handmaid's Tale' at this time." So it could be a while before we hear from her again.