Alison Brie Had A Strange Job Before Becoming Famous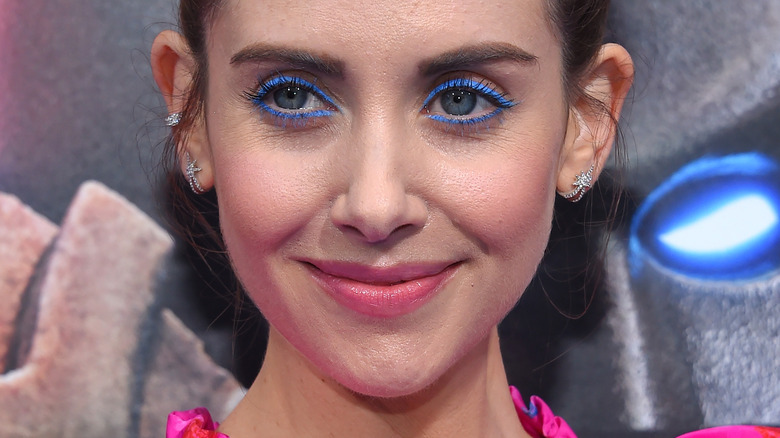 DFree/Shutterstock
The first big break in Alison Brie's career came playing Trudy Campbell on "Mad Men," but the actor originally had no idea that the part would move the needle for her career. "The role I auditioned for was a one-episode guest star on this show," she told NPR in 2015 while discussing the role. Brie said she did not believe the role as Pete Cambell's wife would "change [her] career trajectory," and planned to simply add this footage to her actor reel. Although the AMC drama was a massive success, it did not instantly propel Brie to stardom. "I didn't start working on Mad Men and immediately start getting amazing job offers," she said.
One aspect of Brie's life that did change drastically was that the part allowed her to quit her day job at a yoga studio in 2007. A couple years later, Brie hit another stepping stone in her career when she landed the part as Annie on the hit sitcom "Community," which she described to NPR as the "second in my big-break list." 
Not long after the shows wrapped, Brie landed a starring role on Netflix's "G.L.O.W." in 2017. "It blew my goddamn mind. It's the job of a lifetime," she told The Guardian in 2018 about landing the part of Ruth Wilder. But this odd-ball job she worked before becoming a professional actor helped prepare Brie for the rigors of the acting world.
Alison Brie was a clown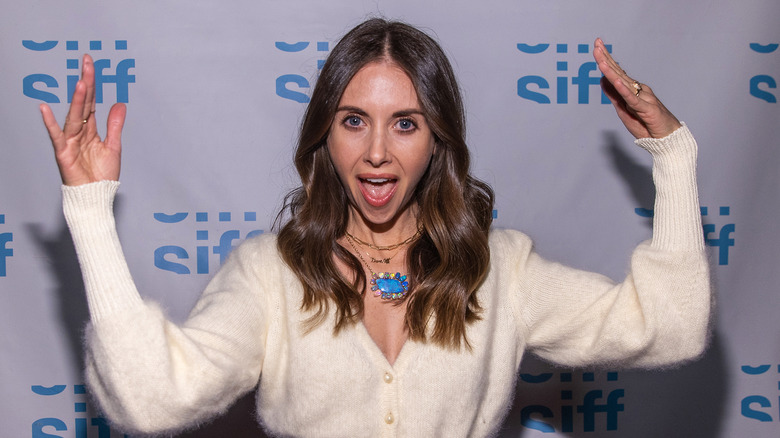 Mat Hayward/Getty Images
Alison Brie's first foray into show business was a far-cry from her notable film and television roles. "I spent a summer as a birthday clown," she said while appearing on "Today" in August. "They loved me. I made balloon animals," Brie said about performing at children's parties. While being a clown for birthday parties may not have directly translated into preparing for a career on-camera, it did help the actor in one important way. "I actually do think it was very helpful in honing audition skills."
In 2017, Brie gave some insight into her job as a children's performer, saying she had just finished high school at the time. "It was a bounce house company who was just getting into the clown game," she said on "Late Night with Seth Myers." The company's headquarters was located in Compton, so that's where she went to pick up her clown supplies before each gig. "I'm just like pumping gas in Compton [in a clown suit]," she playfully added.
If working as a clown for a company based out of Compton was not wild enough for Brie, the fact that she was still a teenager who had to interact with not only kids, but also their parents, made it especially daunting. "I think, 'God, that was just me with a bag full of toys in my outfit, rolling up to these parties with 27-year-olds,'" she told the AV Club in 2012. Brie's first day job was surprising, but so was her first TV gig.
Alison Brie's failed TV accent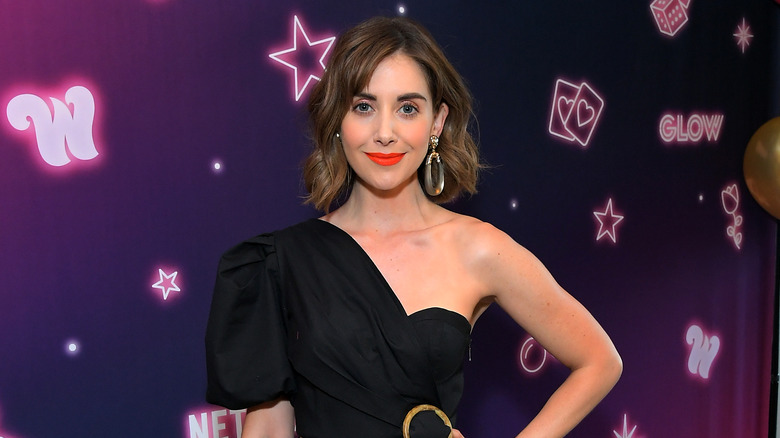 Charley Gallay/Getty Images
Before she was on "Mad Men" and "Community," Alison Brie's first television appearance was a small part on an episode of "Hannah Montana" in 2006. She played a hairdresser from Long Island, and the actor decided to go over-the-top with the role. "But the thing I remember most is that I decided to go in for my audition with, like, a very broad Long Island accent. Not requested!" Brie said while appearing on "The Tonight Show Starring Jimmy Fallon" in 2021, via E! Brie's interpretation of the character was not exactly embraced by the show's director. "I'm doing my shtick, and the director's just like, 'Great. Just lose the accent. We'll go from there,'" she recalled.
A decade later, as her career continued to evolve, Brie encountered more difficulty in Hollywood when her show "G.L.O.W." was cancelled by Netflix after three seasons. "It's the great heartbreak of my career," she told Decider in August. "But it will forever live on as, like, this great thing."
Looking to forge a path for herself, Brie decided to take matters into her own hands and create her own project, as she wrote and starred in the films "Horse Girl" and "Spin Me Round." "I think there was a desire in my downtime, not even about feeling like it was roles that I hadn't gotten a chance to play, but just a desire to make art," she told Movie Web in August.