The Role You Forgot Alison Brie Played In Hannah Montana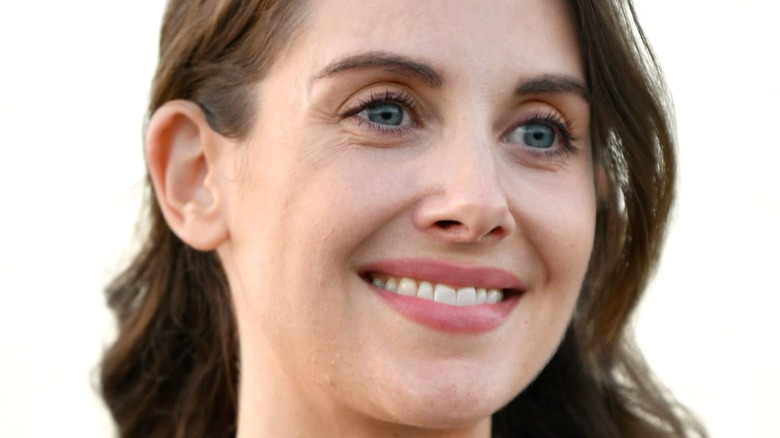 Amy Sussman/Getty Images
Alison Brie found a mature audience playing a '60s housewife on the AMC series "Mad Men" and a female wrestler on the Netflix dramedy "GLOW," but for one of her very first jobs, she entertained children.
"I worked for a summer as a clown!" Brie told Glamour. "My clown name was Sonny and I wore a yellow afro and made balloon animals." After gaining experience with a very discerning live audience, she originally hoped to make a living as a stage actor and set her sights on establishing herself as star material. Part of her early education took place in Glasgow, Scotland. "The theatre we did was cutting-edge, very demanding. It taught me to be fearless," she told The Globe and Mail.
Brie would eventually discover that she was well suited for television series with large ensemble casts, and she honed her comedic skills playing an enthusiastic, overachieving college student on the sitcom "Community." But before she found steady work on the small screen, Brie put her past experience putting smiles on kids' faces to use on the Disney Channel sitcom "Hannah Montana."
Alison Brie's accent experimentation paid off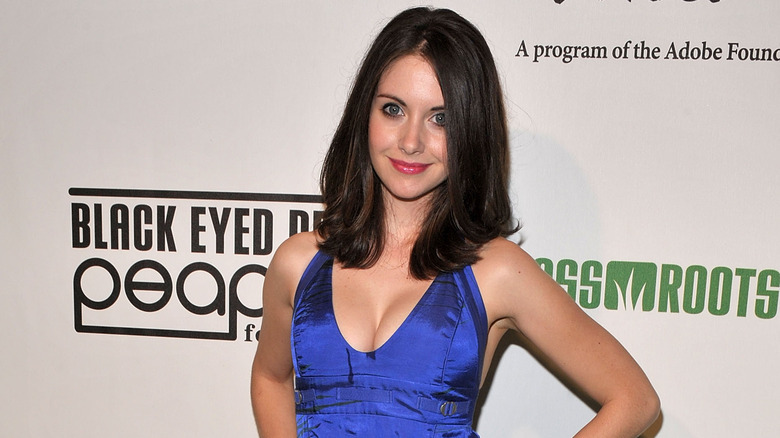 Frazer Harrison/Getty Images
Like "Stranger Things" star Natalia Dyer, who appeared in "Hannah Montana: The Movie," Alison Brie adopted an accent when she auditioned for the first season of the "Hannah Montana" series. But in an interview with Cosmopolitan, Dyer recalled that her role required her to fake a British accent, whereas Brie took a little artistic liberty with her character, a hairdresser who develops a crush on Jackson Stewart (played by Jason Earles). "For my audition, I came in and took a big swing at a Long Island accent which was not requested," she told W magazine.
Initially, Brie's creative risk seemed like a smart move — afterwards, she overheard other actors being told to adopt similar accents for their auditions. "And then when I got the role, I got there for my first day of filming and they said, 'Everything looks great. Just lose the accent,'" she recalled.
Because "Hannah Montana" was filmed in front of a studio audience, the role gave Brie a small taste of the stage life that she once craved. "Working on 'Hannah Montana' was actually the perfect first job coming out of theater school," she said in an interview with Collider. "I couldn't be more comfortable." The Cal Arts grad noted that Miley Cyrus hadn't yet become a global phenomenon, so the cast member whose name she immediately recognized wasn't the pop star's, but that of her father, country singer Billy Ray Cyrus.
Alison Brie defended Miley Cyrus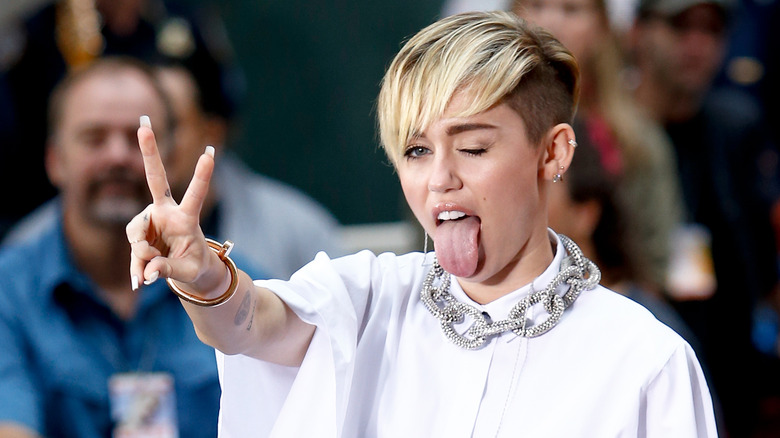 Debby Wong/Shutterstock
In 2009, Miley Cyrus was accused of making a racist gesture by tugging at the corners of her eyes to give them a squinted appearance in a photo. Per Reuters, the Asian Pacific American advocacy organization OCA slammed the pop star for engaging in behavior that "falls within a long and unfortunate history of people mocking and denigrating individuals of Asian descent." Alison Brie spoke to Us Weekly about the controversy and defended her former "Hannah Montana" co-star. "I think people are too hard on kids in the entertainment industry," she stated. "If your average Joe was put under a microscope and scrutinized the way Miley Cyrus is, they'd be doing a lot worse."
On her fansite, Cyrus insisted that she was just pulling a silly face and compared the media's treatment of her to that of Britney Spears. "I definitely feel like the press is trying to make me out as the new 'BAD GIRL'!" she wrote, per TMZ.
In the coming years, Cyrus would embrace that "bad girl" label by twerking at the 2013 MTV VMAs and posing in some topless photos for V Magazine, per ET. On "Jimmy Kimmel Live," Cyrus complained about Americans being uncomfortable with women completely baring their chests and described herself as "a vegan nudist." The fight for the right to go topless might also be something that Brie would support Cyrus, since she did tell Men's Journal, "In college, I was bit of a nudist."