Why Elton John's Mom Didn't Approve Of His Relationship With David Furnish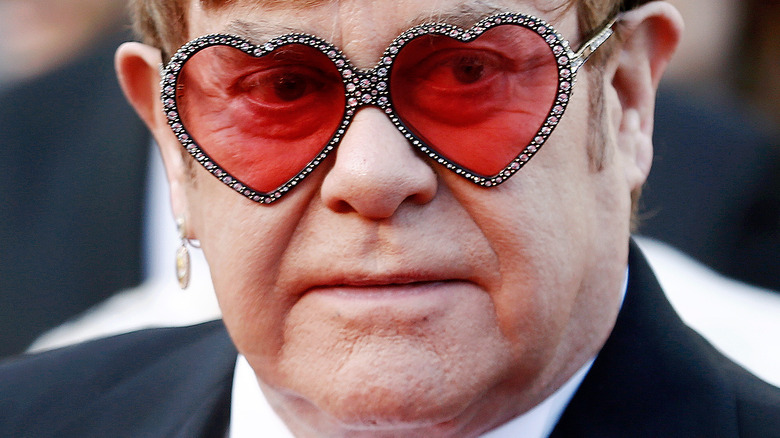 Andrea Raffin/Shutterstock
Elton John and David Furnish have been together for decades now — but if it had been up to John's mother, Sheila Farebrother, that might not have been the case. 
According to The Guardian, John and Furnish were among the first 678 same-sex couples to tie the knot the day civil partnerships were legalized in the United Kingdom. The outlet also noted that the nuptials drew an impressive crowd — one that surpassed the turnout for King Charles III's 2005 wedding to Queen consort Camilla. However, many were unaware that joyous as the occasion may have been, there was one dark cloud hanging over the festivities. Said cloud just so happened to resemble Farebrother. 
In the years since the civil ceremony, fans of the "Cold Heart" singer have been given slight glimpses into went wrong. In an interview with the Daily Mail, Farebrother herself complained that Furnish had refused to let her be in wedding pictures for failing to wear a hat. According to John, however, her refusal to wear a hat was just one of many attempts to ruin the day. In an excerpt of his autobiography, "Me," published by the Daily Mail, John revealed that his mother had arrived to the wedding "in character as a raving sociopath." He also alleged that he later learned she had tried to convince Furnish's parents to help her derail their union. John and Furnish had already been an item for more than 10 years when they formalized their partnership, though — so what was the reason behind Farebrother's attempts at sabotage?
For Elton John's mother, marriage was a step too far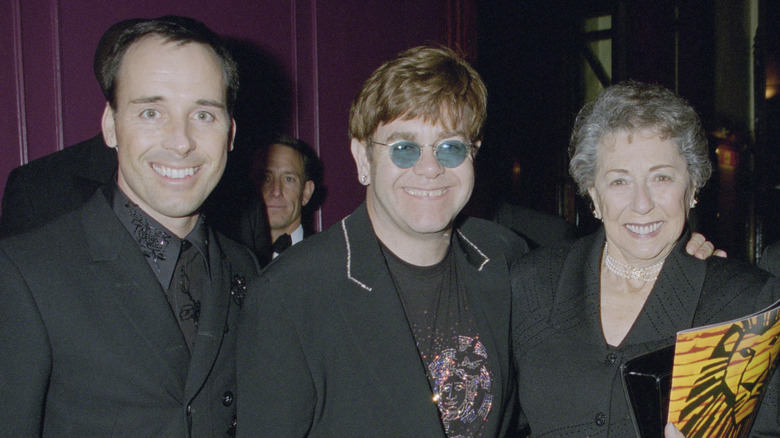 David M. Benett/Getty Images
When Elton John first came out to his mother and stepfather, both had seemed accepting. In fact, as the singer revealed in a 2021 YouTube Pride special, John revealed, "My mother and my stepfather were very, very easy with me coming out as a gay person, and supported me." However, in later years, he's come to accept that his mother, in particular, might not have been quite as supportive as he thought. 
According to John, the first hints that his mother wasn't entirely accepting of his sexuality came when he was planning to wed David Furnish in their 2005 civil ceremony. "When I wanted to have a civil partnership ... my mother was so against it — because it's officially admitting that you're gay," he explained. For John, that came as a double blow. Not only was his mother not happy for him, but he also realized that after years of seeming incredibly open-minded, "There was a mild homophobia going on within her." 
It's worth noting that the singer has only recently come to terms with that possibility. As recently as 2019, he acknowledged in his memoir that, while his in-laws had warned him that she'd said she didn't approve of two men entering into a civil partnership, he didn't think that was due to homophobia. Rather, he believed, "She couldn't cope with the thought of the umbilical cord finally being cut" (via the Daily Mail). 
...but Sheila Farebrother chalked it up to dislike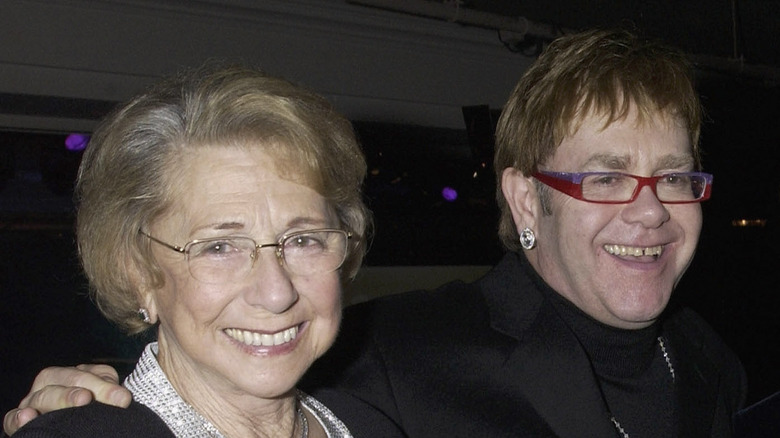 Dave Benett/Getty Images
Despite David Furnish's parents telling their son and son-in-law that she told them she was against the idea of a same-sex marriage, prior to her death, Sheila Farebrother  herself maintained that she simply did not like Elton John's now-husband. 
Speaking to the Daily Mail in 2015, Farebrother told the publication she believed Furnish was controlling her son — right down to who he spent time with. "Everyone who used to be invited to the parties doesn't get invited any more ...and we know who is behind that!" she lamented. In his autobiography, John chalked that up to her being unwilling to accept that he had truly found happiness with someone. Moreover, he revealed that when she realized Furnish might be "the one," she grew even icier. "She had always been cold towards my boyfriends, but this was on a different level," he wrote (via the Daily Mail). Still, the "Candle in the Wind" hitmaker pointed out that in a fight they'd had years after his civil ceremony with Furnish, she'd referenced her disapproval once again. "It didn't make sense. Mum had always been incredibly hard work, but she had never been homophobic," he wondered. 
Whatever reason Farebrother had for disapproving her son's relationship with Furnish, it doesn't seem to have had much of an effect. Per The Guardian, the couple officially wed in 2014  on the day of their nine-year civil partnership anniversary — and we couldn't be happier for them!