The True Meaning Behind 'Cold Heart' By Elton John & Dua Lipa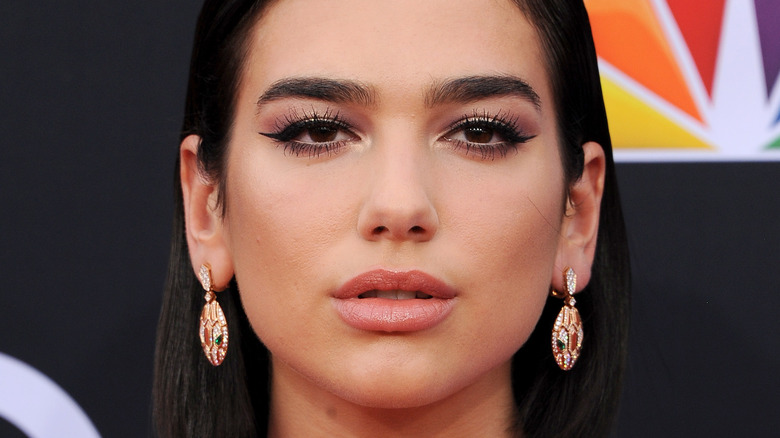 Tinseltown/Shutterstock
If songs like "Love Again," "Don't Start Now," and "Physical" from Dua Lipa are on your playlists, then your interest was likely piqued when you found out about her collaboration with music industry legend Elton John, which the pair have deemed "Cold Heart." Frankly, you wouldn't be alone.
Released on August 13, "Cold Heart" came out swinging "with 3.8 million radio airplay audience impressions, 3.5 million streams, and 8,600 downloads sold in the U.S. in the week ending Aug. 19, according to MRC Data," as Billboard reported. That kind of buzz is why the song helped John's name pop up on "the Billboard Hot 100 for the first time in over 21 years." Impressive? You know it!
While all of this should make it clear that this is a song that's worth listening to (over and over again, TBH), you might also be wondering what it means. Read on to find out that very thing! Although there's a very good (and very cool) reason why there's not exactly a straightforward and simple answer.
'Cold Heart' borrows from Elton John's catalogue
When you listen to "Cold Heart" from Dua Lipa and Elton John — which, on August 13, was released with a music video that features carton versions of the stars — there's a chance that something about it might seem familiar. That's because the tune — which NPR claims is a "late contender to the song of the summer discourse" could be considered "almost a mad libs of pop music." If that doesn't make it clear, the outlet breaks it down a little more by noting that the song not only teams up "one of the greatest hitmakers of all time" and "pop's current It Girl" as well as "a much-loved Australian dance music trio," aka PNAU, but it also borrows from a range of John's previous releases like "Rocket Man," "Kiss the Bride," "Sacrifice," and "Where's The Shoorah?"
Although this pretty much creates a fun game that prompts you to try to pick out lyrics from other hits, it doesn't make the meaning any less poignant. Indeed, during the verse, John sings (via Genius), "It's a human sign / When things go wrong / When the scent of her lingers / And temptation's strong." Things going wrong? Temptation? Oh my!
While we've clearly found ourselves in the middle of a sticky situation when it comes to this song, there's something else that the duo of singers is trying to tell us.
Something's not right in Dua Lipa and Elton John's 'Cold Heart'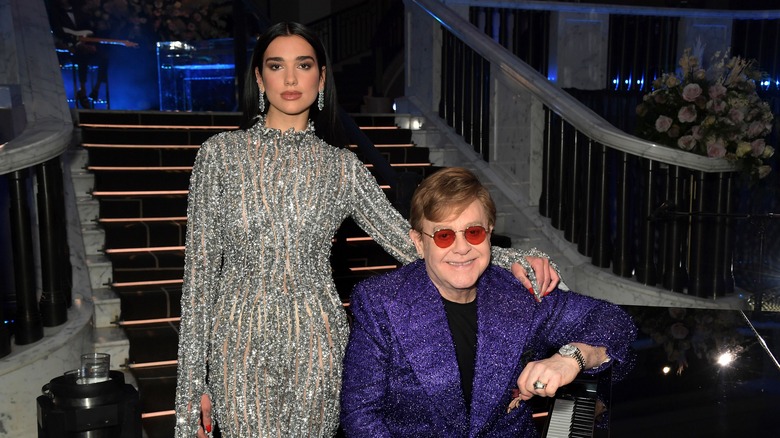 David M. Benett/Getty Images
"Cold, cold heart (Oh) / Hardened by you / Some things lookin' better, baby (Oh) / Just passin' through (No, no, no, no, no)," Elton John sings in the pre-chorus of "Cold Heart," according to Genius. Continuing to address the seemingly dire (and less than) romantic situation that was mentioned during the start of the song, it now becomes clear that it's the other person's icy nature or frosty affection that's causing problems. That's surely why the singer notes that it's best to only be with this particular significant other for a brief amount of time.
Of course, another aspect of what's really going on is revealed when the truth about the singer's (or singers') own nature is brought to light. Just listen when Dua Lipa adds, "And I think it's gonna be a long, long time / 'Til touchdown brings me 'round again to find / I'm not the man they think I am at home. / Oh no, no, no." We love the "Rocket Man" reference. And from there, she tells listeners, "And this is what I should have ever said / Well, I thought it, but I kept it in." We hear you! 
It's always better to voice your concerns with a romance, and these two stars are giving us a late summer bop in the process.