Dacre Montgomery And Joe Keery Get Along Much Differently In Real Life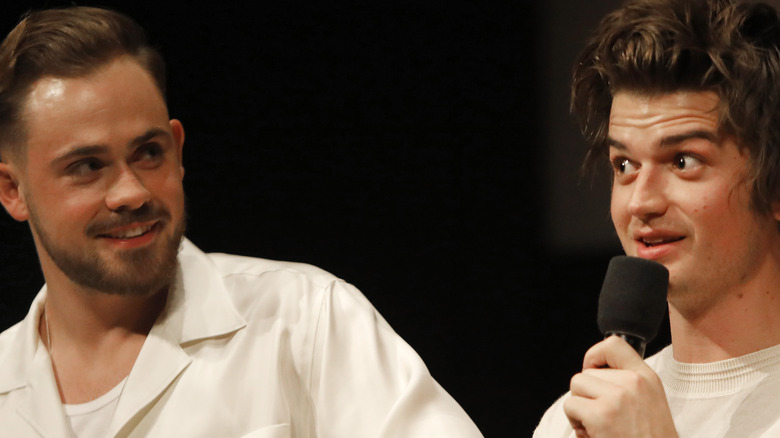 Rachel Murray/Getty Images
If you're a fan of "Stranger Things," you're well aware of the fact that Steve and Billy do not like one another; they're enemies who duel it out (both verbally and physically) on the hit Netflix series. Steve, played by Joe Keery, was first known by fans as the boy dating Nancy Wheeler during the disappearance of Will Byers. Billy, meanwhile, played by Dacre Montgomery, was Max's step-brother. 
Given how different the actors and their characters appear to be, it came as a huge shock to fans that Steve and Billy were one and the same in the original script. In an interview with BuzzFeed, series creator Ross Duffer shared, "Introducing Billy was one of our first ideas for Season 2. Stephen King always has evil, but very human, characters in his work. Originally, that was going to be Steve, and then we fell in love with Joe Keery and we took his energy and spun it in a different direction. But we still wanted that human villain."
What's arguably just as interesting is that the actors behind these characters may not hate each other in real life. In fact, the reality of their relationship is the complete opposite of their on-screen rivalry.
Dacre Montgomery and Joe Keery get along well in real life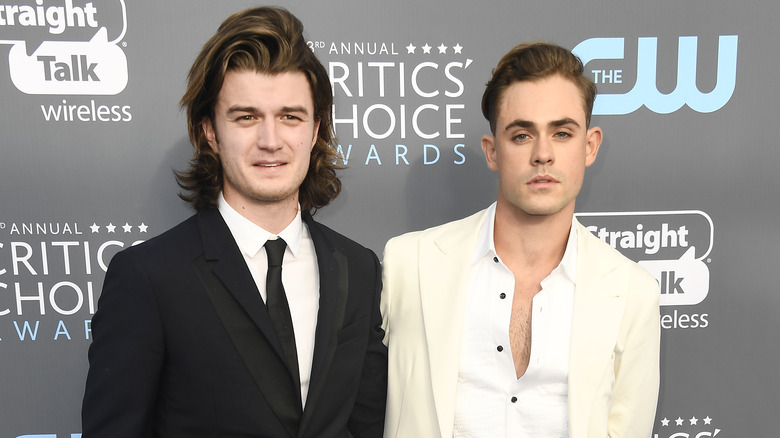 Frazer Harrison/Getty Images
In November 2017, TIME published an article titled, "Steve and Billy from Stranger Things Actually Get Along Extremely Well in Real Life." In the piece, they reference the time the two actors spoke on the YouTube show, "Good Mythical Morning," where it was apparent they got along perfectly well off-screen. At one point, Dacre Montgomery even said of Joe Keery's 'do, "It's a very good head of hair, very well coiffed." And when the show hosts asked if Montgomery would ever hire Keery as a waiter at a fictional restaurant, he teased, "Of course, mate. I'd be honored to create jobs for the less fortunate."
In a Hollywood XYZ interview with Natalia Dyer, Keery, and Montgomery, the pair once again appeared to get along swimmingly. In one section of the interview, Montgomery lovingly tapped Keery's arm and said, "I try to do my best along this big, macho guy." Montgomery even touched on the idea that he's more friendly than his character may appear to be when he stated, "It's nice to play an antagonist." He also described the role of Billy as being "so different" from himself. 
The Stranger Things cast are all supportive of one another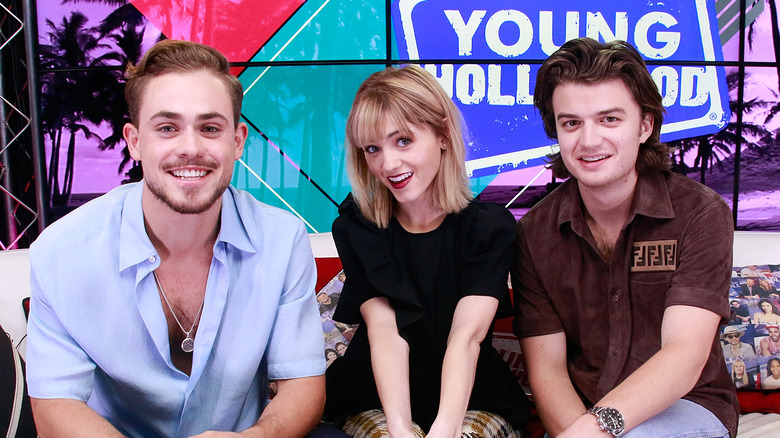 Mary Clavering/Young Hollywood/Getty Images
If the riffing the two characters showed on their interview with Teen Vogue is any indication of how their relationship is like behind the camera, the two truly are good friends. Debating the "radness" of different 80s items, both actors donned futuristic glasses, with Joe Keery telling Dacre Montgomery, "Those actually are kind of cool."
This shouldn't come as too much of a surprise; after all, the rest of the "Stranger Things" cast appears to get along, too. In fact, in 2018, Millie Bobby Brown described the cast as "siblings," jokingly adding that they "argue all the time." She even touched upon some insignificant squabbles they've gotten into, over things like eating one another's bag of chips. 
And at the end of the day, Instagram is further proof of how tight-knit the cast is. Just days after the show first premiered, Gaten Matarazzo, who plays Dustin Henderson, wrote on social media of Brown and Caleb McLaughlin, "Love these guys. Couldn't have done this without you guys. Love you with every little bit of my heart. WE MADE IT!"