Eminem Opens Up About Dating Woes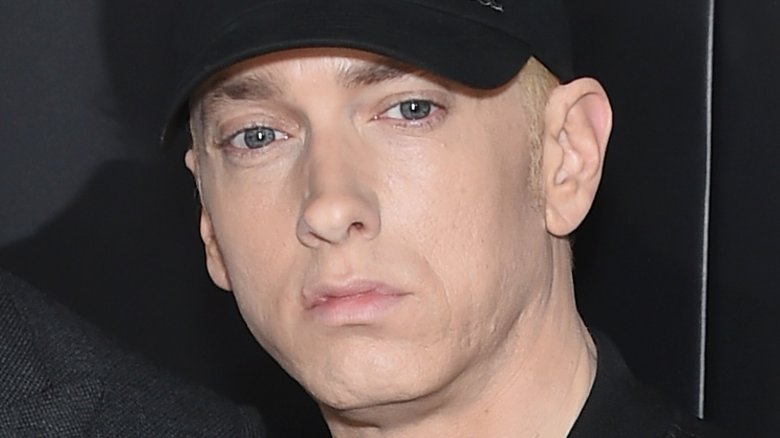 Getty Images
The "Walk on Water" rapper is getting real about his love life.
Eminem (real name Marshall Mathers) opened up about his dating woes during an interview with Vulture on Monday, Dec. 18, 2017. During the candid conversation, the "River" rapper revealed that maintaining a relationship has been difficult following his turbulent 2001 divorce from Kim Mathers, with whom he shares a daughter, Hailie.
"It's tough. Since my divorce I've had a few dates and nothing's panned out in a way that I wanted to make it public," the 45-year-old rapper explained. "Dating's just not where I'm at lately."
But when he does try to meet people, he admitted that he turns to dating apps—just like everyone else. "Yeah, Tinder. And Grindr," he said with a laugh, before adding, "I also used to go to strip clubs."
Eminem, who made headlines in October following his anti-Trump freestyle during the 2017 BET Awards, went on, "What can I say? Going to strip clubs is how I was meeting some chicks. It was an interesting time for me."
But that doesn't mean he feels alone. "Am I lonely?" he said. "No, I'm good."
The "Sing for the Moment" rapper also talked his new album, Revival, which was released on Friday, Dec. 15. When the interviewer noted a "dissonance" between Eminem's more serious, politically charged commentary and his "rough" raps about women, the rapper maintained that the two can co-exist naturally on the record—for him, anyway.
"How you think those things go together depends on what kind of fan of my music you are. Sometimes I'm trying to appease people who think, Man, I miss when Eminem was raw. But I'm not killing Kim on songs anymore — we're good now, and she's the mother of my daughter," he said in reference to his infamously violent 2000 song named after his ex. 
"The truth is that going from one subject to a completely different one is a balancing act," he continued. "And I'm trying to give something to everyone."
While we wait to see if the real Slim Shady finds luck in love, read up on what Eminem's been up to these days.