Inside Lil Nas X's Relationship With Nicki Minaj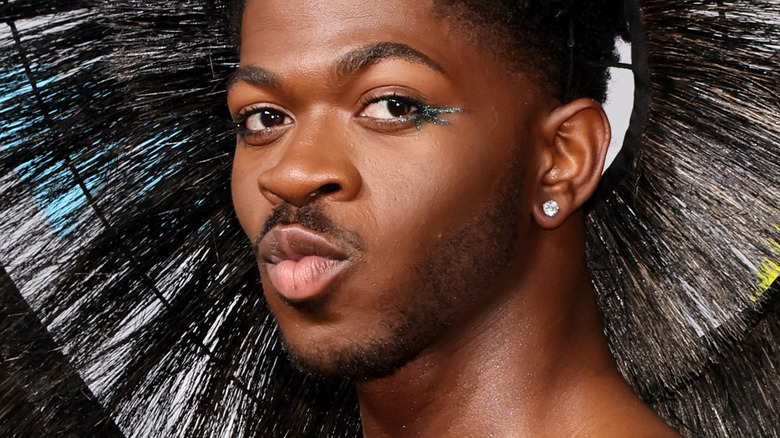 Dia Dipasupil/Getty Images
Musician Lil Nas X had a seemingly sudden rise to fame after his 2019 song, "Old Town Road," became a smash hit. The track, which featured Billy Ray Cyrus, spent an impressive 19 weeks atop the Billboard Hot 100 and solidified the rapper's place in the music industry. That same year, the Georgia native found himself in a bit of an online controversy after he was accused of running a Nicki Minaj stan account. The Twitter, called "NasMaraj," reportedly had over 100,000 followers at the time — however, Lil Nas X initially denied any involvement.
"It's like a big misunderstanding and it's not one that I even want to give the time, because I'm never putting someone as the face of my career," Lil Nas X told NPR. "So I don't even speak on it. I just don't even acknowledge it, really."
Following his attempts to distance himself from the stan account — which often posted memes, pics, and other Minaj content — Lil Nas X openly invited the "Anaconda" singer to join him for a collaboration. "I have this song i want u on and was wondering," he tweeted. The partnership with Minaj never happened, but the relationship between the two rappers is still quite interesting.
Lil Nas X seemingly admitted to being the secret Nicki Minaj stan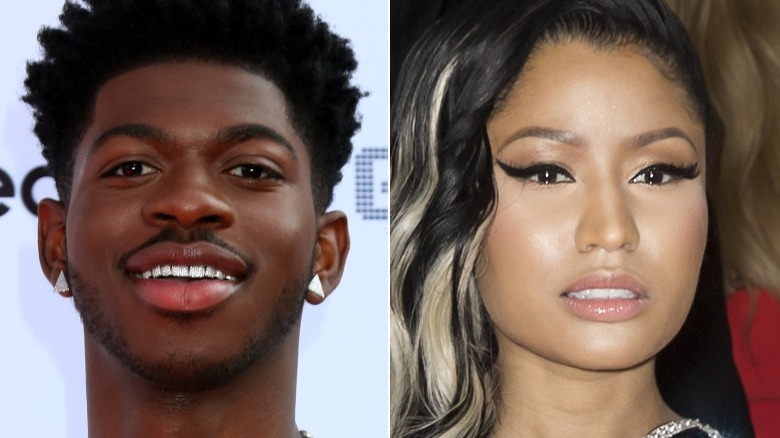 Kathy Hutchins & Ovidiu Hrubaru/Shutterstock
A year after Lil Nas X admittedly denied running the Twitter account known as "@NasMaraj," the rapper appeared to come clean about the account. In response to Lil Nas X request for Minaj to join him on a song, a fan asked the rapper why he previously denied being a Minaj fan. To which he responded, "i didn't want people to know i was gay tbh." Another social media user then chimed in on the conversation and explained to Lil Nas X that being a Minaj fan is not an indicator of sexual orientation. "But people will assume if you had an entire fan page dedicated to nicki u are gay." Lil Nas X added. "And the rap/music industry ain't exactly built or accepting of gay men yet."
For her part, Minaj jumped online to emphasize with the "Sun Goes Down" rapper. "It was a bit of a sting when you denied being a barb, but I understand," Minaj tweeted to Lil Nas X. "Congratulations on building up your confidence to speak your truth." Lil Nas X, seemingly elated by Minaj's acknowledgment and called Minaj a "generous queen." He further apologized for accidentally shading her when she was "getting so much bandwagon hate" and added "i felt so bad, hoping u wouldn't see my denial. i was just so afraid of people finding out about me and losing everything before i even got a chance."
Nicki Minaj turned down Lil Nas X's invitation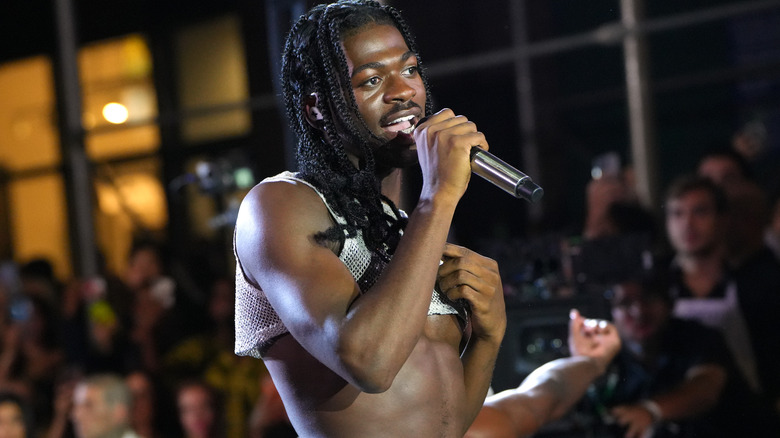 Sean Zanni/Getty Images
Despite their peaceful Twitter exchange, Lil Nas X was unable to secure a musical feature from Nicki Minaj. Lil Nas X opened up about his previous attempts to collaborate with the "Super Bass" lyricist on a track and revealed that the rapper turned down his offer. "I don't usually ask for features like that. But for every feature I did ask for on this album, like, every single one of them worked ... besides Drake and Nicki," he told GQ in 2021. Lil Nas X went on to explain that he wanted Minaj to join him on the song "Industry Baby," and asked Drake to join Megan Thee Stallion on "Dolla Sign Slime." And while the collaborations never panned out, Lil Nas X said that he had no ill feelings towards either artist. "I feel like things always work out. Jack Harlow ended up being, like, the best option. I'm not sure how comfortable Nicki would have felt with that video or whatnot."
Lil Nas X has not provided much follow-up on the current state of his relationship with Minaj, but his brother suggested the pair find time to speak. In February, Minaj revealed on Twitter that she made amends with the City Girls after their reported feud. In response, Lil Nas X's brother, Sleep, tweeted to the rapper directly. "U got one more barb to have a convo with," Sleepy tweeted. As of this writing, Minaj has yet to respond.