For Every Time Lil Nas X Has Been Controversial, This Moment Stands Above The Rest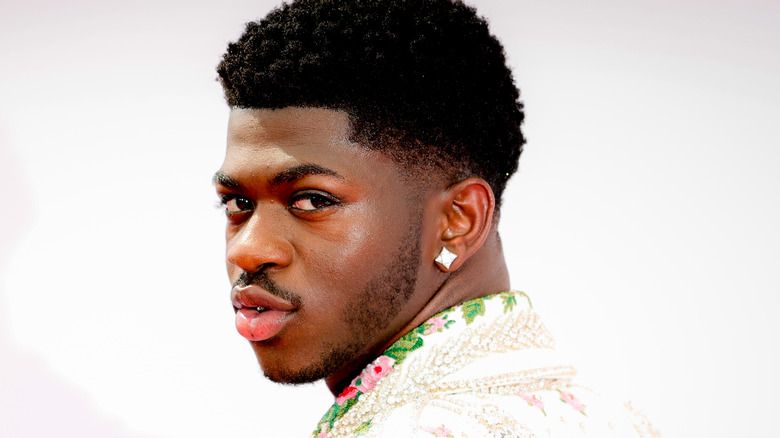 Rich Fury/Getty Images
From the moment Lil Nas X arrived on the music scene, he's been the center of controversy and a frequent topic of headlines. When the Atlanta native released "Old Town Road" in December 2018, his career skyrocketed. "Old Town Road" became a viral hit, thanks to the popular TikTok meme dubbed the "Yee Haw Challenge." The original "Old Town Road" track peaked at No. 1 on the Billboard Hot 100; additionally, it is the shortest No. 1 track on the chart since 1965, with a minute and 53 seconds in song length.
Although "Old Town Road" ultimately led Lil Nas X to win his first Grammy among a number of awards, the entertainer was also met with debate about whether the track was classified as country or rap music. In March 2019, "Old Town Road" got removed from the Hot Country Songs chart and moved to the Hot Rap Songs chart, where it entered at No. 24, per Vox. At the time, Billboard explained why it removed the song from the country charts. "Upon further review, it was determined that 'Old Town Road' by Lil Nas X does not currently merit inclusion on Billboard's country charts," a Billboard rep told Rolling Stone. "When determining genres, a few factors are examined, but first and foremost is musical composition. While 'Old Town Road' incorporates references to country and cowboy imagery, it does not embrace enough elements of today's country music to chart in its current version." 
Lil Nas X's debut was controversial in itself; however, out of his many controversial moments, there is one that we all can't seem to get over.
Lil Nas X's performance at the BET Awards had everyone talking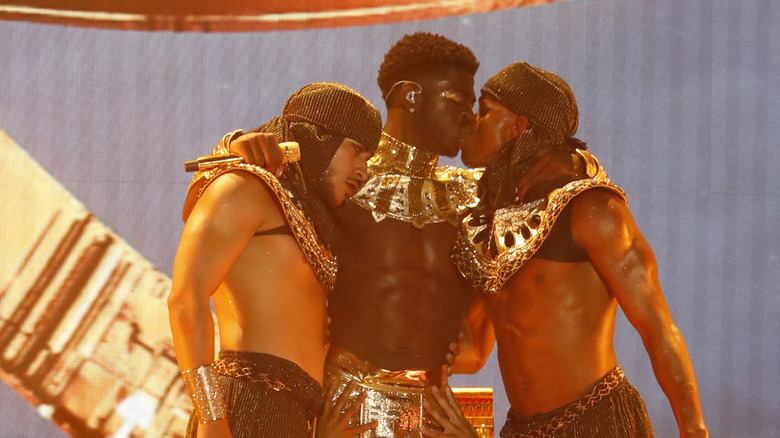 Johnny Nunez/Getty Images
From his outfits to his meme-filled Twitter presence, Lil Nas X's personality is vibrant and quite hard to ignore — his music is no different. In March, the singer released "Montero (Call Me By Your Name)," a track that sings of embracing queerness, drawing inspiration from the 2007 gay romance novel, "Call Me By Your Name," according to LGBTQ Nation. The song, coupled with the music video, sparked a lot of buzz due to the Satanic themes portrayed throughout the video.
Lil Nas X already caused a stir with the song alone, but it was his performance at the 2021 BET Awards that had everybody talking. During the June event, Lil Nas X performed "Montero (Call Me By Your Name)" and sealed it with a kiss with one of his male dancers. The performance received a split response, with some people calling the performance "iconic." One Twitter user wrote, "Never tone down for no one."
On the other hand, critics were not fond of Lil Nas X's choice to include the buzzworthy kiss — to which the latter defended his actions in a series of tweets. When one Twitter user criticized him for kissing another man while kids could be potentially watching, the "Industry Baby" crooner wrote in response, "that's not my problem, stop letting ur kids watch the bet awards n***a put on cocomelon." Lil Nas X's performance not only became a staple moment in pop culture history but also opened up a conversation about LGBTQIA+ representation in the music industry.
Lil Nas X's BET Awards performance challenges homophobia in hip hop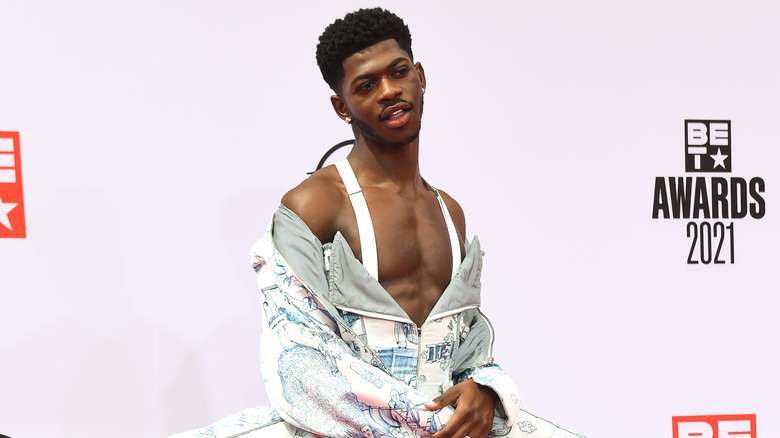 Aaron J. Thornton/Getty Images
Lil Nas X surely knows how to keep the public on its toes when it comes to his career moves. Although the singer-slash-rapper sparked outrage with his racy BET Awards performance, he recalls feeling fearful in his decision to include the kiss, comparing it to "jumping in a lake full of sharks and piranhas." He told Out Magazine, "Going to this place with all these overly masculine rappers and you're finna be in there throwing a little (expletive) every now and then, touching on dudes and hugging them and kissing them ... at some points I was like, 'Should I even do this? I don't feel like they're going to love me like that.'"
Aside from the "terrifying" performance and three complaints to the Federal Communications Commission, as TMZ reported, Lil Nas X successfully challenged homophobia as it relates to hip hop. Following DaBaby's controversial commentary during his Rolling Loud Miami set, Lil Nas X got tossed into the middle of the controversy after rapper T.I. made a point to justify DaBaby's rant. Lil Nas X later fired back with his own thoughts about the prevalence of homophobia in his career and throughout the industry. "[S]ome of y'all not even mad that I'm gay, some of y'all mad that i'm gay and still succeeding," he tweeted. 
Despite all the hate, Lil Nas X's continued success is one to watch.