Why Chris Brown's Message To DaBaby Has Twitter Talking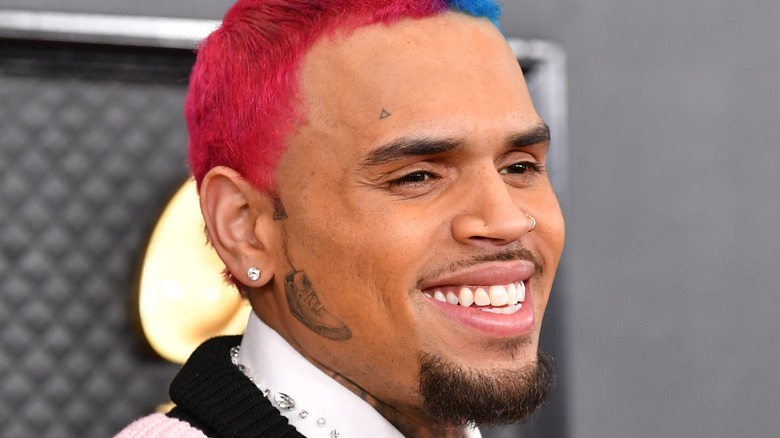 Amy Sussman/Getty Images
DaBaby's recent homophobic comments are still the talk of town. On the weekend of July 25, the rapper took the stage at Rolling Loud Miami, and shared some offensive remarks against the LGBTQ+ community and HIV+ individuals. "If you didn't show up with HIV, AIDS, or any of them deadly sexually transmitted diseases, that'll make you die in two to three weeks, then put your cellphone lighters up," he told the audience. "Fellas, if you ain't sucking d*** in the parking lot, put your cellphone lighter up."
Understandably, fans and celebrities alike were shocked by these comments. "DaBaby randomly going on a homophobic rant during the middle of his performance is so telling lol," one person tweeted. Dua Lipa (who previously collaborated with the rapper on "Levitating") took to social media to distance herself from DaBaby. "I'm surprised and horrified at DaBaby's comments," Lipa wrote on Instagram Story, before unfollowing him (via People). "I really don't recognize this as the person I worked with."
Even Elton John publicly called out the rapper. "We've been shocked to read about the HIV misinformation and homophobic statements made at a recent DaBaby show," the music legend tweeted on July 28. "This fuels stigma and discrimination and is the opposite of what our world needs to fight the AIDS epidemic." The latest to chime in on DaBaby's hateful comments is Chris Brown, whose response shocked pretty much everyone. Read more below.
Fans didn't expect Chris Brown to drag DaBaby
Carmen Mandato/Getty Images
Taking to Instagram on July 29, Chris Brown sent out a strong message to DaBaby after his homophobic Rolling Loud speech. "Shut the f*** up...," Brown wrote in a now-deleted Instagram Story (via Complex). "Do your shows thank everybody. Then get the f*** off stage!!!!!!!!!!!!" His response seems to have taken people by surprise, as they weren't expecting him to call out DaBaby.
"not [C]hris brown being the voice of reason," one shocked fan wrote on Twitter. "If Chris Brown starts dragging you and he's RIGHT... you really gotta ask yourself where you went wrong. He barely even talk anymore," a second one tweeted. Some people are actually shocked to be agreeing with Brown, likely due to his past controversy. "now pissed cause [I] shouldn't be in any situation where [I] find myself in agreement with [C]hris [B]rown," someone admitted. "[D]ababy got me actually agreeing with Chris Brown out of all people?!" another wrote, sharing a clip of a pissed-off Monique.
Although many celebrities have now spoken out against DaBaby, some of his peers actually took his defense, so it's easy to see why some people were surprised by Brown's response. Rapper T.I., for example, came to DaBaby's defense under an IG post by The Shade Room. "If Lil Nas X can kick his s*** in peace... so should DaBaby [shrug emoji] #Equality," T.I. commented. "Words are often misconstrued," he later added in his own Instagram video. Ugh.
If you or a loved one has experienced a hate crime, contact the VictimConnect Hotline by phone at 1-855-4-VICTIM or by chat for more information or assistance in locating services to help. If you or a loved one are in immediate danger, call 9-1-1.