Lil Nas X's BET Awards Performance Has Everyone Talking. Here's Why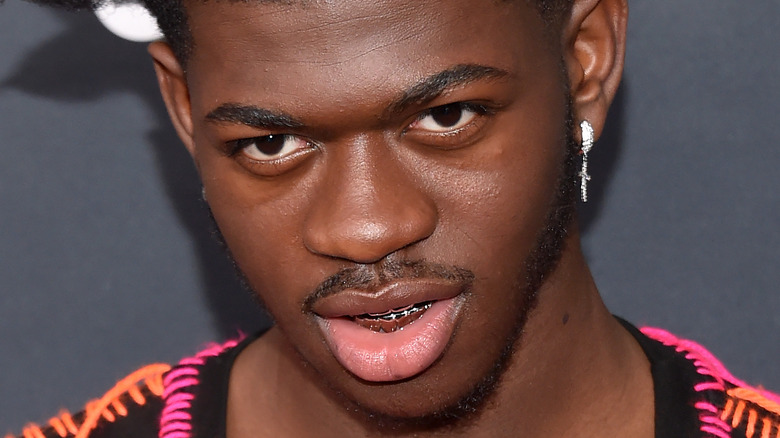 Shutterstock
Lil Nas X is no stranger to controversy, and his performance at the 2021 BET Awards is no different. The singer performed his big hit, "MONTERO (Call Me By Your Name)" — which has already hit the headlines multiple times — from Los Angeles' Microsoft Theater, as former "Empire" star Taraji P. Henson hosted the show and Zendaya paid tribute to Beyoncé.
The song first hit the headlines when it was released in March for its sexual content and highly controversial video, which has been accused of having satanic themes (via Rolling Stone). In the video, the singer even becomes Satan after initially twerking for the devil and sliding down a pole to hell. The song dropped around the same time as Lil Nas X released his now infamous "Satan shoes" containing blood, which had everyone talking for all the wrong reasons.
But that's not the only time "MONTERO (Call Me By Your Name)" had the singer's name firmly in the headlines. Lil Nas X performed the controversial hit on "Saturday Night Live" in May when he had to hastily cover himself after his pants split partway through the performance. Oops!
But why is the song now whipping people into a frenzy once again? Read on for the latest...
Lil Nas X's BET Awards performance was seriously divisive
Lil Nas X got people gossiping once again on June 27 when he performed "MONTERO (Call Me By Your Name)" at the 2021 BET Awards. The production saw him pay homage to Michael Jackson's "Remember the Time" with a theme based around Ancient Egypt. The openly gay performer also shared a very passionate (and lengthy!) kiss with a dancer towards the end of his set, while placing his arm around another dancer who rested his head on his shoulder.
It's safe to say the provocative performance got some mixed reactions on social media. "I cannot stop thinking about lil nas x......every single second of this [performance] is so important and also just f***ing incredible!" one person wrote on Twitter, while author Michael Arceneaux commented, "I'm glad Lil Nas X did that kiss at the end. So many needed to see that for different reasons."
Diddy also shared praise, tweeting, "Lil Nas X did that!! Be fearless!!!" with three clapping hands emoji.
But not everyone was so thrilled. "Wtf is going on I just turned that BET awards off lil Nas x is doing too much now!" one person claimed. Another tweeted that they thought his homage to Jackson was "disrespectful."
Lil Nas X responded to the hoopla on Twitter after one person tweeted, "DONT USE AFRICAN CULTURE FOR S**TS LIKE THIS!!!!!!! RESPECT OUR ANCESTORS." The singer clapped back, "y'all really like to pretend homosexuality didn't exist in african culture."