The Strange Gift Jimmy Fallon Passed Down To Seth Meyers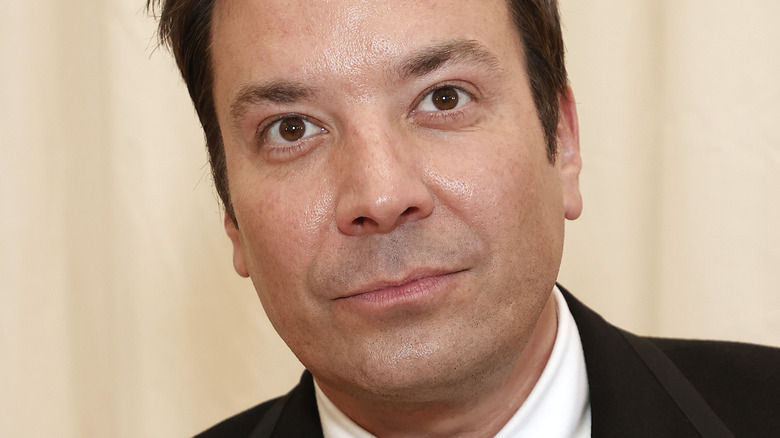 Arturo Holmes/MG21/Getty Images
In 2013, NBC underwent a major shake-up when Jimmy Fallon was tapped to take over the reins as the host of "The Tonight Show" following Jay Leno's exit. A month later, it was announced that "Saturday Night Live" star Seth Meyers would then be stepping into Fallon's role on "Late Night," marking the comedian's first stint as a solo host.
Meyers' late night hosting duties began in February 2014 with Amy Poehler as his first guest and then-Vice President Joe Biden as his second. The former "Weekend Update" anchor previously revealed advice he got from Fallon when taking over the role, during an interview with the New York Post. "The best advice I've received is Jimmy [Fallon] just reminding me that this job is a marathon, not a sprint," Meyers said. "You have to go in with a sense of what you want this show to be and not over-course-correct based on how the first few [shows] go."
And while Meyers was seemingly delighted with the pointers he got from Fallon, he also received a strange gift from his predecessor.
Jimmy Fallon gifted Seth Meyers a giant pickle
In addition to handing over the role as host of "Late Night" to Seth Meyers, Jimmy Fallon also gifted the comedian a late-night heirloom. "There's a late-night tradition. I don't even know if it's real or not. I don't really know, because no one from [David] Letterman actually told me," Fallon jokingly warned Meyers during an interview on "The Tonight Show." "The writers from David Letterman, Late Night ... passed this thing on to Conan O'Brien." Fallon went on to explain that O'Brien then handed the item down to him and that he had it in his possession for five years. Fallon then presented Meyers with the giant "late night pickle," to which Meyers hilariously responded, "I don't know if I have room for it."
Three years later, Meyers stopped by "The Tonight Show" again, and Fallon was sure to congratulate his television pal on his accomplishments. "You set a very high standard, I wanted to live up to your standard," Meyers told Fallon. The camaraderie didn't end there; months later, Fallon escorted Meyers to his studio to start "Late Night" in truly wholesome fashion.
Seth Meyers proved to be a big ratings hit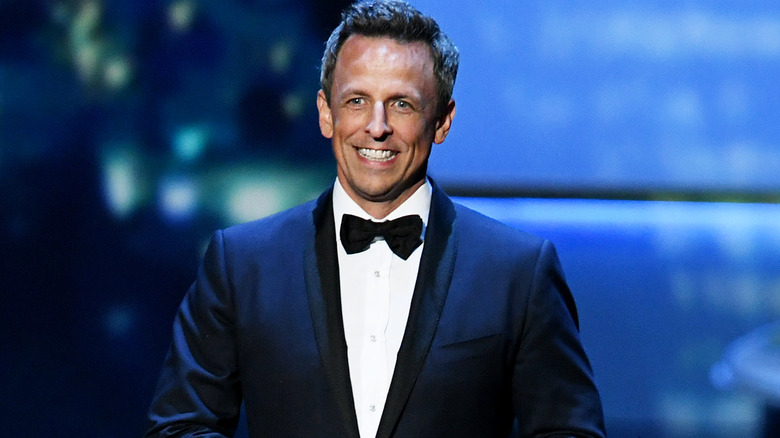 Kevin Winter/Getty Images
Seth Meyers has remained as host of "Late Night" since 2014. In February 2021, the "Saturday Night Live" alum even scored a multi-year extension to continue his late-night reign until 2025. "Seth is a rare talent who makes America laugh and think every night," said Katie Hockmeyer, Executive Vice President of Late Night Programming for NBCUniversal's Television and Streaming division, according to Deadline. The network further explained that "Late Night with Seth Meyers" outranked its competitors in the 12:30am time slot for viewers between 18 and 49 years old.
Similarly, Jimmy Fallon's contract on "The Tonight Show" was also been renewed. In May 2021, it was announced that Fallon would remain as the frontman on the popular program through 2025. The "Taxi" actor has also partnered with NBC to create a spinoff of his late-night show called, "The Kids Tonight Show." According to Variety, the spinoff talk show will stream on Peacock and will be hosted by younger talent.