Anne Hathaway's Dad Has A Little-Known Role In The Princess Diaries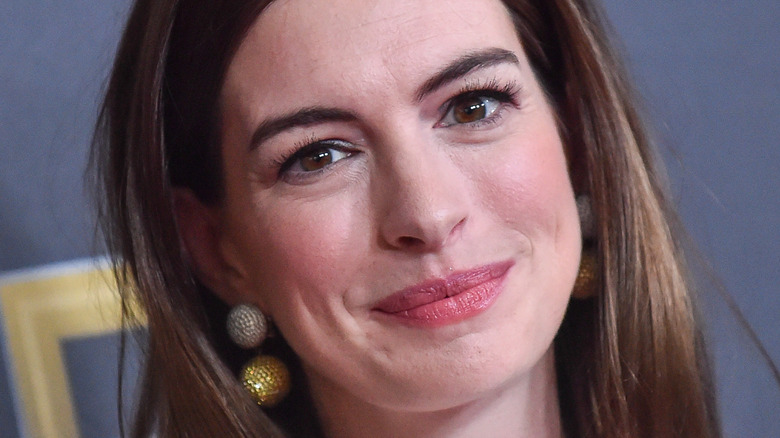 DFree/Shutterstock
"The Princess Diaries" is one of those instant classic films that is just as quotable as it is re-watchable. The movie came out in 2001 and helped launch the career of Anne Hathaway. She played Mia Thermopolis, a shy and artsy teen from San Fransisco who finds out she's actually heir to the throne in a small European country called Genovia. The film also stars Julie Andrews, a beloved icon on and off the screen, as Clarisse Renaldi, Queen of Genovia.
But, no matter how many times you might have seen the film, there are definitely little details you might have missed. Like the fact that Kathleen Marshall, the daughter of the film's late director, Garry Marshall, played Charlotte Kutaway, the queen's secretary (via Looper). Or the fact that Garry himself made a cameo in the first movie like he did in his film "Pretty Woman," according to Bustle. In fact, there were a few nods to "Pretty Woman" in "The Princess Diaries," as well (via E! News). But one tiny detail actually connects Hathaway's real-life father to her on-screen one.
Anne Hathaway's real father stood in for her on-screen dad for a split second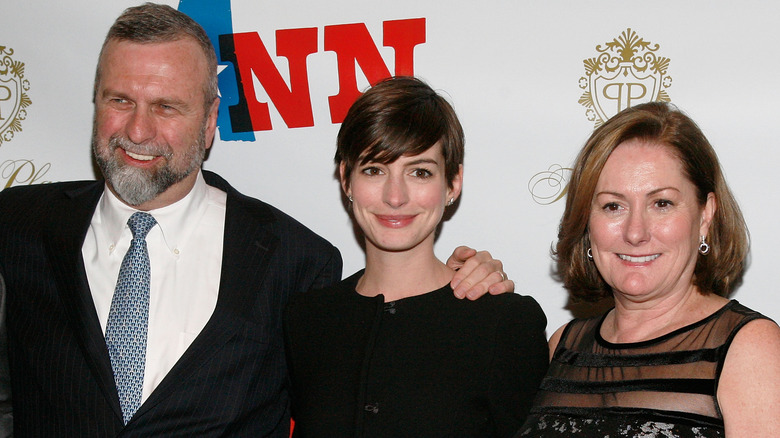 Andy Kropa/Getty Images
In "The Princess Diaries," Mia Thermopolis learns she's next in line for the throne of Genovia after her biological father, Philippe Renaldi (voiced by René Auberjonois) dies. And, according to Insider, the Philippe fans saw on-screen was actually Anne Hathaway's real father, Gerald Hathaway.
Per Insider, the photo on Mia's desk of her beloved father is Gerald. He's then shown again when writing Mia the letter she finds later on. There doesn't seem to be any other movie Gerald lent his likeness to, but playing the father of his daughter in her breakout role seems pretty special. Coincidentally, the former actor in the family wasn't Anne's father, but her mother, Kate Hathaway. Anne actually thanked Kate during her Golden Globes acceptance speech for best supporting actress in 2013, which she won for playing Fantine in "Les Miserable."
"I want to thank my mother, who I saw perform this role when I was eight," Hathaway said, according to the HuffPost.
Will The Princess Diaries 3 ever happen?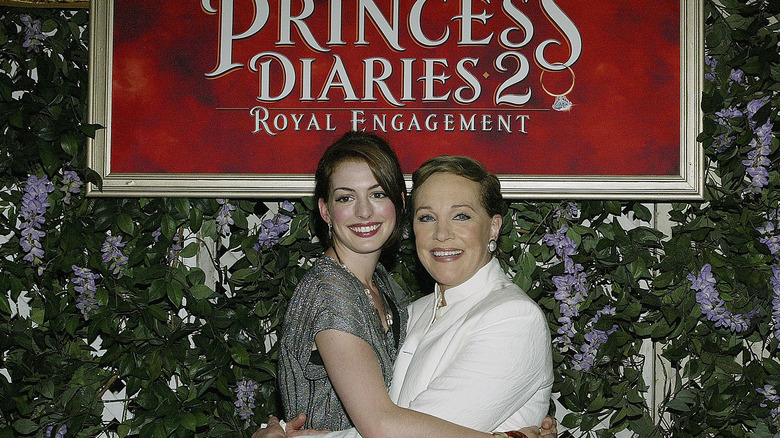 Frederick M. Brown/Getty Images
With so much love and continued interest for "The Princess Diaries" films, it's only natural that fans would want another installment. Talk of a third film started in 2016 when late director Garry Marshall told People he wanted to make a third. And in 2019, Anne Hathaway appeared on "Watch What Happens Live with Andy Cohen," confirming a script exists, but there was a good reason it wasn't greenlit yet. She said they'd only want to do it if it was "perfect." However at that point, she said they were "working on it."
But fans might be crushed to hear that Julie Andrews expressed doubt in June. "I think it would be too late to do it now," she told The Hollywood Reporter. "There was talk of a sequel many, many years ago. But I don't think it ever came to pass."
She pointed out how Marshall died the same year those talks of a third film took place. So, it seems like the only way to make another "Princess Diaries" is with a strong push from the remaining cast and crew.