Inside Anne Hathaway's Relationship With Julie Andrews After Princess Diaries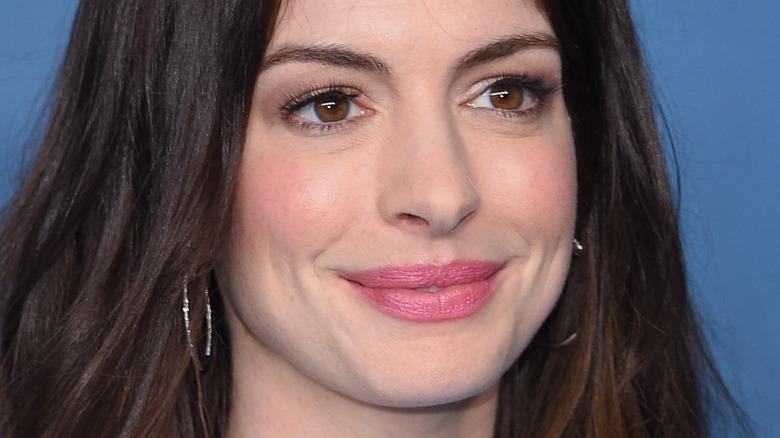 DFree/Shutterstock
When it comes to on-screen grandmother-granddaughter duos, few pairings stand out quite like "The Princess Diaries" stars Julie Andrews and Anne Hathaway ... but what is their dynamic like today?
Audiences around the world fell in love with Princess Mia and Queen Clarisse when "The Princess Diaries" premiered back in 2001. It's no surprise, then, that over the years, there has been much hope around the prospect of a third film. Excitement reached fever pitch in 2019, when Hathaway confirmed in an episode of "Watch What Happens Live with Andy Cohen" that both she and Andrews were onboard for another sequel. However, it appears the process of coming up with a new storyline simply took too long for the latter as the "Mary Poppins" OG told The Hollywood Reporter in June that she feared the moment had passed. "[For] me, it's too far down the line now to go back to it," she revealed to the outlet. 
However, that's not to say anything has changed in her dynamic with Hathaway. Far from it, even if it's unlikely we'll see the actors reprise their roles in a third installment of "The Princess Diaries," it's pretty clear that Andrews and Hathaway have stayed super close over the years. In fact, one might say their off-screen, post-film relationship is comparable to that of their on-screen characters.
Anne Hathaway has nothing but love for Julie Andrews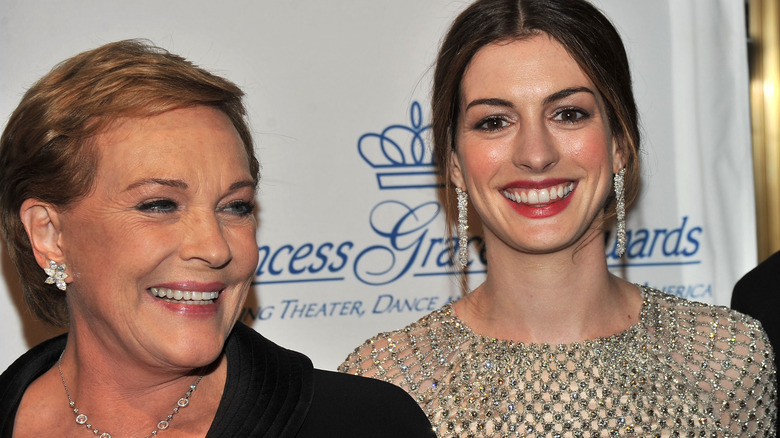 Stephen Lovekin/Getty Images
"Princess Diaries" fans, eat your hearts out: Anne Hathaway is just as inspired by Julie Andrews as Princess Mia was by Queen Clarisse! 
Hathaway made her feelings toward Andrews clear in a 2018 Instagram post, where she wished her a happy birthday and thanked her for the huge impact she'd had on her life, not just professionally, but personally. Crediting her former co-star with lessons in "Grace," "Patience," and "Respect," among others, the actor wrote, "If I know anything about any of this, it's because I was lucky enough to have learned this from the very best at the very beginning." 
However, that's not to say "The Witches" actor didn't have some nerves, going into their first meeting! In fact, a 2001 interview re-published by the "Matt and Greg Used to Interview Movie Stars" podcast in 2019 revealed that, when they first met, Hathaway "was shaking like a leaf." However, Andrews was quick to set her at ease. "Julie just pulled me into this giant bear hug, and gave me a kiss on the cheek, and said, 'It's so nice to meet you, we're just going to have so much fun doing this,'" she smiled. For Hathaway, it came as a shock, especially because she had grown up idolizing Andrews. However, soon after they began working together, she realized that, in addition to being the Julie Andrews, "She is 'Jules' ... and I think it's a testament to what a real, genuine, warm person she is."
...and the feeling is mutual!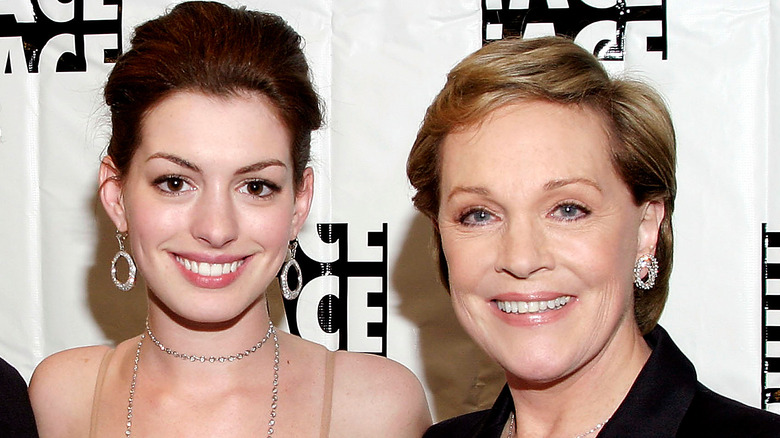 Giulio Marcocchi/Getty Images
To say Julie Andrews is just as smitten with Anne Hathaway would be an understatement. In fact, she's gushed over her on-screen granddaughter on several occasions. 
Over the years, Andrews has made no secret of her admiration for Hathaway, both personally and professionally. Back in 2013, in the wake of Hathaway's Oscar win for her role in "Les Miserables," the "Mary Poppins" actor had nothing but kind words to say about her in an interview with Josie Campbell. "She's a good friend and a dear girl," she beamed. Andrews also shared that it had been a privilege "to see her rocket to stardom."
It wasn't the last time "The Sound of Music" alum would share kind words about her former co-star. Earlier this year, Andrews described Hathaway as "adorable" in an interview with Vanity Fair. On top of describing that, she also revealed that she had been blown away by her talent early on. "I spotted that immediately — she is a natural, really," she said. In the interview's accompanying YouTube video, Andrews even revealed that from the moment they met, she knew Hathaway was destined for big things. "It was clear, from the first day of shooting, that she was going to be a star," she reminisced. "The Princess Diaries" might not be making a return, but for fans hoping to catch one more glimpse of Princess Mia and Queen Clarisse's dynamic, it seems we need not look any further than the actors themselves!