The Real Reason Blake Lively Just Shared Intimate Photos Of Her Pregnancy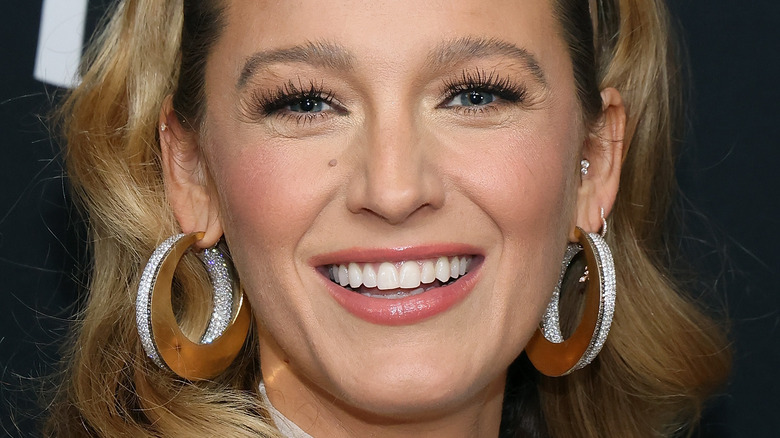 Taylor Hill/Getty Images
Blake Lively has the paparazzi fussing over her recent pregnancy photos. The "Gossip Girl" alum surprised fans by announcing that she's expecting baby No. 4 with husband Ryan Reynolds. The actor revealed the happy news in a truly remarkable way — she showed up at the 10th Annual Forbes Power Women's Summit donning a form-fitting dress to showcase her growing baby bump. Color us surprised, but we didn't see this one coming.
According to Us Weekly, the Hollywood power couple is "hoping for a boy" this time around as they already have three girls. Nevertheless, the two "love being parents" and hope for a happy and healthy baby regardless of gender. While Lively is admittedly "relieved" that the cat is out of the bag, the news brought plenty of unwanted attention from the prying paparazzi who were trying to snap a photo of her growing belly — so she beat them to the punch.
She shared the pictures so the paparazzi would leave her family alone
Blake Lively recently took to Instagram, where she not only shared a few intimate photos of her growing baby bump, but a strong message to the paparazzi as well. "Here are photos of me pregnant in real life," she captioned the radiant photos, adding that there were "11 guys waiting outside" of her home vying for a photo. "You freak me and my kids out," she added.
The actor offered praise to "everyone else" for sending love and respect her way. She gave a shout-out to those who unfollowed "publications who share photos of children," and thanked media outlets that enforce a "No Kids Policy."
After Lively took matters into her own hands, her fans showed up in droves to offer their support. "Wonderful news! Let this family enjoy their lives in peace," one Twitter user wrote, while another said, "This reminded me of Hilary Duff confronting a pap that was taking pictures of her kid at a soccer game. So twisted."